Chinese FM Embarks on Diplomatic Drive in Southeast Asia
The agenda of Wang Yi's tour is diplomatic maintenance: the repairing and upgrading of China's relationships with key Southeast Asian partners.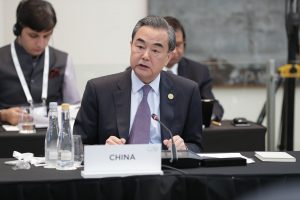 China's Foreign Minister has embarked on a five-nation tour of Southeast Asia, aimed at shoring key relationships in the face of the COVID-19 pandemic and a recent diplomatic offensive by the United States. From October 11-15, Wang Yi will pay official visits to Cambodia, Malaysia, Singapore, Laos and Thailand. Last week, a Chinese foreign minister spokesperson described the visit as intended "to deepen cooperation with ASEAN [the Association of Southeast Asian Nations], uphold multilateralism and maintain peace and stability."
Wang's visit to the three Mekong countries follows Washington's recent launch of a new U.S.-Mekong Partnership along with Thailand, Myanmar, Cambodia, Laos and Vietnam, which is designed to counter China's rising influence in the lower Mekong nations. Announced during last month's clutch of ASEAN meetings, the U.S. partnership was accompanied by around $153 million of funding for the lower Mekong region, which included grants for hydrological data-sharing, disaster management and efforts to combat crossborder crime. The announcement followed American assertions that China's dams on the river's upper reaches have choked off the flow of water downstream – claims that Beijing denies.
According to Global Times, the Chinese Communist Party mouthpiece, Wang's visit "will help these countries have a better understanding of China. He will also help them formulate an objective stance on China-U.S. relations and Mekong affairs."
During Wang's visit to Cambodia on October 12, the two nations signed the Cambodia-China Free Trade Agreement (CCFTA), Cambodia's first free trade pact. The CCFTA has been rushed forward over the past year amid the souring of relations between Cambodia and many Western governments, who have been alienated by Prime Minister Hun Sen's repressive crackdown on his political opponents. In August, the European Union suspended trade privileges for around a fifth of Cambodia's exports to the European bloc, in retaliation for the most recent cycle of repression, while the U.S. government has sanctioned several key cronies of the Cambodian leader. The CCFTA is unlikely to compensate for the economic impact of the loss of European trade access – to say nothing of the economic fallout from the COVID-19 pandemic – but it has important symbolic value as a signal of Chinese support for Hun Sen's administration.
In Thailand, Wang is expected to sign a contract for a 252-kilometer rail link between Bangkok and Nakhon Ratchasima, a long-delayed project that Beijing hopes will eventually link up with a railway project under construction in Laos. Thailand is currently in the midst of a wave of anti-government protests, led by students calling for political reforms, including constitutional constraints on the institution of the monarchy. Wang's visit to Bangkok will coincide with a large demonstration close to government house, the likely venue for official receptions while he is in the Thai capital. The political situation is similarly febrile in Malaysia, where opposition leader Anwar Ibrahim is seeking to unseat a fragile coalition government that has ruled the country since engineering to downfall of the Pakatan Harapan coalition government in February.
Wang's Southeast Asian tour, which also follows last week's visits to Beijing by Philippine Foreign Secretary Teodoro Locsin and Luhut Binsar Panjaitan, a special enjoy of Indonesian President Joko Widodo, can best be described as a bout of diplomatic maintenance: an attempt to assure ASEAN countries of China's commitment to the region, in the context of the economic downturn from COVID-19 and Beijing's growing geopolitical competition with Washington. China's aim is to position itself as a key partner in a post-COVID-19 world, both in terms of access to any coronavirus vaccine, and as a nation that can help Southeast Asia's economies return to positive growth once the pandemic fades.
With COVID-19-induced political upheavals looming, Wang's trip will also be used to burnish Beijing's core appeal to the nations of Southeast Asia – its hands-off approach to questions of democratic backsliding and human rights – and to attempt to present China as a reliable partner of Southeast Asian nations, in comparison with the U.S.' fickle and episodic engagement with the region.