Laos Opens Fast-Track Service for Chinese Travelers
The announcement is a sign that China will play a central role in Southeast Asia's recovery from the economic downturn of COVID-19.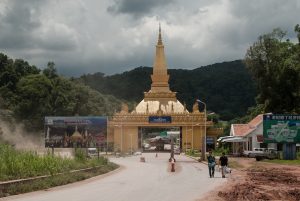 Laos will launch a fast-track immigration service for travelers from China beginning on November 1, relaxing controls at the country's main border crossing, which was previously sealed to prevent the spread of COVID-19.
Lao Deputy Minister of Health Phouthone Meaungpak announced this week that the two countries have brokered an agreement between whereby Chinese nationals from COVID-19-free provinces will be permitted to enter Laos. According to a report by Radio Free Asia, travelers will be required to test negative for the disease and self-quarantine for 14 days within China. They will then have to quarantine for 48 hours on arrival in Laos.
The fast-track service will be confined to the Boten border gate on the border between Luang Namtha province in Laos and China's Yunnan province. Four smaller border crossings, including one on the border with China and three on the border with Thailand, will also be open for the transport of goods. For the time being, Lao nationals will not be allowed to leave the country, except for workers, students and Lao residents with family members living abroad.
In recent years, as infrastructure links with China have improved, Laos has become a magnet for Chinese investment and immigration, which has transformed the physical landscape of the capital Vientiane and the northern provinces. The easing of border restrictions is likely designed to encourage the revival of Laos's tourism sector, as well as allowing Chinese business owners to re-enter the country. In 2018, China was the country's third-largest source of tourist arrivals after Thailand and Vietnam.
The agreement between Laos and China comes as tourism officials in Cambodia announced that they are in discussions about travel bubbles designed to restart tourism to the country, with China figuring as a priority. Specifically, officials discussed the possibility of implementing of a close-loop system of charter flights between Cambodia and China, although the idea is still in its infancy.
Chinese nationals have also figured prominently in Thailand's attempt to resurrect its moribund tourist sector. On October 20, Thailand welcomed its first planeload of regular foreign travelers since the pandemic began: 39 visitors who flew into Bangkok from Shanghai, under a special visa designed to stir the revival of the country's. Thailand welcomed nearly 40 million foreign visitors in 2019 and by some estimates accounts for more than a tenth of the country's GDP. Of those 40 million, around 11 million were from mainland China.
The two announcements are relatively minor, but they indicate the extent to which China is likely to figure in the recovery of Southeast Asia's economies, particularly the region's tourism industries, as the COVID-19 contagion wanes. Prior to the pandemic, China was the number one source of visitors to Vietnam, Thailand, Cambodia and Singapore, as well as to the Indonesian island of Bali. In addition to China's proximity and size to the region, China has successfully been able to control the spread of COVID-19, while the United States grapples with a surge in coronavirus infections and European nations including France and Germany have re-entered lockdown in order to control the disease.
In its early stages, when it was mostly confined to China, the scourge of COVID-19 seemed like it might push Southeast Asian nations to reduce their economic reliance on their northern neighbor. Now it seems likely, at least in the short- to medium- term, to deepen this reliance even further.