The Foundations of an Inclusive, Tech-Enabled Economic Recovery in Asia
New technologies could help foster an inclusive post-pandemic recovery in Asia – if the region's governments can get it right.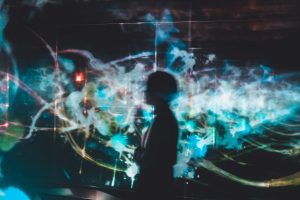 Governments across Asia are faced with a dual challenge – managing new waves of COVID-19 infections while trying to reboot economies affected by the pandemic. The role of technology is evolving accordingly. Over the past few months, technology has helped to manage the immediate crisis resulting from the pandemic. It has supported businesses and organizations so that employees, students and governments could operate from home as needed. Even when case numbers have declined significantly, digital technologies have been essential to support remote working to reduce the number of people moving around cities and gathering in workplaces.
From Japan's Supreme Court to Taiwan's Legislative Yuan, collaboration and video conferencing tools such as Microsoft Teams have allowed public institutions to operate remotely in a safe and secure way. Indonesian oil giant Pertamina has used technology not only to enable its employees and contractors to continue working remotely, but also to conduct an online interfaith prayer with all employees and their families across the nation. Griffith University in Australia, like many other across the world, quickly pivoted to online learning and administration, allowing its international cohort to continue their studies. Across Asia, businesses see innovation – with technology playing a key role – as central to their resilience in the crisis. 
As we increasingly shift our attention to the future of our economies, the focus of technology's contribution should evolve. It will not only be crucial for business continuity, but also for driving an inclusive, tech-enabled economic recovery in the months and years to come.

Making the recovery both tech-enabled and inclusive will not happen automatically. A growing data divide, for example, creates a risk that only a handful of countries and companies will derive much benefit from AI innovations. Maximizing the gains from technology in the recovery will require clear policy and investment choices by governments, working closely with the private sector and other stakeholders. 
There are clear foundations to build on in the region: Indonesia has unveiled a National AI Strategy and launched a $1.5 billion investment to drive digitalization; Japan is pushing legislation to advance tech-driven "super cities";  Singapore is investing $2.5 billion on ICT to support businesses, especially SMEs; Australia has allocated $465 million for telehealth care. To build on these, it is the right time to invest in three key areas: skilling and employability, cloud and 5G, and broadband connectivity.
The pandemic's impact on jobs continues to be severe. Lockdown policies to curb the spread of the virus have led to drastic reductions in working hours equivalent to 175 million full-time jobs in the Asia-Pacific in the first half of 2020 – the highest seen across the world. This underlines the need to retrain workers with new skills. Malaysia, for example, has allocated nearly $500 million to upskilling programs for the unemployed and the youth. Jobs evolve, and so will the demands of the labor market – we will inevitably see more jobs that require digital skills. This will not be a temporary shift, with COVID-19 simply increasing the momentum of existing trends. To ensure that as many people as possible can benefit from these shifts, governments need to invest in robust digital skills initiatives. A recent survey showed that businesses across Asia see skilling as the top priority for government support aimed at  encouraging innovation in the COVID-19 economic recovery.
Digital transformation in the post-pandemic era cannot happen without modern high-speed networks that can reliably and securely handle surging data demands. South Korea is making 5G, along with AI, a centerpiece of its "New Deal" to create jobs and boost growth post-pandemic. Across the region, innovative 5G services will generate $212 billion in economic activity in the Asia-Pacific by 2034. To tap into this expansion, it is critical for governments to ensure that their national network infrastructures benefit from technological advances such as the cloud and 5G.  Upgrading the region's policy and regulatory infrastructure to keep up with an increasingly data-intensive economy will be essential. Renewed effort to modernize Asia's privacy laws and improve convergence between them will support greater use of emerging technologies across the region, while protecting individual privacy. Additional efforts should be made to ensure that responsible AI adoption grows, in order to preserve social trust in this key technology. Initiatives to encourage data sharing will ensure that as many organizations as possible can benefit from the opportunities presented by cloud and 5G networks.  
Even before the COVID-19 crisis, broadband was already becoming the electricity of the 21st century, and the massive shift toward online activities has only underlined this. However, while most of the population in Asia has access to mobile broadband, only 14.4 percent has access to fixed broadband. It is imperative to close the gap in accessing this essential foundation of the digital economy. 
Across these areas, priority should be given to moving forward in a collaborative way that brings the region's economies closer together. We should heed the call of high-level policymakers and researchers to deepen cooperation on the region's digital infrastructure, including in regulatory coherence, privacy standards and data sharing. A recent survey of business and policy leaders across the region found that 90 percent think that the crisis has underlined the lasting importance of regulatory coherence. Mechanisms are already in place through forums like APEC and ASEAN, and new digital economy agreements – like those between Singapore and Australia, or New Zealand, Singapore and Chile – are pointing the way forward. New Zealand's shift of its APEC hosting in 2021 to virtual platforms provides an opportunity to deliver results through a new form of regional cooperation.  There has never been a more important moment to energize these efforts. 
It is a crucial time for Asia. Government policy and investment choices will have a major impact on the region's economies and societies for years to come. The path ahead will be challenging, but the opportunity before us is clear – to set the foundations for a more inclusive, tech-enabled economic recovery.

Antony Cook is regional vice president and chief legal counsel, Microsoft Asia.