Violence Against Women in India Must End. Now.
A recent brutal attack on a 19-year-old Dalit woman once again highlights India's terrible track record on gender and caste violence.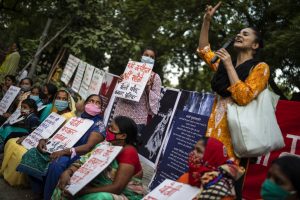 On September 14, a 19-year-old Dalit (formerly "Untouchable") woman was tortured and allegedly gang raped by four upper caste men in Hathras district in the north Indian state of Uttar Pradesh. Her body was severely brutalized; her tongue was torn, limbs fractured, and spinal cord damaged. The woman succumbed to her injuries in a hospital in New Delhi a fortnight later.
As shocking as the bestiality of the rapists is the abject failure or rather, the reluctance of the Uttar Pradesh police to follow due process. Apparently, police accused the woman of lying, refused to register a rape complaint, and delayed taking the victim to a hospital for treatment. A police official even claimed that no rape took place as semen was not found on the victim's body. Apparently in a bid to destroy evidence, the victim's body was swiftly cremated in the dead of the night by the police. Family members were neither allowed to see her body nor to be present at the cremation.
Sexual violence against women is pervasive in India. According to latest data released by the National Crime Records Bureau (NCRB), India recorded 88 rape cases every day in 2019. The northwestern state of Rajasthan reported almost 6,000 rape cases in 2019 followed by Uttar Pradesh with 3,065 cases.
These figures are likely to be just the tip of the iceberg. Only a fraction of women who are raped file a complaint. Most victims prefer to remain silent because of the social stigma attached to rape. It is not uncommon for the victim to be blamed or for aspersions to be cast on her character.
A single mother who was gang-raped in Kolkata in 2012 was stigmatized as a sex worker. On December 16, 2012 a woman was gang-raped in a moving bus in Delhi. The rapists penetrated her with an iron rod, rupturing her intestines. The gruesome violence she was subjected to did not stop people from asking why she was out at night with her boyfriend. Did she invite the sexual assault?
A significant proportion of rape victims are Dalits. In 11 percent of the total 32,033 reported rape cases in 2019, the victim was a Dalit woman. Of all the reported rape cases in Uttar Pradesh, 18 percent victims were Dalit, according to NCRB data.
India is a deeply patriarchal society. Popular culture equates masculinity with sexual aggression and encourages men and boys to bully and harass women, even rape them, to "tame" them and teach them a lesson. Raping Dalit women takes this misogyny further. A Dalit woman is raped not just to punish and humiliate the woman but also her family and community. It is aimed at underscoring the powerlessness of Dalit men and the larger Dalit community to protect "their" women.
There have been instances of rape being meted out as punishment for a kin's "crime." In August 2015, for instance, an all-male caste council in Baghpat in Uttar Pradesh ordered a 23-year-old Dalit woman and her 15-year-old sister to be raped and paraded naked as punishment for their brother eloping with a married woman from the dominant Jat caste.
Rape even enjoys social sanction.
Rape and sexual violence came under the media spotlight after the December 2012 gang rape in Delhi. It sparked public outrage and mass protests across the country and forced the government to enact stronger laws.
Although the Criminal Law (Amendment) Act of 2013 provides for a wider definition of rape and for more stringent punishment, including a longer jail term in most cases of sexual assault and even the death penalty for repeat offenders and in cases that resulted in the victim's death, this hasn't reduced the incidence of rape in India.
In fact, the number of reported rape cases has increased by 31 percent over the past 10 years.
Clearly, the magnitude of the punishment is not a deterrent to rape. What could deter crime is the certainty of punishment. India's record in this regard is dismal, especially when it comes to rape cases where the victim is a Dalit woman.
India's criminal justice system is predominantly male, misogynistic, and upper-caste. The chances of a Dalit woman securing justice in these circumstances is rare.
Policemen have views that are shockingly misogynist; a sting operation of police in and around Delhi in 2012 revealed that most of those interviewed strongly believed that women are to blame for rape.
Policemen are reluctant to register complaints especially if the alleged assailant is rich, has political links, or belongs to a dominant caste. Just a fraction of rape cases reach the court.
Silencing of victims or witnesses is not uncommon should a victim or her family dare to pursue justice through the courts. A woman who was raped at Unnao in 2018 was burned alive by five men, including her rapists, a year later as she made her way to a court hearing.
Most cases that go to court result in the accused walking free. Just 27 percent of rape cases in 2019 culminated in convictions. Consequently, many women prefer suffering in silence than facing humiliation and retributive violence.
The Hathras rape case has drawn national and international media attention. Opposition parties are backing the victim's family's quest for justice. The case will go to court. But the accused, their powerful caste members, police, and politicians can be expected to diminish the magnitude of the crime committed.
Under the Scheduled Caste and Scheduled Tribe (Prevention of Atrocities) Act, a crime against a Dalit is not just a crime — it is an atrocity. The law provides for stringent punishment to those convicted under it. The gang rape of the woman in Hathras should be tried under the POA Act. Casteist elements in the criminal justice system will seek to prove that the accused did not target the woman because she was Dalit. They can be expected to argue that they did not know she was Dalit.
Days after the victim of the Hathras gang rape passed away, Surendra Singh, a legislator of the ruling Bharatiya Janata Party in the Uttar Pradesh state assembly, said that "such incidents [like rape] can be stopped only with sanskar [culture]," adding that "it's the duty of all mothers and fathers to imbibe good values in their daughters and bring them up in cultured environments."
It is this mindset that India and the world — sexual violence is rampant in societies across the world — need to destroy to fight sexual violence. Putting the onus on women to prevent sexual violence is not just absurd but dangerous.
Warning girls and women to not go out alone or to dress and behave in a culturally appropriate, male-mandated way cannot prevent sexual violence. Rather, we need to din into boys and men (as well as women) that aggression is not masculinity and being macho is not "cool." It is only by tackling misogynistic mindsets among men and women and dismantling the patriarchal aspects of the sanskar that people like Singh uphold that sexual violence can be tackled.