Continued Deterioration in Australia-China Relations Fuels Talk of Olympic Boycott
China's economic coercion against Australia is lending fuel to calls for a boycott of the Beijing 2022 Winter Olympics.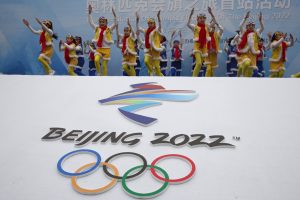 Earlier this month, a motion in the Australian Senate by non-major party politically aligned Senators Jacqui Lambie and Rex Patrick proposed a boycott of the Beijing 2022 Winter Olympics on human rights grounds.
The motion was voted down, which was the expected result. The government of the day normally seeks to avoid sensitive foreign policy matters being handled through Senate motions.
Patrick later doubled down on his call, telling the Australian Broadcasting Corporation's 7:30 program that the boycott is required both on human rights grounds but also athlete safety.
Since the vote, the Australia-China bilateral relationship has since continued to nose drive in way that will play out in favor of those pushing for a boycott.
In a strategic leak to the Australian media, Beijing moved in extraordinary fashion to pin the blame for the deterioration of the relationship entirely on Australia. As evidence, Beijing provided a list of 14 grievances with Australia that serve only to deepen divisions.
These included "spearheading a crusade" against Beijing on matters including Taiwan, Hong Kong, and the pursuit of a global investigation into the origins of the COVID-19 pandemic.
In a complaint that much of the Australian and international media found laughable, Beijing singled out Australia's protection of its own national interest through the investigation of Chinese foreign influence operations and the banning of Chinese technology firms such as Huawei as "poisoning [China's] national interest."
The list of grievances, while taken seriously by the government and the Department of Foreign Affairs and Trade, has been categorically rejected by analysts as the grumblings of a nation suffering from global foreign policy blowback.
Dr. John Lee of the United States Studies Centre has previously written that "China's laughable double standards fool no one." However, while global hardening can be seen in Beijing's increasingly wayward swipes, it is important to frame its actions as speaking to domestic audience.
Today, the Chinese Communist Party (CCP) is fanning the flames of nationalistic fervor on an international stage, moving aggressively to entrench a global superpower psyche in its citizens, which in turn fuels its overarching narrative of returning China to its position as the dominant global power.
"In this hierarchical world view, with no historical or moral peer, China is innately exceptional, necessarily alone and lonely. It does not seek enduring alliances or lasting friendships with smaller or inferior nations," Lee has written.
The 2022 Winter Games will serve as a nation-building exercise to further legitimize the CCP's actions, placing China firmly under the spotlight on the international stage. But here, under the spotlight, the CCP is also vulnerable to criticism and forces outside of the control it often demands.
It is here that Beijing is exposed and where its instinctive approach of economic and diplomatic coercion is limited.
The foundations for a collective international boycott have already been laid. Appeals from both a global coalition of parliamentarians and a grouping of over a hundred human rights organizations has sought to have the Games stripped from Beijing.
In the wake of Beijing's trade sanctions on Australia, British MP Sir Ian Duncan Smith told the ABC's 7:30 program that the Morrison government has all the more reason now to boycott the Games.
"If countries shy away now because of that treatment, then who has won this process?" Smith asked. He added, "I think there's a very strong case to be made that China should not be rewarded for its astonishingly bad behavior."
Britain's Foreign Secretary Dominic Raab has previously left the door open for a boycott. In the United States, Senator Marco Rubio has been an outspoken critic of Beijing's economic coercion against Australia and Senator Rick Scott has criticized a broadcaster for purchasing the rights to show the games, calling it "profits over human rights."
The failed motion of Australian crossbench senators Rex Patrick and Jacqui Lambie is not just a flash in the pan. It is the early stages of what will be a protracted and high stakes debate. Many will look to the United States, and President-elect Joe Biden, for leadership.
Beijing is expected to continue to deflect all criticism in the face of clear evidence of genocide and will likely use international fora to stymie concerns, as it already has. Its habitual default to diplomatic and economic coercion, as witnessed in Australia, will only further pushes countries toward considering a boycott.
As the Games near, a collective international boycott of the Winter Olympics will become a live and potent option to stand up against Beijing's human rights abuses and push back against its increasingly rampant behavior.
Philip Citowicki is a foreign policy commentator and was an advisor to former Australian Foreign Minister Julie Bishop.