Indian Army Chief Begins Nepal Visit Amid Modest Improvement in Ties
General Manoj Mukund Naravane's trip follows a public Kathmandu visit by the chief of India's external intelligence service in October.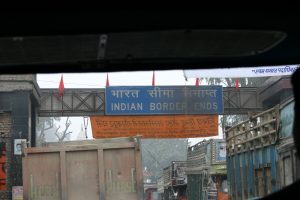 The Indian army chief, General Manoj Mukund Naravane, began a three day visit to Nepal on November 4 as New Delhi and Kathmandu apparently look to turn away from deepening discord in bilateral relations. As part of his visit, the Press Trust of India has reported, Naravane will meet with Nepal's President Bidya Devi Bhandari and Prime K. P. Oli, along with taking part in engagements involving Nepal's military, including holding talks with his counterpart General Purna Chandra Thapa. While India-Nepal relations have been rocky since 2015, one of the latest irritants in the relationship was India's inauguration of a new 80-kilometer road leading up to the China-India-Nepal trijunction in the Lipulekh pass in May this year. Nepal claims that the new road passes through Kalapani, territory claimed by both India and Nepal but under India's administration.
Reacting to Nepal's vehement protests about the new road, Naravane had indirectly suggested that Nepal was speaking out at China's behest. As retaliation, in June Kathmandu approved a new political map – which included Lipulekh, Kalapani, and Limpiyadhura, areas India considers undisputedly part of the country – sparking off a storm in New Delhi. While it would be easy to dismiss the entire episode as yet another  example of "cartography as war by other, cheaper, means" so prevalent in the Indian subcontinent, deeper problems in the India-Nepal relationship add salience.
India remains concerned about growing Chinese political influence over Nepal's fractured domestic politics as well as China's increasing economic clout over a country India has historically considered part of its sphere of influence, due to geographical and cultural reasons. On its part, Nepal took umbrage at the Narendra Modi government trying to impose terms related to protecting the interests of the Madhesis, an ethnic group predominant in the area that conjoins the Indian states of Bihar and Uttar Pradesh and Nepal, in its new constitution. In 2015, India informally supported a blockade of Nepal by the Madhesis, angering Kathmandu's political class as well as Nepal's population at large.
India's strategic community remains extremely sensitive to the possibility that China will use Nepali territory as part of a larger encirclement plan directed at their country. When reports emerged last month in the Indian media that China might be occupying land on the Nepali side of the Nepal-China border, a former editor of the Organizer, the mouthpiece of the Rashtriya Swayamsevak Sangh – the parent organization of the ruling Bharatiya Janata Party – noted "the recent land grab in the Himalayas by Beijing should be interpreted as a string of infrastructure projects — railway stations and border trade centres in the hills — specifically aimed at encroaching India's immediate neighborhood." Nepal and China entered into a memorandum of understanding around China's Belt and Road Initiative in 2017. Last year, in October, Xi Jinping became the first Chinese president to visit Nepal in over 20 years.
Beyond this, New Delhi has paid close attention to the activities of China's ambassador to Nepal, Hou Yanqi. Indian media reports suggest that Hou has sought to patch the rift within the ruling Nepal Communist Party (NCP), as Oli and NCP executive chairman Pushpa Kamal Dahal jostle for power.
Interestingly, since early October India-Nepal relations have shown unexpected signs of improvement, with New Delhi making very public overtures toward Kathmandu.
On October 21, Samant Goel, the chief of Research and Analysis Wing (R&AW), India's principal external intelligence agency, visited Kathmandu and met with Oli. Media reports suggest that Goel, accompanied by a team, also met with opposition leader Sher Bahadur Deuba and former Prime Minister Baburam Bhattarai. Goel's Kathmandu trip has led to considerable anger among Oli opponents in Nepal with Dahal describing the visit as "improper" and "objectionable."