Kazakhstan Still on the Long Road to a Latin Alphabet
Kazakh has been written in a Cyrillic script since 1940, but government officials have long pushed for a gradual shift to a Latin alphabet.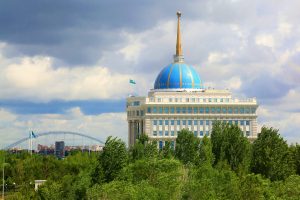 This week, Kazakh President Kassym-Jomart Tokayev met with officials responsible for shepherding the Kazakh language from its present Cyrillic script into a Latin alphabet. As reported by RFE/RL, Tokayev asked "Culture Minister Aqtoty Raiymqulova and Education Minister Askhat Aimaghambetov to work with experts on the alphabet and present their work to a national commission working on the issue."
In Kazakhstan, the matter of how the nation's language is written has historical, cultural, and practical dimensions. Through time, the Kazakh language has undergone various transformations often occurring aside political changes. The language itself belongs to a branch of the larger Turkic language tree and is spoken by Kazakhs in Central Asia, China, Afghanistan, and Iran, in addition to some of the global Kazakh diaspora.
In China, in Xinjiang's Ili Kazakh Autonomous Prefecture, ethnic Kazakhs continue to use the Arabic script that had been in use for nearly a thousand years in the region. In 1929, the Soviet Union introduced a Latin alphabet to replace the Arabic scripts used for various Central Asian languages. In 1940, the alphabet was again changed, this time to Cyrillic. 
In October 2006, Kazakh President Nurusltan Nazarbayev floated the idea of adopting a Latin alphabet for the Kazakh language. At the time, he stressed that such a change shouldn't be made hastily and by December 2017, Nazarbayev pumped the brakes further, reportedly saying, "For 70 years the Kazakhstanis read and wrote in Cyrillic. More than 100 nationalities live in our state. Thus we need stability and peace. We should be in no hurry in the issue of alphabet transformation."
The issue never quite disappeared, with various officials over the years noting that the culture and education ministries were working on it and in no rush.
In April 2017, Nazarbayev injected new urgency into the process with an order that a Latin-based alphabet be settled by the end of the year. In 2012, the Nazarbayev government had unveiled a development strategy — Kazakhstan 2050 — and within the context of that plan, he had envisioned a full switch to a Latin-based alphabet by 2025. 
By July 2017, Kazakh officials were working toward Nazarbayev's year-end goal. As Eurasianet outlined a few years ago, "Initially, lawmakers were asked to consider the merits of a 25-character alphabet, which would have represented a colossal shift away from the 42-letter Cyrillic alphabet now in use." But in October 2017, Nazarbayev signed a decree to transfer the Kazakh language to a 32-letter Latin version that was littered with apostrophes. 
In a January 2018 article, Diana T. Kudaibergenova outlined the discussions sparked by the alphabet shift: "Debates over the new Kazakh Latin alphabet have united Kazakh- and Russian-speaking communities, both of which have taken to the web to criticize what they consider an inappropriate alphabet," she wrote for Voices on Central Asia.
Kudaibergenova noted that in December 2017, "a number of well-known Kazakh-speaking academics and professors" penned a letter to Nazarbayev "asking him to prevent the transition to the 'apostrophe' alphabet." In addition, then Senate Chairman Tokayev "announced in the Parliament that it was too early to talk about using the 'apostrophe' version of the new Kazakh alphabet, indicating that the committee was discussing a newer and more appropriate version of the alphabet."
The furor over the apostrophe version led Nazarbayev to sign a decree in February 2018 that it be replaced with yet another new version, which substituted diacritical marks for apostrophes.
The new alphabet did not quite take off. A February 2019 TRT World article noted that "[In September 2018], Kazakh universities and schools started pilot studies in the new alphabet, and as of 2019 it will be taught in kindergartens and primary schools." 
But 2019 held its own diverting surprises. In March 2019, Nazarabyev resigned. While he remains forevermore "First President" and retains significant power and influence in the state, Kazakhstan soon had a new president: Kassym-Jomart Tokayev. By July, as Eurasianet reported, the intended 2025 deadline to switch was said to be shifting toward 2035 instead. Toward the end of 2019, a fourth Latin version of the Kazakh alphabet had been proposed.
In January 2020, while meeting with the National Council of Public Trust to introduce his reform program, Tokayev noted transitioning to a Latin alphabet as a key domestic reform.
Tokayev's meeting this week seems to put the transition back on Nazarbayev's envisioned schedule, but it remains be seen whether this version will gain acceptance.
Kazakhstan is not the only country in the region to consider switching alphabets. Neighboring Uzbekistan and Turkmenistan made the switch to Latin alphabets in the mid-1990s. 
In this piece, I've charted the recent history regarding the implementation of a Latin-based alphabet in Kazakhstan, but as I noted at the start there are important cultural dimensions, too. There are questions of practicality and geopolitics, also, which deserve explaining and exploring. Kudaibergenova's 2018 article remains relevant in discussing many of these dynamics; for example this passage in particular strikes a chord:
The transfer to the Latin alphabet bares the identity problems that this Soviet legacy leaves to bilingual Kazakhs, non-Kazakh-speaking Kazakhs, children of mixed ethnic background, and those young people who, regardless of their ethnicity, speak a foreign language (not Russian, but English) better than Kazakh… All in all, the new alphabet inevitably directs attention to the legacies of the Soviet Union, unsolved problems of socio-linguistic and cultural-linguistic identification, and failed policies to promote Kazakh in an original or exciting way rather than forcing it on a complex milieu of Russian-speakers.
The news that Tokayev is urging along the switch will invariably resurface the trends that Kudaibergenova referenced.