Joe Biden's Cambodian Sideshow
On the cusp of the Biden administration, U.S. lawmakers are calling for fresh sanctions on Cambodia's government.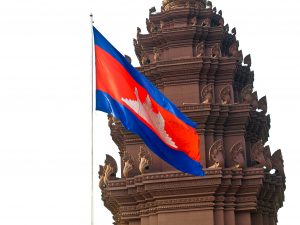 Once he takes office, U.S. President-elect Joe Biden will have his hands full attempting to repair his country's prestige, left battered by foreign policies which ignored diplomatic norms and were replaced by transactional deals that failed to make America great, again.
Under a recalcitrant Donald Trump, Southeast Asia was viewed almost exclusively through a China prism and in that process smaller, authoritarian states like Cambodia were equally dismissive and did almost as they pleased.
That wasn't helped by the gutting of the State Department, nor the revolving door of senior civil servants – four secretaries of state, including two acting, and six secretaries of defense, which included three acting – that marked Trump's term in office.
But Biden has been quick of the mark, insisting the U.S. must join forces with democracies elsewhere and present a united front in global trade policy as a counterweight to China.
"The idea that we're poking our fingers in the eyes of our friends and embracing autocrats makes no sense to me," he said.
"We need to be aligned with the other democracies … so that we can set the rules of the road instead of having China and others dictate outcomes because they are the only game in town."
As Trump ignored ASEAN summits and dithered, Myanmar's Aung San Suu Kyi fell from grace with her generals accused of instigating a genocide. Brunei instituted Sharia law.
The military tightened its grip over Thailand through elections derided as rigged while the Philippines instituted a war on drugs that resulted in more than 8,000 deaths. Meanwhile, Cambodia became a de facto one-party state – and like Laos is now firmly ensconced within China's orbit.
Getting heard in Washington won't be easy, especially from Phnom Penh, where senior figures have been sanctioned for their ties to Chinese companies, which the U.S. fears are reshaping the region's political landscape through infrastructure developments with military capabilities.
Cambodia's greatest strength, and its greatest weakness, has always been its strategic position between regional and global power plays. 
This has been on show in recent years with China buying influence and access to Cambodian ports while Prime Minister Hun Sen courted Trump without success, made all the more difficult by unsubstantiated allegations of foreign meddling in Cambodian affairs.

Fed-up with violent, sometimes deadly protests and a refusal by the Cambodia National Rescue Party (CNRP) to accept the 2013 election results, Hun Sen cracked down, justifying his accusations on the grounds that the party was planning to launch a "color revolution" with U.S. backing.
In late 2017, the CNRP was dissolved by the courts. NGOs, journalists, opposition politicians, their supporters, and many Western businesses left as Chinese investors and workers arrived en masse. Then the long-ruling Cambodian People's Party (CPP) won every seat at elections in 2018.
CNRP leader Kem Sokha remained and was charged with treason amid an outcry that prompted the EU to withdraw some trade preferences tied to international standards for human rights, and to list Cambodia as a "high risk" money laundering country.
This year alone, more than 200 critics and opposition supporters have been arrested, and recent developments beggar diplomatic belief for a country claiming to desire stronger ties with the U.S. This week, Theary Seng – a Cambodian-American lawyer and outspoken, high-profile critic – was charged with treason.
She joins two lists of 55 people who will front court later this month, facing the prospect of 12 years imprisonment for conspiracy to commit treason and incitement to commit a felony.
The latest arrests, however, have not fallen entirely on deaf ears.
Overnight, U.S. lawmakers, including prominent Democrat Elizabeth Warren, called on outgoing Secretary of State Mike Pompeo to impose further targeted sanctions against senior leaders of the CPP for their repression of the opposition party.
They said Hun Sen "has a long record of using violence, intimidation, censorship, and corruption to maintain his rule," and added: "He has engineered several 'elections,' none of them free and fair, in which his CPP has always emerged the victor."
Cambodia does have a wish list for Washington, including the cancellation of a war era debt, foreign aid, removal of sanctions, securing markets, access to trade pacts – discarded by Trump but revisited by Biden – and at the end of the day, some respect.
A softening in Cambodian attitudes would help.
Luke Hunt can be followed on Twitter @lukeanthonyhunt