US Imposes Sanctions on Chinese Company for Rights Abuses in Cambodia
Chinese investment schemes in Cambodia "deepen corruption [and] undermine rule of law," the US Treasury says.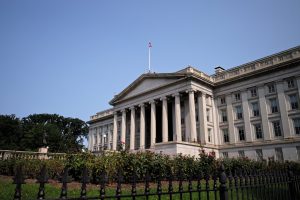 The United States government has stepped up its diplomatic pressure on Beijing and imposed sanctions on a Chinese company for human rights abuses and the seizure of land in Cambodia used in a $3.8 billion property development.
According to a statement from the U.S. Treasury Department, the Tianjin-based Union Development Group (UDG) had been blocked from financial transactions and the provision of goods and services within the United States.
UDG was designated by the department's Office of Foreign Assets Control under the Global Magnitsky Human Rights Accountability Act, which targets perpetrators of serious human rights abuse and corruption, and their supporters.
"This entity's predatory investment schemes deepen corruption, undermine the rule of law and exploit the resources of other countries," Treasury Secretary Steven T. Mnuchin said.
"The United States is committed to using the full range of its authorities to target these corrupt practices where they occur."
In 2008, UDG acquired a 99-year lease on 36,000 hectares at Dara Sakor in southwest Koh Kong province and has since built what Treasury says is "ostensibly" a tourism development, complete with a 3.4-kilometer runway.
Analysts have cast doubts over the project, suggesting it could be used for military purposes, an allegation that was dismissed by Prime Minister Hun Sen as "evil rumors."
Cambodia – and its southern coastline – has emerged as a strategic front line in the trade war between the United States and China, with Beijing investing billions of dollars on infrastructure here.
In return, Phnom Penh has backed Chinese policies in the diplomatic arena, but that has created friction within the Association of Southeast Asian Nations (ASEAN), particularly with regard to the hotly contested South China Sea.
In July last year, the Cambodian government denied a Wall Street Journal report that it had signed a secret deal granting China exclusive access to a naval base on the Gulf of Thailand, in violation of Cambodian sovereignty under its constitution.
The Treasury Department said that UDG prevented local villagers from planting rice on disputed land and noted that the state-owned Chinese company was accused of burning down the houses of villagers, and had used private security and the Cambodian military to seize land from Cambodians.
It also said the United Nations Office of the High Commissioner for Human Rights had asked UDG to stop using military force. According to the statement, Cambodia's Council of Ministers then issued a directive ordering UDG to stop destroying villagers' property but UDG "ignored the directive and continued the destruction."
It specifically cited Cambodian General Kun Kim for using the military to intimidate local villagers and to clear land for UDG ahead of construction at Dara Sakor.
Kun Kim, a former joint chief of staff of the Royal Cambodian Armed Forces, was sanctioned by the U.S. Treasury in December. Three members of his family and five entities under their control were also sanctioned, alongside Cambodian tycoon Try Pheap, who is accused of large-scale illegal logging.
"Kim was instrumental in the UDG development and reaped significant financial benefit from his relationships with UDG," the Treasury statement said.
It also claims that the size of the Dara Sakor project violated Cambodian law, which limits land concessions to 10,000 hectares, and that the site extended into the Botum Sakor National Park – a protected natural area that can only be handed over by royal decree.
"In order to receive the land, UDG registered itself as a Cambodian-owned company, headed by a Cambodian national, but within three years of receiving the land, UDG switched back to being a Chinese-owned and operated company on paper," it said.
A spokesperson from UDG was unavailable for comment.
Luke Hunt can be followed on Twitter @lukeanthonyhunt