Trump, Biden, and the Obstacles to ASEAN Neutrality
In an era of growing superpower competition, ASEAN will face stiff challenges to its autonomy and neutrality.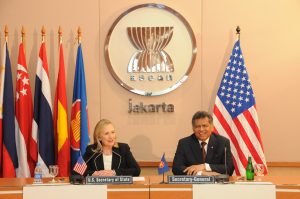 The relationship between the United States and China has deteriorated notably under the presidency of Donald Trump. Tensions have been particularly visible in the Asia-Pacific, where the U.S. has increased its military activity and naval presence in the South China Sea in an attempt to counter China's claims to resources and territory in the region.
This increase in security competition has alarmed many countries in the region. This manifested in August 2020 in the form of a joint statement by the Foreign Ministers of the Association of Southeast Asian Nations (ASEAN), released on the bloc's 53rd anniversary. Speaking on the importance of maintaining peace and stability in Southeast Asia in light of "growing uncertainties resulting from the changing geopolitical dynamics," the ministers issued a plea for "all countries to exercise self-restraint" in the region. The statement reiterated ASEAN's commitment to "maintaining Southeast Asia as a region of peace, security, neutrality, and stability."
ASEAN's quest for a Zone of Peace, Freedom and Neutrality in Southeast Asia – or ZOPFAN, in ASEAN parlance – first began during the Cold War. The ZOPFAN proposal had two components: to seek guarantees from the great powers that they would abstain from involving the region in their security competition; and that regional states should avoid inviting external interference in Southeast Asia. Underpinning ZOPFAN was a commitment to the principles of respect for the sovereignty and territorial integrity of all states, and the right of every state to pursue its national existence free from outside interference.
ASEAN's recent reaffirmation of the Cold War-era ZOPFAN idea is indicative of the increasing uncertainty in the Asia-Pacific, which has resulted from the mounting superpower rivalry between the U.S. and China. How sustainable is ASEAN's pursuit for a ZOPFAN as tensions between the superpowers rise?
ASEAN Neutrality under the Trump Administration
The Trump administration's Free and Open Indo-Pacific Strategy has attempted directly to challenge China's growing influence in the Asia-Pacific. Key components of this policy were the U.S.-China trade war and a more assertive American presence in the South China Sea. While the importance of U.S.-ASEAN relations was stressed as a means of further countering China regionally, this narrative has been largely undermined by President Trump's own actions. This month, Donald Trump skipped the East Asia Summit and ASEAN-U.S. Summit for the third year in a row – just one example of the administration's failure to prioritize the regional relationship.
One repercussion of this disengagement is that states have looked elsewhere for security guarantees, undermining ASEAN's pursuit of a ZOPFAN in Southeast Asia. One notable example is Vietnam, one of the ASEAN states at the forefront of the South China Sea dispute. Engaged in a protracted sovereignty dispute with China over territory in the Spratly and Paracel Islands, the two states have frequently clashed in contested waters. With the U.S. proving to be an unreliable security partner, Vietnam has looked elsewhere for help deterring China. India has arranged a number of maritime defense engagements with Vietnam, in addition to training Vietnamese maritime personnel and funding capacity building. Vietnam has also conducted a number of maritime patrols with Japan, with the two expected to sign an advanced defense equipment deal in the near future.
China has also made significant gains in the region at the expense of the U.S., further fueling security competition in the region. In a June 2020 survey published by Washington's Center for Strategic and International Studies, regional elites viewed China as more influential and as holding more political power in Southeast Asia in comparison to the U.S. China's close relationship with ASEAN states such as Cambodia and Laos has also frustrated ASEAN's ability to agree a unitary policy on the South China Sea dispute. Both have blocked mention of the dispute in the ASEAN Foreign Minister's annual joint statements, undermining ASEAN's unity and autonomy in the process.
A Sea Change Under Biden?
How might a Biden presidency affect ASEAN's quest for a zone of peace, freedom, and neutrality? Initial reports suggest a more engaged and consistent U.S. Asia-Pacific policy than that of the Trump administration. ASEAN's economic and political clout means that it will feature prominently in any future U.S. foreign policy strategies. The new president is therefore likely to prioritize appearances at ASEAN-led summits and forums in an attempt to repair U.S.-ASEAN relations.
Those states hoping for a reduction in U.S.-China security competition may well be disappointed, however. Biden stated in early 2020 that the U.S. must "get tough with China," and that a Biden foreign policy would "place the United States back at the head of the table." Biden's strategy for countering China's influence emphasizes the important role of traditional American allies. He confirmed that the U.S. needed to "work with its allies and partners to mobilize collective action on global threats." He reiterated the point last month, when he confirmed a plan to negotiate trading rules with allies "so that we can set the rules of the road instead of having China and others dictate outcomes."
Given this emphasis on allies, we can expect to see a more dedicated U.S. charm offensive across Southeast Asia. Regional states strategically placed to support the U.S. in its attempts to counter China will be a particular focus for the new administration. Vietnam, for one, would welcome more reliable U.S. security guarantees in the South China Sea. The new presidential administration may also use economic incentives to repair U.S.-Philippines relations and weaken China's hold over the Duterte government. Washington's re-engagement strategy, and the Chinese assertiveness that has prompted it, therefore pose significant obstacles to the ASEAN neutrality and autonomy. This spells trouble for ASEAN's quest for a ZOPFAN in Southeast Asia.
Dr. Laura Southgate is a Lecturer in Politics and International Relations at Aston University, UK, where she specializes in Southeast Asian regional security, regionalism, and international relations. Her monograph "ASEAN Resistance to Sovereignty Violation: Interests, Balancing and the Role of the Vanguard State" was published by Bristol University Press in 2019.