Ethnic Kazakh From Xinjiang Detained in Europe, Again
Three years after fleeing China, an ethnic Kazakh man continues to struggle to find a safe place to land.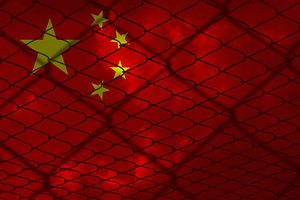 Ersin Erkinuly, an ethnic Kazakh from Xinjiang, has once again been detained — this time in Germany — for allegedly illegally crossing a border. His three-year saga, which ranges from China to Europe and features stints in detention in several states, illustrates a devastating reality for ethnic Uyghurs, Kazakhs, and others who have fled China: Where in the world can they be safe and free?
China's campaign of transnational repression, including harassment, deportation, extradition, or rendition back to China, leaves Uyghurs, and others like Erkinuly, nowhere to go.
Erkinuly fled Xinjiang in December 2019. He told Voice of America that his decision was prompted by the disappearance of yet more people into the internment camps that had been established in 2017.
"I fled China to Kazakhstan in late 2019 after I had witnessed some people around me disappeared into internment camps," he said in an interview with VOA earlier this year.
Although Kazakhstan tried to walk a fine diplomatic line, allowing some ethnic Kazakhs to stay in the country, Nur-Sultan's close relations with Beijing instilled fear in many, Erkinuly included. Earlier in 2019, Sairagul Sauytbay decide to leave Kazakhstan. An ethnic Kazakh Chinese whistleblower, Sauytbay had fled to Kazakhstan and been arrested for illegal entry in May 2018. A Kazakh court convicted her, but decided not to deport her. She was denied asylum a few months later, leaving her in an odd legal limbo as she continued to try and obtain asylum in Kazakhstan. In June 2019, she gave up trying to stay in Kazakhstan and flew to Sweden, which granted her asylum. 
At some point in 2020, Erkinuly left Kazakhstan for Turkey, hoping to achieve asylum there. Unsuccessful, he turned to Europe, landing in Ukraine in October 2020. He tried to enter Poland but was detained and sent back to Ukraine, where he was detained. Erkinuly claimed to have lost his Chinese passport and feared that Ukraine would deport him to China. While he was in detention in Ukraine Erkinuly filed an asylum petition, but according to RFE/RL, "the Chinese Embassy in Kyiv also petitioned for his return to the country, writing in a letter to Ukraine's State Migration Service… [stating] that [Erkinuly] wished to be returned to China and was lying about any persecution he faced in Xinjiang."
He was released from detention in December 2020, but grew nervous as his asylum application waited for a response. In August 2021 he tried to enter Slovakia, later telling activists who lobbied on his behalf that he'd received threats from unknown persons. He was detained at the border and again faced the possibility of deportation. Instead, he was once again returned to Ukraine, where he was when Russia invaded in February 2022.
At that point, he joined hundreds of thousands fleeing Ukraine, and crossed the border with Poland on March 3. He once again filed for asylum, a ruling on which can take months to years with the influx of refugees from Ukraine burdening Polish authorities. Erkinuly told VOA, "They gave me a document which states I am allowed to remain in Poland until May" but days later he was detained at the Poland-Estonia border, reportedly trying to reach Finland.
On July 13, Erkinuly was reported to have been detained in Kempten, Germany. He told an RFE/RL journalist by phone that he'd been detained entering from France. Germany officials declined to provide details about his case, citing laws that prevent them from doing so without the consent of the detained individual, but stressed that Germany does not deport people to countries where they may face torture or death. 
Erkinuly's excruciating journey illustrates the difficulties those in his position face. They cannot safely return to their countries of citizenship, but do not have anywhere else to go, especially if they have expired passports or no documentation at all. Erkinuly reportedly lost his passport and receiving a new one from Chinese authorities is all but impossible. Meanwhile, even though Erkinuly has managed to apply for asylum in several countries, war evicted him from Ukraine and it seems likely that fear pushed him to try and leave Poland.
Europe, like the United States, has struggled to manage refugee flows with compassion. On the one hand, Europe and the United States have been critical of Chinese policies in Xinjiang, but they've failed to open enough doors for those who flee. And with successive waves of refugees, from the Middle East, Africa, Afghanistan and elsewhere, the systems in place to process refugee applications buckle under the burden.
As scholars Bradley Jardine, Edward Lemon, and Natalie Hall cataloged in a report last year on Chinese transnational repression, the risk of being forcibly returned to China is real. At the same time, the scholars told The Diplomat, "Technology and social media have allowed the Chinese government to harass, track, and intimidate Uyghurs living abroad, making it nearly impossible for Uyghurs [and others from Xinjiang] who have otherwise escaped China's orbit to be entirely free."
No place is safe. In 2019, Omer Kanat, director of the Uyghur Human Rights Project, wrote in an op-ed for The Diplomat about Chinese state pressure on Uyghur Americans, aimed to force them to stop their activism. 
Three years after leaving Xinjiang, Erkinuly has yet to find the freedom and safety he seeks.