Washington Again Revokes Duty-Free Access for Thai Goods
While the Thai government has shrugged off the decision, it is unlikely to do much to improve relations between Washington and Bangkok.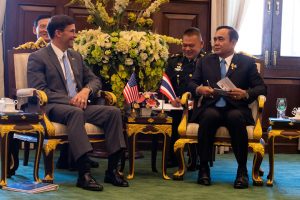 President Donald Trump has revoked duty-free privileges for around $817 million of Thailand's imports to the United States, citing a lack of progress on the part of that country in opening its market to American pork products. In a letter to U.S. House Speaker Nancy Pelosi announcing the move, which was later released by the White House, Trump said that he had "determined that Thailand has not assured the United States that Thailand will provide equitable and reasonable access to its markets."
The revocation, which will remove the tariff-free privileges granted to 231 Thai products under the U.S. government's Generalized System of Preferences (GSP), will come into effect on December 30. The move follows more than two years of negotiations between Washington and Bangkok over issues ranging from labor rights to market access for U.S. goods.
A key reason cited as a justification for the GSP suspension is Thailand's apparent lack of sufficient progress in opening its market to American pork products containing ractopamine. Ractopamine is an animal feed additive used in a handful of countries including the U.S., but banned in 160 other nations due to safety concerns. While two major American pork producers recently stopped the use of ractopamine, pork industry lobby groups have long pressed foreign countries to drop their restrictions on the drug.
The GSP scheme allows duty-free entry into the U.S. market for 3,500 products from 119 countries, which in exchange must take steps to protect labor and intellectual property rights, and assure "equitable and reasonable access" to local markets for American-made products.
According to the U.S. Trade Representative's office, the duty-free suspension will affect 231 products running the gamut from plastic cigarette holders, frozen fruit and umbrellas to auto parts, chemical products and rubber tubing. The GSP access suspension follows an suspension in October 2019 that affected an additional $1.3 billion worth of imports from Thailand, due to concerns about labor rights. That suspension affected around 573 Thai products.
Following the announcement, Thailand's Ministry of Commerce announced that the restrictions would not have a serious impact on export levels, claiming that only 147 of the 231 products are currently being imported by the U.S. It also pointed out that last year's GSP access suspension had only a minor effect on bilateral trade.
Nonetheless, the move is unlikely to do much to improve relations between the U.S. and its Southeast Asian treaty ally, at a time when the U.S. government is seeking to consolidate important partnerships in a bid to curb China's growing power in the region. Relations with Bangkok have been strained since the military coup that brought Prime Minister Prayut Chan-o-cha to power in May 2014, prompting the Obama administration to cancel and scale back military engagement, an uncertainty that hasn't been fully dispelled by the Trump administration's more transactional approach.
Indeed, like the U.S. government's recent announcement of an investigation into possible currency manipulation on the part of Vietnam, this move demonstrates the incoherence of the present administration's approach to Southeast Asia.
On the one hand, U.S. strategic blueprints like the Free and Open Indo-Pacific strategy have signaled an increasing American commitment to Southeast Asian partners and treaty allies. Just last week, Secretary of State Mike Pompeo undertook an Asian tour in which he described the Chinese Communist Party as a "predator," denounced Beijing's "lawless and threatening" behavior and pledged a more robust U.S. engagement with Indo-Pacific nations.
At the same time, the administration has also evinced a mercantilist, "America First" approach that places ephemeral or short-term U.S. interests ahead of longer-term strategic goals. (The fact that the top three U.S. pork producing states – Iowa, Minnesota and North Carolina – are all important fields of battle in this week's presidential election suggests that more venal motivations may also be at play.)
Whatever the exact considerations, picking fights with allies and partners over relatively small-bore trade disputes will do little to buck the prevailing regional perception of the U.S. as a fickle, mercurial partner.