As Biden Picks Austin for Defense Secretary, Nagging Fears Resurface
If Biden changes course on China, relatively speaking, could India-U.S. relations be affected?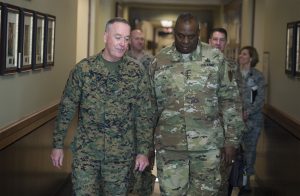 Is U.S. President-elect Biden bad for Asia? Would he change the U.S. course on China set by the Trump administration and, instead, seek to reach out to Beijing in order to work with it on shared challenges? Will the "Indo-Pacific" still be a thing from January 20 onwards? While these questions periodically surfaced among the commentariat in the run-up to the November 3 presidential elections, they have once again come to the fore, most notably with Biden's decision to nominate former CENTCOM Commander General Lloyd Austin for the position of the secretary of defense.
Add to this concerns around the fact Biden has also used the older "Asia-Pacific" moniker interchangeably, and along with, the "Indo-Pacific" nomenclature so favored by the Trump administration, and old worries about what a Democrat in the White House come 2021 would mean for the United States' approach to China have surfaced yet again.
The most proximate reason for the fresh bout of Biden pessimism when it came to Asia was an op-ed the president-elect published in The Atlantic on December 8, where he explained his rationale for picking Austin. Recall that the choice came as a surprise to many given that in the run-up to the nomination, political observers had widely suggested that former Under Secretary of Defense for Policy Michele Flournoy – who holds robust views around how a military threat from China needs to be met – was the top contender for the job.
In the op-ed, Biden – in listing key security threats that the United States would need to meet – failed to mention China, instead noting a range of challenges "from pandemics to climate change, from nuclear proliferation to the refugee crisis." Given that the listed problems require a collective response, which, in turn, implies bringing China on board, this was doubly dispiriting to many. Already, when Austin's name surfaced days before, some had questioned the wisdom of nominating a retired general to the secretary of defense's position – which, by design, is supposed to provide civilian oversight and control over the Pentagon – as well as noting his lack of experience in the INDOPACOM theater.
In Asia, reactions to Biden's op-ed, added to his remarks nominating Austin, were swift – and brutal. The Japan Times quoted Kotani Tetsuo, a professor at Japan's Meikai University as saying "Biden's foreign policy team has stated U.S.-China competition is mainly economic and technological, not military." Kotani went on to add, "Picking someone as secretary of defense who lacks understanding of China and the Indo-Pacific endorses this perception."
Referring to Biden's omission of the term Indo-Pacific while nominating Austin, Indian strategist Brahma Chellaney tweeted: "China's state media has been urging Biden to replace 'Indo-Pacific' with 'Asia-Pacific'. Biden obliged while nominating Lloyd Austin as secretary of defense. Also, China must be pleased that Biden hasn't mentioned the Quad — before or after the election." (Indian China hawks have a curiously optimistic view of what the Australia-India-Japan-United States Quad can do militarily to deter and shape Chinese behavior, attaching great significance to U.S. pronouncements about the grouping.)
Setting aside the obvious fact – which University of Chicago professor Paul Staniland brought up on social media – that in order for Biden's Asia policy to be discernible he first has to spend some time in office to begin with, in many ways it is plain that Biden's China policy (or his Russia or any other foreign policy, for that matter) will not resemble Trump's. This is not the least because as he sets out to restore American leadership amid a catastrophic health and economic crisis, he may assess that, in the immediate run, staring China down – with its attendant costs – may simply not be worth it.
So, the question then really becomes why so many – in New Delhi, in particular – had assumed that a U.S. military competition with China had bipartisan purchase in Washington, D.C. Part of it has to do with the positive externality that that competition would generate for others, as the U.S. would commensurately strengthen countries on China's periphery in order to contain it.
But for India, the issue goes deeper.
As many have already pointed out, one of the key calculations the Modi government made as it took dramatic and divisive decisions on the domestic front in the past couple of years was that the United States could not afford to hector it, given its interests in keeping India on its side. But if Biden significantly changes course on China, preferring a more toned-down approach to the China-U.S. strategic competition, India's stock might fall (or at the very least, be relatively diminished) as a corollary, in turn leading to greater scrutiny of India's domestic policies in the corridors of official power in Washington, D.C. This would be a distinct possibility especially if Biden seeks to claim international leadership when it comes to democratic values and norms – which looks likely.