Australia to Acquire Hypersonic Weapons Capability in Collaboration with US
The newly announced SCIFiRE project builds on 15 years of joint Australia-U.S. fundamental research on hypersonics.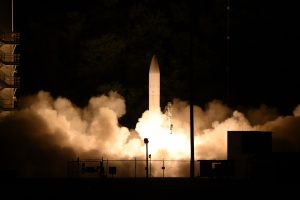 Australia will team up with the United States to develop air-launched hypersonic missiles, the Australian Defense Minister Linda Reynolds announced on December 1. CNN quotes a statement from Reynolds as saying: "We will continue to invest in advanced capabilities to give the Australian Defence Force more options to deter aggression against Australia's interests."
Following a Defense Strategic Update earlier this year — whose commitment to the development of offensive strike capabilities was described by some analysts as a "paradigm shift" – Australia had committed to acquiring new platforms as well as supporting munitions. As the accompanying Force Structure Plan noted, Australia was committed to "the procurement and introduction of the F-35A Lightning II Joint Strike Fighter aircraft, support of the F/A-18F Super Hornet strike aircraft and acquiring enhanced air-launched munitions." Media reports note that the under-development hypersonic missiles could be launched from both platforms.
The Australia-United States collaboration on hypersonic missiles falls under the Pentagon's Southern Cross Integrated Flight Research Experiment (SCIFiRE). SCIFiRE is an Allied Prototyping Initiative of the Directorate for Advanced Capabilities within the Office of the Under Secretary of Defense for Research and Engineering, a Pentagon statement on November 30 announcing the partnership noted. It further added that SCIFiRE builds on the $54 million Hypersonic International Flight Research Experimentation (HIFiRE) program under which both countries have collaborated over the past 15 years.
According to the Australian Defense Department, the HIFiRE program, focusing on fundamental research, had already accomplished significant goals in hypersonics, including design, assembly and pre-flight testing of hypersonic vehicles, as well as design of associated avionics systems.
"The SCIFiRE effort aims to cooperatively advance air-breathing hypersonic technologies into full-size prototypes that are affordable and provide a flexible, long range capability, culminating in flight demonstrations in operationally relevant conditions," the Pentagon statement noted.
An Australian Financial Review piece on the news states that local Australian companies, including small and medium enterprises, will contribute to the development of the air-launched hypersonic missiles which is expected to take between five and 10 years.
The United States has enthusiastically pursued hypersonic research, with the Pentagon's Financial Year 2021 budget request for it standing at $3.2 billion. While the U.S has sought hypersonic weapons as part of its conventional global prompt strike capabilities since the early 2000s, its more recent focus has been on "hypersonic glide vehicles  and hypersonic cruise missiles with shorter and intermediate ranges for use in regional conflicts," a Congressional Research Service report notes.
The U.S. Army and Navy tested a hypersonic glide body prototype for the first time in 2017. In March this year, another test flight for design validation of the Common Hypersonic Glide Body followed, with three more tests scheduled for next year. The U.S. military seeks to field hypersonic missile batteries by 2023.