Multinational Talisman Sabre Exercises Underway
This year's iteration of the exercise burnishes Canberra's credentials as a creative middle power with significant cooperative reach across the Indo-Pacific.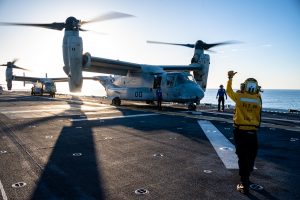 Australia is currently hosting the biennial Talisman Sabre military exercises. These exercises are the largest combined training activity between the Australian Defense Force and the United States military, but over the past two decades have incorporated other invited participants. The tenth iteration, which runs from July 22 to August 4, is the largest in terms of the number of participating partners. The exercise is a demonstration of how seriously Australia – and many other countries – are taking Indo-Pacific security. 
The current exercises involve more than 30,000 military personnel from 13 countries. The list of participants gives an indication of how Australia is seeking to network its global partnerships and build itself greater cooperative reach. Each of the regions Australia considers of vital importance to its interests have strong representation, either as full participants or as observers. 
Alongside Australia's close relationship with New Zealand, three Pacific Island countries that have militaries – Papua New Guinea, Fiji, and Tonga – are also full participants in the exercise. Given Australia's status as the hegemonic power in the South Pacific, and how it sees this role as vital to both its own and regional security, maintaining intimate links with these Pacific forces is of great importance. Elevating these militaries alongside those of major global military actors also provides a sense of respect, and a recognition of the contributions they are able to make to global security. This is something Fiji especially takes seriously with its peacekeeper operations. 
While Australia's alliance with the U.S remains the central pillar of its defense strategy, it is arguable that Canberra's relationship with Indonesia is its most important. A close and trusting relationship between Australia and Indonesia provides Canberra with greater assurances with its northern maritime approaches, as well as broader habits of cooperation with security concerns in the South China Sea and the northeast Indian Ocean. Having previously been invited as an observer to Talisman Sabre, Jakarta is now a full participant in this year's iteration of the exercises – an advancement in the security relationship that moves the two neighbors closer to achieving this critical objective. 
The broader Southeast Asian region is represented by the Philippines, Singapore, and Thailand as observers. The Philippines is a country with which Australia has quietly built greater security cooperation, and Australia is the only country aside from the U.S. that the Philippines has a Visiting Forces Agreement with. Australia recently participated in Exercise Balikatan, the annual training exercises conducted between the Philippines and the United States. Given the Philippines's strategic location in the South China Sea and closeness to Taiwan, it is a vital player in maintaining regional stability.
Closer security cooperation between Japan and South Korea is an essential element of Indo-Pacific security, and the participation of both countries in the Talisman Sabre exercise is a positive sign that the two countries are able to work together with broader security concerns in mind. The two countries have recently agreed to speed up talks to resolve outstanding disputes, something that would be welcomed in Canberra. 
Japan and Australia have become each other's closest security partners outside their respective relationships with the United States. Japan's Ground Self-Defense Forces used the opportunity of the open space that Australia provides to test some of its new artillery. The bilateral security relationship between Australia and South Korea has also flourished in recent years, but Australia's recent Defense Strategic Review refocused its procurement needs toward the maritime domain, meaning South Korean contractor Hanwha may not be supplying as large a number of Australia's new armored troop carriers, with the requirement revised down from 450 to 129. 
Hanwha will be in competition with German defense manufacturer Rheinmetall to bid for this revised contract. However, the German firm may be in the box seat after Australia and Germany recently came to agreement on Rheinmetall's Australian operations being assigned to build 100 new Boxer armored fighting vehicles for the Germany military. The agreement augments Germany's participation in the Talisman Sabre exercises for the first time. With Berlin beginning to normalize itself as a security actor and setting its attention toward the Indo-Pacific (notwithstanding Europe's current security problems). 
This pivot toward the Indo-Pacific is a recognition from Europe that Russia's current belligerence is a short-term problem and the world's center of gravity is now firmly in Asia. As a Pacific power, France is a regular participant in Australia's military exercises, and despite its self-inflicted wounds, the United Kingdom still harbors ambitions of being a major global power whose presence is required at Talisman Sabre. Its recent signing of the Comprehensive and Progressive Agreement for Trans-Pacific Partnership gives an indication that it sees the Indo-Pacific as a theater within which it needs to enhance its presence. 
Australia's ability to attract major military actors from North America, North Asia, Europe, Southeast Asia, and the Pacific is testament to Canberra's diplomatic capabilities. Talisman Sabre's ability to attract the interest of China is also an indication of its weight. In order to enhance this weight the priority for Australia in forthcoming years will be to move India from observer status to a full participant. It may be too ambitious for Australia to see itself as a strategic organizer in the vein of former Japanese Prime Minister Abe Shinzo, but Talisman Sabre burnishes Canberra's credentials as a creative middle power with significant cooperative reach.