China Aiding Rebel Groups in India's Northeast: Report
While Indian officials periodically raise the specter of China aiding insurgents along the India-Myanmar border, hard evidence to support these claims remains thin.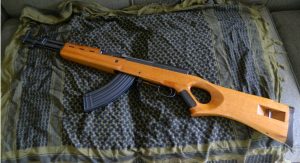 Bloomberg reported on December 7 that, according to Indian government officials, China is once again aiding rebel groups active in India's restive Northeast along the India-Myanmar border, resulting in an uptick in violence there since September. According to Indian officials who spoke to the media outlet, "armed groups in Myanmar — including the United Wa State Army and the Arakan Army, which was designated a terrorist organization this year — are acting as Beijing's proxies by supplying weapons and providing hideouts to insurgent groups in India's northeastern states."
The report also added that no fewer than four leaders of separatist groups were in the Chinese city of Kunming for training and acquisition of weapons as late as mid-October. The Chinese Foreign Ministry denied these allegations in written responses to Bloomberg.
India and China have been locked in a tense military standoff in Ladakh since May this year, with both armies clashing mid-June in the Galwan Valley leading to the deaths of 20 Indian soldiers and an unspecified number of People's Liberation Army casualties. In a military operation in Ladakh between the end of July and beginning of August, India used its secretive Special Frontier Force – a special operations unit under the Research and Analysis Wing, comprised of ethnic Tibetans – raising symbolic stakes for China.
Multiple rounds of military and political negotiations, including those between the defense and foreign ministers of both countries, have failed to resolve the Ladakh crisis even though the Indian government has continued to assert that its negotiations with China are on track. The very fact that Indian officials were willing to speak to a media outlet to raise the alarm around alleged Chinese support for separatist groups in India's Northeast suggests a degree of frustration with China at least in certain quarters of the establishment in New Delhi.
While there is indeed evidence of China's historical support for insurgent groups operating in India's Northeast, including those in Assam, Manipur, and Nagaland, recent scholarship shows that China's backing for these groups in recent years has diminished and, insofar as it still continues, is oblique and symbolic. While some analysts had hypothesized the role of China in supporting an attack on Indian security forces in July this year in Manipur by three insurgent groups using China-made weaponry, others are not so confident.
Writing in these pages, School of Oriental and Asian Studies, London professor Avinash Paliwal noted that there is scant "evidence to definitively assert that Beijing is behind these attacks [in July on Indian security forces in Manipur by three insurgent groups] – or whether these groups are exploiting the Sino-Indian crisis [in Ladakh]." Indeed, as Paliwal writes, Beijing would face formidable difficulties in heating up India's Northeast akin to the situation there in the 1980s and 90s.
The Indian government had been in talks with Naga separatists, which failed in September. Certain Naga rebel groups have found shelter in Myanmar even though the country's military, the Tatmadaw, has cracked down on them amid warming India-Myanmar ties, which included India transferring a refurbished Kilo-class submarine to that country in October.
At the same time, it is also clear that as China-India rivalry heats up – and this year has been proof that the two countries are increasingly finding strategic accommodation of the other difficult – sub-conventional and covert operations will likely form part of the punishment toolkit of both Beijing and New Delhi. Whether such actions rise beyond the symbolic and do end up raising costs for the other, however, remains to be seen.