Indian Foreign Minister Speaks at Event on Rebalancing at Home and Aboard
Jaishankar's remarks offer a glimpse into India's future trajectory. Which may not make some happy.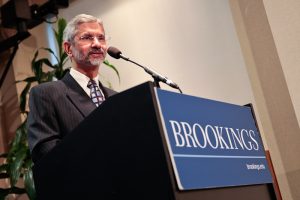 In a wide-ranging virtual conversation with the Sydney think tank Lowy Institute's Michael Fullilove on December 9, India's External Affairs Minister S. Jaishankar once again outlined the Modi government's core foreign policy beliefs – and in the process, brought uncomfortable questions to the fore yet once more. Jaishankar published a book earlier this year in which he laid out his vision for "global strategy," a way of thinking about the international system and India's place in it by looking at linkages between disparate trends and their net effect.
His conversation with Fullilove drew some of its premises from the book, beginning with the assertion that the world is amid "rebalancing" and moving toward a multipolar system where increasing weights of newer powers (such as China, but also in Jaishankar and Prime Minister Narendra Modi's conception, India) is bringing about a fundamental structural shift with far-reaching geopolitical effect. As Jaishankar told Fullilove, this will lead to "new regimes, new norms, new behavior." Effectively, Jaishankar's reassertion was tantamount to endorsing an uncomfortable fact: India is an "emerging, evolutionary, revisionist power," as scholar Jagannath Panda put it in a recent essay. But India's revisionism takes aim at extant regimes as it seeks to muscle its way into them, often by teaming up with China, while China's are explicitly territorial as well as normative.
But could it be that some of that revisionism begins at home? When asked about India's growing illiberalism, Jaishankar, the cerebral ex-diplomat, reframed the problem – accusing that Westerners who make such claims at not in sync with changes within India, especially the relative decline of the English-speaking big-city elite at the expense of the rise of other voices. (Rebalancing, again?) For Jaishankar, the challenge instead is that of communication: How does this "New India" (Modi's coinage) communicate with the world, and how the country makes the world, in turn, make an effort to understand it — a formulation as abstract as it is analytically unhelpful, save for the fact that some of India's recent efforts to "make the world make the effort to understand us" have been problematic, to put it mildly.
On China, Jaishankar's remarks were reiteration of familiar lines: The bilateral relationship has been "very significantly damaged" by the ongoings in Ladakh and especially by the clash in Galwan valley mid-June, and that peace along the China-India Line of Actual Control is a prerequisite for the rest of the relationship to return to normalcy. What was interesting is that Jaishankar revealed that the Chinese had offered "five differing explanations" on why it chose to mass forces along the LAC. (He was careful enough not to admit to any Chinese intrusion across the LAC.) Recall that in the past Jaishankar had claimed that he was unsure what made the Chinese take the steps they did in Ladakh. So, after the Lowy revelations, one is left wondering what the five explanations given by Beijing to New Delhi were – and whether India's move last August to revoke Jammu and Kashmir's autonomy, along with its increasingly trenchant position on Gilgit-Baltistan, were one of them.
Jaishankar also took the opportunity to repeat what has become a standard Modi government assertion in the past few months, as the pandemic – coupled with poor decisions taken in the preceding years – continued to wreak havoc on the Indian economy. Asked about India and the Regional Comprehensive Economic Partnership (RCEP) agreement, he pointed out India's trade deficit with those countries along with complaints around subsidies and market access. India's turn towards what feels like autarky light – even when it has been framed, as Jaishankar did in his conversation with Fullilove, as "Make in India but Make for the World" – also found a mention in the post-script of Jaishankar's book, where he all but claimed that in the world of rising protectionism, India's post-1991 economic liberalization plans were past their sell by date.