Kazakhstan's Parliamentary Elections: The Ablyazov Effect
Mukhtar Ablyazov is kryptonite in Kazakh politics.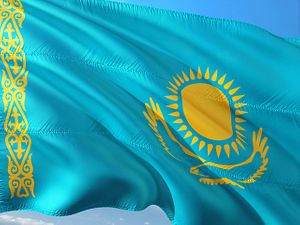 On January 10, Kazakhstan will hold a parliamentary election. The current parliament is heavily weighted toward the ruling Nur Otan party, of which First President Nursultan Nazarbayev remains chairman, with 84 of 98 elected seats in the 107-member lower house, the Mazhilis. All expectations are for more of the same, but the run-up to the poll has not been without its bumps and Nazarbayev's nemesis Mukhtar Ablyazov is at the core of the latest drama.
Kazakhstan has six officially registered parties that are able to contest the election. Three — Nur Otan (84 seats), Ak Zhol (seven seats), and the Communist People's Party (also seven) — are represented in the current body. The three other parties are Auyl, Birlik, and the All-National Social Democratic Party (OSDP). Ak Zhol is technically in opposition, but viewed as pro-government and rarely acts in an oppositional way. 
There are a handful of non-registered, unofficial parties — some of which have tried and fail in recent years to gain registration but have been met with government resistance. For example, in February 2020 the authorities temporarily detained activists on their way to Almaty for the founding congress of the Democratic Party of Kazakhstan. The party's head, Zhanbolat Mamai, was also detained. The aborted founding congress dovetailed with protests called for by the banned-as-extremist Democratic Choice of Kazakhstan (DVK), led by Ablyazov.
Ablyazov has continued to insert himself into Kazakh politics from abroad, proving that one does not need to be present in a country to influence the political tides. 
Last week, according to RFE/RL, Ablyazov called on his followers to vote for OSDP. OSDP is the only registered party that positions itself as opposition. After Ablyazov's call, the OSDP leadership announced it was boycotting the election. Askhat Rakhimzhanov, the head of the party, said the January election would be dominated by the "same" political elite as always. 
"The same rules, the same political parties," Rakhimzhanov said.
According to RFE/RL, Ablyazov then accused the OSDP of following the government's orders — the party did not comment on the accusation. 
This week, Ablyazov in a Facebook video urged his followers to instead vote for Ak Zhol. Ablyazov alleged that if his followers abstained from voting altogether, the government would more easily rig the outcome. Ablyazov seems to be aiming for a Belarus scenario in which the government's eventual landslide victory is exposed as far too good to be true, sparking protests. (However, it's worth noting that despite protests, Belarussian President Alexander Lukasheno remains in power).
His followers voting for Ak Zhol, Ablyazov said, "will also force election officials to increase their efforts to rig the elections, which will make it easier for us to expose the violations to justify our refusal to accept such results."
In response, Ak Zhol announced it would suspend accepting new members. Berik Duisenbinov, an Ak Zhol member and lawmaker, told RFE/RL it was doing so to head off potential rumors that the party was swelling its ranks thanks to Ablyazov.
Ablyazov is essentially kryptonite in Kazakh politics. 
The mere trace or suggestion of a link to him weakens a person's, or a party's, position. It has been used to forcibly admit activists into psychiatric hospitals and deny registration to political hopefuls, regardless of the reality of previous or existing relations, so it is no surprise that his endorsement has Ak Zhol pushing away potential new members. 
This effect is abetted by the government's banning of DVK in March 2018, branding it an "extremist" movement. With that powerful label, any hint of a connection to Ablyazov is treated like a carload of AK-47s and ski masks. 
One early, absurd, demonstration of this phenomenon was when, in June 2018, Ablyazov encouraged his followers to carry blue balloons during the Nowruz holidays as a sign of support. What followed was dark comedy: police accosting Kazakh citizens carrying blue balloons during holiday festivities. The Kazakh flag itself is a shade of blue.
Over the years, Ablyazov has claimed a large base of support in Kazakhstan, but under the current conditions it's impossible to measure. Many of Ablyazov's calls for protests have conveniently coincided with other protest movements and moments, masking the amount of support he, alone, has inside Kazakhstan. Nevertheless, it's clear he's able to affect the political scene, at the very least putting a bee in the bonnet of the existing political elite. Ablyazov is clearly aiming at the ruling party, but disrupting the parties that have occupied the role of "opposition" while never actually acting as such in practice.