Is Kazakhstan Nipping Opposition in the Bud?
Arrests and arson delay Kazakh opposition groups from gathering.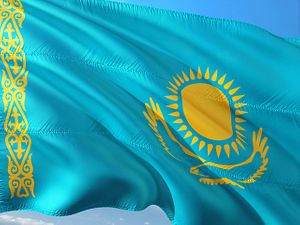 Members of the varied Kazakh opposition had plans for February 22, but government actions are interrupting those efforts.
According to RFE/RL, three Kazakh activists — Talghat Ayan, Rustem Kazhimov and Daria Ulzhaghalieva — were detained by police at the train station in Atyrau, in western Kazakhstan. The three were starting their journey east to Almaty, Kazakhstan's old capital and largest city, where they planned to take part in the planned founding congress of the Democratic Party of Kazakhstan. 
The Democratic Party of Kazakhstan, led by Zhanbolat Mamai, is a nascent opposition group though the activists associated with it have long histories tangling with the state. Last October, Mamai and his colleagues announced that they wanted to create a new political party. 
Mamai, a journalist, was tried and convicted of money laundering in 2017, with supporters claiming the case was politically motivated given his criticism of the government. As Reporters Without Borders noted in a statement at the time, "the judge himself, in his conclusions, said he had found no evidence of money-laundering." Nevertheless, Mamai was convicted and sentenced to parole-like conditions for three years (minus the seven months he spent in pre-trial detention), including movement restrictions and a ban on working as a journalist.
Mamai was accused of laundering money for Mukhtar Ablyazov. With the state's thin case based on funding his outlet, Tribuna/Sayasi Kalam, received from an associate of Ablyazov. Tribuna/Sayasi Kalam closed after Mamai's arrest. Mamai denied any association with Ablyazov.
Talghat Ayan has also has his own run-ins with the state. In 2016, he was arrested along with Maks Boqaev and put in jail for allegedly organizing the groundbreaking land code protests that year. The two were sentenced to five years in jail for inciting social unrest, spreading false information, and violating the law on public gatherings. 
Ayan was released on parole in April 2018 while Boqaev remains in prison.
Ayan told RFE/RL this week, "Police told us that we were detained for questioning in an unspecified criminal case." He also said that 30 activists were planning to attend the founding congress for the Democratic Party of Kazakhstan in Almaty on February 22 but that at least 10 had been motivated by state pressure to change their minds and plans.
On February 17, activist Muratbai Zhumaghaliev says someone set his car on fire. "I am confident that my car was destroyed because of my political views and activities," Zhumaghaliev told RFE/RL. Zhumaghaliev had been campaigning for the new party.
Kazakh law requires at least 1,000 people, with representation from two-thirds of the regions and major cities, participate in the founding congress of a political party in order for it to achieve official registration. In addition, there is a requirement for 40,000 members. It's virtually impossible for an opposition movement to attain official registration. At the phase the Democratic Party of Kazakhstan appears to be at — with 30 previously hoped to attend its "founding congress" — it is already encountering state resistance. How could it ever get to 40,000 members if it cannot even be allowed to gather 30 together?
February 22 is also a problematic date, as Nur-Sultan's bete noire Ablyazov has called for rallies on that same day under the banner of his banned party, the Democratic Choice of Kazakhstan (DVK). DVK has been labeled an extremist group by Nur-Sultan but called a "peaceful opposition movement" by the European Parliament. Kazakh authorities have reportedly arrested more than 20 activists associated with the movement, with many being handed short sentences just long enough to keep them away from any potential rallies next weekend.
Anything related to Ablyazov makes the Kazakh authorities extra jumpy and it could be that Mamai's planned party congress — unrelated to DVK — is a victim of that. Nonetheless, the overarching situation reinforces the reality that organizing any kind of opposition in Kazakhstan remains difficult for activists and easy for the authorities to disrupt.