Philippines Celebrates Human Rights Day With Crackdown on Activists
A new slate of arrests follows weeks of baseless accusations by the Duterte administration that political opponents are associated with terrorist groups.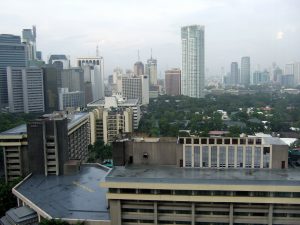 Philippine police arrested a journalist and six trade unionists on December 10, as the country celebrated Human Rights Day, in an escalation of President Rodrigo Duterte's campaign to silence dissent.
Duterte and his political allies have recently accused a wide swath of progressive politicians, activists, and celebrities of having links to illegal communist groups, drawing strong rebukes from rights groups and opposition senators.
The practice, known in the Philippines as "red-tagging," can be deadly.
Lady Ann Salem, the journalist arrested on December 10, is an editor of Manila Today, an alternative publication which has been repeatedly red-tagged.
Salem and the trade unionists were charged with possessing illegal firearms and explosives, a usual charge falsely levied against activists.
The arrests made up a string of operations by Manila police carrying out warrants signed by a judge responsible for authorizing controversial arrests in 2019.
The judge, Cecilyn Burgos-Villavert, signed warrants last year leading to over 50 arrests in Manila and Bacolod in which police detained and allegedly abused minors participating in a cultural performance group. The firearms and explosives charges for most of those arrested have since been dropped.
The Philippine Senate has held a series of inquiries on red-tagging since Maj. Gen. Antonio Parlade, the de facto head of an anti-communist task force, controversially red-tagged several celebrities including actress Angel Locsin and 2018 Miss Universe pageant winner Catriona Gray.
Senators Grace Poe and Panfilo Lacson, the latter of whom led the inquiries, have spoken in favor of potentially making red-tagging a crime.
"The reckless tagging of anybody that will damage their reputation, that will put them in danger, is something that we really need to prevent," Poe said in an interview with ABS-CBN News Channel.
Red-tagging is not just defamation – it can act as a license to kill. Several activists have been murdered by unidentified gunmen after being labeled as terrorists by military or government officials.
Zara Alvarez, a longtime activist who assisted the arrested minors in Bacolod last year, was shot dead in August after repeatedly being red-tagged. Randall Echanis, a peace consultant in Quezon City, was killed just days earlier.
But Duterte has continued red-tagging his political enemies. He recently told members of Makabayan, a progressive political bloc, that he was not red-tagging them but instead "identifying you as communists."
Duterte has shown no evidence to support the baseless accusation.
Critics have equated Duterte's war on dissent to his infamous and deadly war on drugs. Journalist Michael Beltran wrote that both campaigns "subject their victims to violence based on mere suspicion" and "have a harrowing effect of justifying impunity."
Past military and police operations targeting activists have been couched in "drug war" language, such as a series of campaigns by security forces in Negros that left over 20 farmers and land rights activists dead.
Leaders in neighboring countries, such as Indonesia, have accused opponents of communism for their own political gain. It's a tactic well known in the Philippines, whose former dictator Ferdinand Marcos used an alleged communist rebellion to justify his declaration of martial law in 1972.
But it signals a personal shift for Duterte, who was once a student of exiled Communist Party of the Philippines leader Jose Maria Sison and had warm relations with leftist groups during his long tenure as mayor of Davao. Many of the progressives now being targeted by Duterte actually voted for him.
Duterte's turn has been inspired by military hardliners who made up much of the outsider president's early foundation. Rights groups also allege Duterte has been influenced by powerful business leaders, especially those with interests in extractive industries which infringe on indigenous lands and have led to severe environmental concerns.
It also likely comes down to Duterte's desire to ensure his allies retain power in the 2022 Philippine elections. Duterte's anti-communist task force received a massive budget increase in 2021, which experts say will be used to hinder local progressive candidates challenging Duterte allies.
Duterte is barred from running for a second term, but the popular president is expected to hand-pick his successor.