To Deepen Relations With India, Australia Should 'Step Up' in South Asia
Canberra can help deepen relations with New Delhi by putting more effort into its relations with other South Asia states.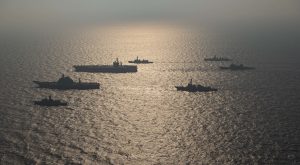 As noted by Australia's High Commissioner to India Barry O'Farrell, Australia's defense engagement with India has increased four-fold over the last six years. India's formal invitation for Australia to participate in the Malabar exercises, the elevation of ties to the comprehensive strategic partnership level, and the evolution of several trilateral strategic dialogues involving Australia and India alongside France and Indonesia are other positive developments. 
Nonetheless, the relationship is still very much in the process of solidifying. One gauge of this was Australia's last-minute invitation to attend November's Malabar exercises.
Various reasons may explain India's hesitance in extending an invitation. India's foreign policy bureaucracy has a long memory. After India's first nuclear tests in 1998, it took the better part of two decades for Australia to resume uranium sales to the country. Then-Prime Minister Kevin Rudd's myopic and – surely in hindsight – naive decision to walk away from Quad 1.0 in 2008 out of deference to China also gave New Delhi's foreign policy circle further reasons to doubt Australia's reliability.
Somewhat ironically, India's refusal to invite Australia to the Malabar exercises in 2018 and 2019 suggested that New Delhi also sought to use the exercises to improve its own relationship with China. The tardiness of the invitation this year could suggest that the relationship is perceived by India as being of second order importance and that doubts remain over Australia's credibility.
So, while things are clearly on the up, work remains to be done. One suggestion is for Australia to ramp up its engagement with the broader South Asia region.
Despite what some have described as Indian attempts to seek a grand bargain with China, Beijing has considerably increased its presence in what India considers to be its own backyard – particularly the Maldives, Sri Lanka, Nepal, and Bangladesh.  Developments like the lease of the Sri Lankan port of Hambantota to China for 99 years, the Maldives' huge Chinese debt bill, and Bangladesh's reliance on Chinese military hardware have all made New Delhi increasingly nervous. In a worst-case scenario, India fears Chinese encirclement through a string of pearls strategy. 
While India has in the past rebuffed attempts by U.S.-allied nations to play a bigger strategic role in South Asia, this is now changing. In September, India welcomed moves by the United States to enhance its defense cooperation with the Maldives – some seven years after rebuffing U.S. attempts to negotiate a status of forces agreement with the same country. India also expressed no opposition to Washington's latest – somewhat clumsy – attempt to renegotiate its status of forces agreement with Sri Lanka.
Assuming Australia's moves are made with adequate consultation, there is every reason to believe that New Delhi would welcome Australian efforts to act as a force multiplier. This will require a minor re-think of Australia's foreign policy. South Asia, beyond India, is hardly mentioned at all in Australia's 2017 Foreign Policy White Paper. Despite Australia's professed Indo-Pacific mentality, July's Strategic Defense Update defines Australia's area of focus as "ranging from the north-eastern Indian Ocean" (i.e., excluding most of South Asia) to the "South West Pacific." This is quite a narrow focus for a country that until recently was deploying significant naval assets to the Middle East.
There are some immediate steps that Australia can take to deepen its engagement with South Asia. To start with, Australia should reverse years of cuts to its South Asia aid budget. Nepal, Bangladesh, and Sri Lanka have seen their share of aid – worth a relatively modest A$200 million in 2014-15 – cut to just over A$100 million across 2020-21. Aid to the Maldives has never been more than A$10 million despite the county's development challenges and strategic significance. As well as increasing aid substantially beyond 2014-15 levels, Australia should also work with India to help manufacture and dispense COVID-19 vaccines throughout South Asia. Partnering with India to help debt-distressed nations – the Maldives and Sri Lanka in particular – is also a potential avenue of cooperation. 
Security is another obvious area of focus. Australia's security relationships with Bangladesh and Sri Lanka are skin-deep and have mostly focused on low-hanging fruit areas like transnational crime, terrorism, and people smuggling. With the Maldives and – perhaps more justifiably, because of its landlocked status – Nepal, there is no significant security relationship to speak of.
Thankfully, at least with Sri Lanka, this was beginning to change. Indo-Pacific Endeavor 2019 – cancelled this year because of COVID-19 – saw over 1,000 Australian Defense Force personnel and four Royal Australian Navy ships visit Sri Lanka for the largest ever bilateral defense engagement. While the return to power in Sri Lanka of the more pro-China Rajapaksa clan may make replicating 2019 difficult, Australia should, at a minimum, explore extending next year's Indo-Pacific Endeavor to include Bangladesh and the Maldives. Australia's growing interoperability with India and the U.S. announcement of the re-creation of its First Fleet – which will have a large Indian Ocean focus – may also create other opportunities for collaboration with South Asian nations. 
Better relations with India and a more favorable Indo-Pacific balance of power are not the only reasons to deepen Australia's South Asia footprint. Deeper relationships with South Asia should also be seen as an inherent good if Australia is to fully embrace its geographically undeniable status as an Indian Ocean nation.
Henry Storey holds a master of international relations from Melbourne University. He was formerly at Foreign Brief and currently works as an analyst for a political risk consultancy in Melbourne.