Indian Foreign Minister Visits Australia Amid Deepening Relations
There is a lot riding on the relationship for both New Delhi and Canberra given that both have a inherent interest in balancing China and ensuring a stable Indo-Pacific strategic order.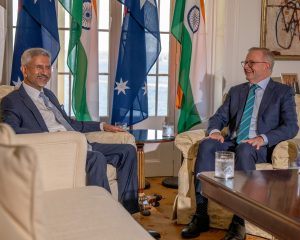 Indian External Affairs Minister S. Jaishankar was in Australia for a brief but significant visit last week. He was in Sydney for the Raisina@Sydney Dialogue, organized by the Australian Strategic Policy Institute (ASPI) and India's Observer Research Foundation (ORF). This was the minister's third visit to Australia in the last year, reflecting the growing closeness between the two key strategic partners in the Indo-Pacific.
The transformational shifts in the bilateral and minilateral engagements between India and Australia come against the backdrop of the rapidly changing geopolitical equations in the Indo-Pacific. China's rise and its strategic consequences have brought New Delhi and Canberra closer because both countries have been dealing with a more belligerent China despite their strong economic linkages with Beijing. This suggests that close trade and investment ties do not change the basic nature of interstate relations, and China's use of force is a reality that India and Australia have to address. 
In another sign of the close and trusted relationship between India and Australia, for the first time, Australia will play host to the next Malabar naval exercise. That is a notable turnaround; until 2020 Australia had been excluded from the drills for years, given India's sensitivity toward Beijing's fears of the exercise being a vessel for China containment.
Jaishankar's visit appears to have been a successful one, with a number of high-level official meetings in Sydney. Following a meeting with Australian Prime Minister Anthony Albanese, Jaishankar tweeted that "Our discussions reflected the full spirit of our strategic partnership. Apprised [Albanese] of recent developments in that regard."
Albanese also tweeted about the meeting to say that the two "discussed our strategic partnership, economic opportunities and the people-to-people ties that enrich our nations." The Australian prime minister is scheduled to travel to India in March. 
Jaishankar had very engaging discussions with Australian Foreign Minister Penny Wong as well.  They shared "perspectives on the Indo-Pacific strategic picture, progress in the Quad, G20 developments and our respective neighborhoods."
The minister also met with Australian Deputy Prime Minister and Defense Minister Richard Marles, after which the Jaishankar said that he had "an insightful conversation on defense and security challenges that India and Australia confront. Our shared values and strategic convergence underpin growing cooperation."
Jaishankar also met with the Australian climate change and energy minister. The two discussed climate financing and the need for greater collaboration between India and Australia. 
Speaking at a business breakfast at Raisina@Sydney, echoing Wong, Jaishankar said that "I think the state of the world creates a very compelling case for India and Australia to do more with each other… And it's necessary for countries like India and Australia here to work more closely to shape the direction in which the world is going." 
Providing the immediate context for the bilateral relationship, he spoke about a world that is already under enormous stress from trade and financial concerns and, of course, the COVID-19 pandemic that has ravaged the world. Jaishankar also noted that the Ukraine conflict is adding to existing stress on the international system.
He suggested Australia-India cooperation on de-risking the global economy "by building more reliable and resilient supply chains," an initiative that is already underway in a trilateral format involving India, Australia, and Japan. A second goal that he articulated was on the challenges of digitalization and ensuring a more secure and credible digital world.
A third goal, possibly the most crucial, according to the minister, is to determine "what are the important relationships, which can serve as stabilizers, really for a sort of world economy heading into choppy waters, quite a few years ahead." Getting this right, in terms of identifying relationships that work in India's interests as well as those of the broader Indo-Pacific, is critical in terms of maximizing India's strategic space and options while minimizing the vulnerabilities. 
In this changed economic and strategic context, Jaishankar focused on one area as needing strengthening: investment. He argued that investment should move along with trade "because they're mutually reinforcing." The two countries are finalizing a trade agreement to be signed during the Australian prime minister's visit to India. The two countries had earlier signed an interim trade deal in April 2022. 
On that subject, Albanese reportedly told Jaishankar that the Australia-India economic relationship is important because they have complementary economies. "I look forward to strengthening that as well, as well as on security issues," the Australian prime minister added.
Delivering the curtain raiser at the Raisina@Sydney, Jaishankar made some interesting remarks touching upon these earlier points. He talked about globalization and rebalancing as two phenomena that are playing out, with certain frictions in how they are defined. He pointed to not only differences between democracies and non-democracies but also between democracies themselves about who sets the standards of democracy.
This emphasis on and the differentiation between different kinds of democracies, and the differences in values and norms, could be troubling for India's relations with Western democracies if they are seriously carried forward. There are variations between democracies, but also certain universal values and principles such as human rights, free media, and respect for diversity, that are widely viewed as common to all democracies.  
However, a more positive aspect of his address was his perception of how India would work the Indo-Pacific at a "conceptual level" and the Quad at a "mechanism level." Jaishankar argued that the Quad is a grouping of four countries who do not share geographic boundaries, "with an enormous amount of sea space and some land space between them, but who have, in different ways, overcome their own past outlook, to forge something common in response to a perceived global and regional need." He called it a grouping of "great consequence" given its "salience" in all the four countries' foreign policies, something that was unimaginable even a few years ago.
Jaishankar also described the India-Australia bilateral relationship as "exceptionally important." The importance of this partnership is, of course, evident in the number of high-level visits between the two countries. The minister also raised some of the tricky issues in the relationship, such as the safety and security of Indians in Australia, and Sikh extremist incidents targeting the diaspora population. 
Nevertheless, there is a lot riding on the relationship for both New Delhi and Canberra since both have an inherent interest in balancing China and ensuring a stable Indo-Pacific strategic order. As with other new security partners, India's relationship with Australia is likely to grow stronger, very much thanks to China.