Uzbekistan Joins Online Eurasian Economic Union Meeting as an Observer
Tashkent's observer status does not earn it any of the benefits President Shavkat Mirziyoyev heralded in his remarks, but full membership appears to be the goal.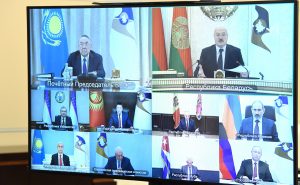 On December 11, in an online Eurasian Economic Union (EAEU) meeting, Uzbekistan was officially welcomed as the organization's third observer state. In May 2020, 71 of 91 participating Uzbek senators approved Uzbekistan's application for observer status in the EAEU. Uzbek President Shavkat Mirziyoyev participated in the meeting alongside representatives of the group's full members —  Belarus, Russia, Kazakhstan, Kyrgyzstan, and Armenia — and two other observer countries, Moldova and Cuba.
Mirziyoyev in his speech touched on the organization's growing international reputation and widening cooperation geography. He outlined economy, transportation, and migration as three areas in which the EAEU would benefit Uzbekistan the most. 
On the economy, Mirziyoyev  said that the EAEU member countries are major trade partners of Uzbekistan and trade turnover has increased two-fold in the past several years. The president continued to say that the economies of the EAEU member countries complement Uzbekistan's by filling the gaps as evidenced by thousands of joint ventures operating in his country. The president wants to see trade barriers come down further to expand industrial cooperation for increased value chain of products.
On his second point, regarding transportation, Mirziyoyev said that the transportation communications and infrastructure of Uzbekistan and the EAEU member states are deeply integrated and closely interconnected. He wants to see increased activity on these transportation corridors to bring down costs. 
On labor migration, Mirziyoyev spoke about mutually beneficial relations within the wider Eurasian region characterized by a high mobility of labor resources. He called for balancing abundant labor resources in Uzbekistan, which are pressure points to the economy, with the demand for labor in EAEU countries. 
All three items in Mirziyoyev's speech were aspirational because none of them are achievable unless Tashkent becomes a full member of the EAEU. Observer status does not link Tashkent to any of the mechanisms to address these issues.
Tashkent is planning become an EAEU member by 2025 according to the Concept of Social and Economic Development of Uzbekistan – 2030, the country's main developmental roadmap. Observer status for now will solely allow participation in EAEU meetings, when invited; allow review of non-confidential documents; and keep Tashlent in contact with various EAEU commissions. None of these activities will influence Uzbekistan's economy, or touch on matters of transportation or labor migration as Mirziyoyev outlined in his speech 
Two other senior Uzbekistan officials spoke about Tashkent's observer status leading up to the official meeting on December 11. Senator Odiljon Iminov sees an opportunity for Tashkent to study the effects of future membership on the economy. Senator Sodiq Safoev, in his recent trip to the U.S., said that Tashkent was still amenable to accede to the EAEU as a member and working groups were analyzing the effects on independent foreign trade policy and on small and medium businesses.
Tashkent had already conducted considerable work in 2019-2020 studying the economic consequences of EAEU membership. The country's main economic policy think tank, the Center for Economic Research and Reforms, in a 2019 study outlined each major sector in Uzbekistan and the effects to these industries, as well as mitigation measures for the areas that would suffer as a result of the membership. The same organization in the middle of 2020 also polled 1,500 students, business owners, and government officials that returned more than 70 percent as favorable toward EAEU membership. 
Mirziyoyev's various speeches about the matter indicate that he expects positive outcomes from EAEU membership. His enthusiasm was apparent from the benefits he listed to country's economy, transportation, and labor resources. Uzbekistan's economic growth is the most paramount objective for Mirziyoyev and he is betting on the EAEU for these purposes. He also sends signals via such speeches to his administration and the country's legislative bodies, which are fully aligned with him. They will similarly focus on the supposed economic benefits, turning a blind eye toward the political traps enmeshed in EAEU membership.