Vandalized iPhone Plant Highlights India's Torturous Economic Path
Under- and overregulation of markets have both introduced their share of problems in the Indian economy.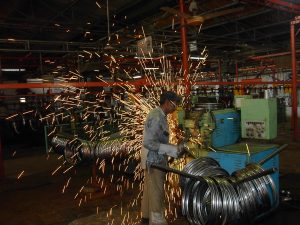 A senior Taiwanese official has raised concerns around India's land and labor laws following an incident of vandalism and rioting that saw massive damage to a manufacturing unit of Taiwanese firm Wistron Corp operating outside Bangalore, India's tech hub. In an interview to Reuters on December 15, James C. F. Huang, chairman of the Taiwan External Trade Development Council said: "We do hope that the Wistron incident in Bengaluru would be resolved as soon as possible and any harm will be controlled and give Taiwanese companies more confidence." On December 12, contract workers – demanding back wages and better working hours – vandalized the Wistron facility causing damages of up to $7.2 million after a peaceful assembly outside the facility turned violent, Reuters separately reported.
Wistron's Bangalore facility was manufacturing iPhones; the company is among Apple's top suppliers.
The incident comes amid a massive push by India to attract global manufacturers to India through production-linked incentives, as the Modi government pushes the mantra of "Make in India but Make for the World." But commenting on the damage to Wistron, Huang noted "We are hoping that the Indian side would provide more, and not just incentives."
The Modi government, after many economic policy missteps and missed opportunities, has renewed efforts to resuscitate the Indian economy as the country's GDP has seen unprecedented contraction following a lockdown to contain the COVID-19 pandemic. However, key economic indicators – such as unemployment rate – was blinking red since last year. Modi has pitched a "Self-Reliant India" to the Indian public which, operationally, seems to be a push toward curbing imports while increasing exports. His government has also sought to take advantage of post-pandemic supply chain relocation from China and has committed to ambitious plans to increase supply chain resilience.
But Saturday's incident once again illustrates the challenges global manufacturers face in India, as difficult working conditions coupled with archaic factor market laws make their lives – as well as the lives of workers – difficult. As Indian states as well as the federal government seeks to jumpstart economic activity following the lifting of the pandemic lockdown and other restrictions, many analysts note that the already perilous state of India's workers stands to significantly worsen. Commenting on this "race to the bottom" – 10 Indian states (but not Karnataka, where the Wistron plant is situated) have significantly relaxed labor laws to boost production capabilities – one Indian labor economist, K.R. Shyam Sundar told the Thompson Reuters Foundation: "It's not only regression, it's a deep slide into a bottomless pit and a race to the bottom of labour standards."
But beyond this, India's long tradition of protectionism and state intervention in market operations still reverberates and stands in the way of apparently well-meaning economic reforms, as the ongoing farmers' protests in the country demonstrate. In September, India passed three new laws that, according to the Modi government, would stand to boost farm income and increase agricultural output. But protesting farmers – many of whom have congregated on the border of New Delhi and neighboring Haryana and Uttar Pradesh – claim that the laws would pave the way for big corporations to take over agriculture and adversely affect their livelihoods.
Structural problems arising out of both over- and under-regulation of Indian markets, whether that be in manufacturing or agriculture, continue to plague India's economy. Unfortunately, neither massively hyped reforms (such as the new agricultural laws) nor much vaunted initiatives (such as a push to attract big consumer tech companies to India) seem to be working as the Modi government had planned.