17 Candidates Remain in the Kyrgyz Presidential Race
Four opposition candidates, in anticipation of a second round run-off for the presidency, have pledged to unite behind a single candidate. But Sadyr Japarov is the favorite to win in the first round.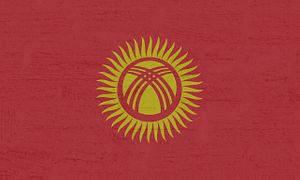 This coming weekend, on January 10, Kyrgyz citizens will head back to the polls. But instead of a re-run of the October parliamentary elections that were botched by vote-buying and overturned after protests, Kyrgyz will have the opportunity to vote for a new president and to voice their position as to what kind of government Kyrgyzstan ought to have, presidential or parliamentary. Four opposition candidates, in anticipation of a second round run-off for the presidency, have pledged to unite behind a single candidate.
By mid-November 2020, more than 60 individuals had filed applications to contest the presidency but only 20 submitted the required registration documents by the deadline, according to the OSCE election monitoring mission's interim report. On December 12, the Central Election Commission (CEC) approved the registration of 18 candidates. In late December, Rashid Tagaev, the director of the Oshgaz branch of Gazprom Kyrgyzstan, reportedly took himself out of the race. Seventeen candidates remain in the running.
In late December, four candidates — Adakhan Madumarov, Klara Sooronkulova, Kanat Isaev, and Kanybek Imanaliev — signed a memorandum pledging to unify behind a single candidate should the January 10 election be forced into a second round. 
Under the present Kyrgyz Constitution a candidate has to secure more than half of the votes cast to win; if no candidates breaks that 50 percent threshold the two top contenders face off in a second round. If the Kyrgyz presidential election is pushed into a second round it will almost certainly be recently resigned Prime Minister and Acting President Sadyr Japarov against someone, TBD. The four candidates noted above who have pledged to unify broadly represent the opposition in so much as they are all clearly not pro-Japarov. 
Madumarov is arguably the closest candidate following Japarov, but it's a distant second. A public opinion survey conducted in early December by the Central Asia Barometer indicted that Japarov was the front-runner (with 64 percent saying they'd vote for him if they election were held that day). When asked if their first choice candidate was not on the list whom they would then support, 37 percent replied "against all" and 33 percent said "I don't know." The top human second-choice was Adakhan Madumarov with 14 percent.
Sooronkulova is the only woman running for president and a former judge in the Constitutional Chamber of the Supreme Court. She has led the way on several legal challenges against the twists and turns of Kyrgyz politics since October. She was part of an appeal to the constitutional chamber to overturn the parliament's October 22 decisions to suspend parts of the constitution in order to punt parliamentary elections into 2021 (rather than hold them in December) after presidential elections and a referendum and extend its own mandate, which was set to expire. She lost that challenge.
Kanat Isaev is an interesting addition to the foursome. He's the leader of the Kyrgyzstan party, one of the four parties that managed to clear the threshold and win seats in the later-annulled October 4 parliamentary election. He was elected speaker of the Kyrgyz parliament on October 13 just as Japarov was made prime minister. On October 15, when President Sooronaby Jeenbekov resigned, Isaev — as speaker — was technically next in line and should have become acting president. But he passed on the position and Japarov took it instead. Isaev had urged Jeenbekov not to resign, but pressure from Japarov's supporters pushed the president to the exit. Like Japarov, Isaev resigned in November in order to legally run for president.
The four opposition candidates have filed a complaint that the Supreme Court's acquittals on October 5-6 of Sadyr Japarov, Kamchybek Tashiev, and Talant Mamytov were made illegally and the involved judges should be disciplined. Japarov had been serving an 11.5 year prison sentence after being convicted in 2017 of arranging the kidnapping of a regional governor. Amid the post-election protests, he was among a group of politicians freed from jail. Most were returned within a week (though some remain at large). Somehow Japarov was instead granted a review of his case and had his conviction overturned in tandem with a skeleton parliament crew meeting at a hotel naming him prime minister the same evening as his escape from jail. There were subsequent quibbles over whether a quorum was actually present and it wasn't until October 14 that Jeenbekov accepted Japarov's appointment as prime minister. The next day, Jeenbekov resigned in the face of pressure and threats of violence from pro-Japarov supporters. 
The CEC has reportedly launched a probe into allegations that residents in Kara-Suu district are being intimidated by young men into voting for Japarov. Per RFE/RL: "The report said young men went house to house telling people to vote for Japarov on January 10, threatening them with violence if they didn't."
While there are 17 candidates on the presidential ballot, it's increasingly clear that the choice is Japarov or not-Japarov. But unless voters all pick the same alternative candidate, Japarov may very well get the numbers necessary to become president. Kyrgyz presidents, under the current constitution, serve single six-year terms, but given the referendum question and the potential rewrite of the constitution it entails, the future is very unclear.