Cambodian Police Bar Journalists From Covering Investigations
Should the rounding up of dissidents and other criminal investigations simply be ignored?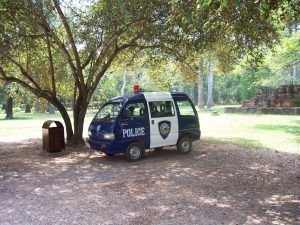 Cambodian press coverage has taken another hit after the General Commissariat of National Police banned journalists from covering police investigations amid warnings that legal action would be taken against any reporter caught violating the directive.
It was a blunt warning and disturbing, given that a decree from the police can seemingly override a constitution that is supposed to guarantee press freedom.
Issued last Friday, Lt. Gen. Sar Theth, chief of Phnom Penh Municipal Police, said that the directive would enable his officers to perform their duties without interference from reporters.
"Journalists or reporters are not allowed to broadcast live while the authorities are on a mission to carry out their duties and on an actual crime scene," he told the government-friendly Khmer Times.
Importantly, the directive also prohibits filming or recording police investigations on criminal activities under surveillance or monitoring, and the identification of suspects or their location. It's a rule that could apply equally to print, online, radio, as well as television.
"… those who violate the instructions of the authorities, legal action will be taken against them as well as per the Press Law," he said, adding police needed to investigate all criminal cases, especially those related to national security, drugs, human trafficking, immigration, and illegal gambling.
Cambodia's independent press has struggled in recent years under the increasingly authoritarian rule of the Cambodian People's Party (CPP). It was sorely tested after the 2013 elections, when the Cambodian National Rescue Party (CNRP) went close to winning the popular vote and the CPP refused to accept the results.
CNRP leader Sam Rainsy, currently living in self-imposed exile in France, also made unsubstantiated allegations of widespread rigging.
Violent, occasionally deadly, protests followed, the CNRP was dissolved, NGOs and Western businesses left, and news outlets were shuttered or sold off to government-friendly interests.
It was a recipe that enabled Prime Minister Hun Sen's long-ruling CPP government to secure absolute control of the National Assembly, winning every seat at elections in 2018. Then the Chinese arrived en-masse.
The directive was issued amid a year-long police round up of dissidents, most tied to the CNRP. More than 200 people have been charged with treason and incitement and more than a hundred are before the courts in a mass trial.
Investigations are continuing and journalists covering the court case have been given mixed messages. Some have been told they cannot attend the hearings or even cover the arrival of those charged outside the court.
Others have been told they can attend, if they register ahead, but are then told restrictions and social distancing imposed because of the COVID-19 pandemic meant there were no available seats.
And as Lt. Gen. Sar Theth noted, cases are ongoing, particularly those involving drugs and human trafficking, which are being closely monitored from abroad.
The United States is threatening sanctions unless Cambodia can improve its human trafficking record and is pursuing groups like the World Hongmen History and Culture Association it says has "managed to co-opt elite figures in Malaysia and Cambodia"
A branch of the association was established in Cambodia by the Chinese drug lord Wan Kuok Koi. Known as "Broken Tooth," Wan heads the 14K Triad in Hong Kong and Macau and the World Hongmen, which the U.S. Treasury Department says is attempting to legitimize itself by claiming the mantle of China's Belt and Road Initiative.
Broken Tooth has left Cambodia and is being pursued under the Global Magnitsky Human Rights Accountability Act but his presence in the southern port town of Sihanoukville only became public knowledge through a report by the Al Jazeera television network. 
The latest directive limiting media coverage of criminal investigations begs one question: Are these stories to be ignored simply because Cambodian police are investigating? Just asking.
Luke Hunt can be followed on Twitter @lukeanthonyhunt