Did Uzbekistan and Russia Just Have Their First (Limited) Food War?
Tomato pests, quickly forgotten, suggest the brief ban on some Uzbek imports was of a political nature.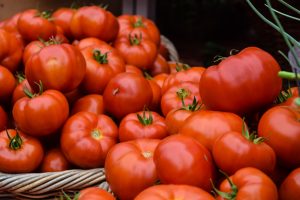 In the last two months of 2020, Russia's Rosselkhoznadzor (the Federal Service for Veterinary and Phytosanitary Supervision) imposed several bans on the import of several foodstuff and agriculture products from Uzbekistan, alleging the products were found to contain pests. The bans were short lived, lasting from several weeks to a month, but were enough to remind Uzbekistan of the significance of Russia's market.
Rosselkhoznadzor's bans of foodstuff imports are not unusual. There are numerous examples of Russia leveraging the food valve in response to a deterioration of geopolitical relations with one partner or another. Uzbekistan has mainly enjoyed stable relations with Russia and therefore, until recently, was kept out of the food wars. The latest incident was the first widespread ban, albeit a short one, according to a cursory review of Rosselkhoznadzor's website. 
First came a ban on tomato and bell pepper imports from three regions in Uzbekistan. Then Rosselkhoznadzor announced it had detected pests in dried fruits from the Fergana region and after several days announced a full ban on all agriculture products from the same region. All of the bans were retracted after the cabinet of ministers of Uzbekistan, the second highest government body after the presidential administration, intervened and entered negotiations with Russia.
There are reasons to believe that Rosselkhoznadzor's bans on the import of some Uzbek produce may be of a political nature. Uzbekistan disputed Rosselkhoznadzor's conclusions after conducting its own investigation and testing. The governor of the Fergana region said that the tomato pests were not found in the source greenhouse or any other greenhouses that export tomatoes to Russia. Uzbek authorities also disputed the claims about the dried fruits from the Fergana region. 
In an unusual political affront toward Russia, an official from the Uzbekistan State Customs Committee, the main customs authority, went as far as dubbing Rosselkhoznadzor's bans as a "political game." Nevertheless, Russia indisputably has an upper hand in the dispute as made obvious by the governor of the Fergana region who said that the ban would result in hardship for his region. He warned of subsequent economic devastation if exports to Russia were not resumed.
We can only speculate what precipitated Rosselkhoznadzor's ban, if it was indeed political, and what led to the prompt reversal of the decision. 
Tashkent's uncertainty in choosing a supplier for a COVID-19 vaccine and its delayed approach toward Eurasian Economic Union (EAEU) membership could have been contributing factors. On December 11, Tashkent joined the EAEU as an observer and that brought the country a step closer to a full membership. On December 21, an agreement was reached about purchasing a million doses of Russian vaccine for labor migrants coming from Uzbekistan to Russia. (On December 19, the Bloomberg COVID-19 Tracker also reported that Uzbekistan made a deal to purchase 70 million doses of vaccines from Gamaleya, the developer of Sputnik V).
Food and agriculture products are a considerable share of Uzbekistan's exports to Russia, its major trade partner. Agriculture products from Uzbekistan are around 28 percent of all exports to Russia, the second largest category after textiles. Also, the Fergana Valley, where the Fergana region is centered, is considered the breadbasket of Uzbekistan for its abundant agriculture industry. Cutting the region's main market at any time, even without COVID-induced economic hardships, could have devastating effects. 
Rosselkhoznadzor's ban on Uzbek imports can qualify as the first limited food war between Russia and Uzbekistan. Although the agency did not impose a countrywide ban on all products, it was enough to make Uzbek producers feel pressure and be reminded of the significance of Russian markets. The rapid lift of the ban and Tashkent's disputation of Rosselkhoznadzor's claims indicates that the root of the ban was political, its resolution largely depending on Moscow's will. Tashkent's joining the EAEU as an observer and purchasing Russia-produced vaccines may have smoothed the resolution, tomato pests forgotten.