If Only It Were That Easy: Tajikistan Declares Itself COVID-19 Free
The Tajik president commented that "Tajikistan today is without COVID-19″ — close regional observers (and common sense) disagree.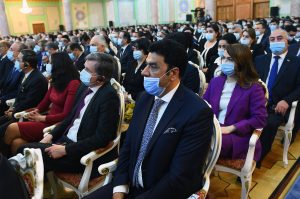 On January 26, Tajik President Emomali Rahmon made a remarkable announcement. In an address to parliament, the audience masked but packed in tightly, Rahmon said, "Tajikistan today is without COVID-19."
"Tajikistan's government has not proven itself to be an accurate source of information on the pandemic," Edward Lemon told The Diplomat. Lemon, a research assistant professor at The Bush School and president of the Oxus Society, put Rahmon's declaration in Tajikistan's autocratic context.
"[Rahmon's] government perpetually reproduces the narrative that it is strong, able to face any challenge, and the pandemic has been no different," he said.
With the coronavirus the world began to speak in terms of curves and flattening them. But with variations in mitigation efforts across the globe, openings and closings of bars and borders at different intervals, the vicissitudes of human behavior, and the evolution of the virus into new strains, few countries have managed to eradicate the virus entirely (or permanently).
In viewing the case data collated and visualized by Johns Hopkins University, following Tajikistan's first admitted cases — 15 on April 30, 2020 — there is a sharp spike in May 2020 with a week of more than 200 new cases each day. After that, the number of new cases drops dramatically. By the summer and continuing the rest of the year, daily new cases are steady in the 40s. They begin to dip again in December and cut off miraculously on December 30.
"Official cases and deaths look like they were lifted from a textbook on how to deal with a pandemic," Lemon observed. "Cases and deaths spiked sharply in May and then the curve rapidly flattened and stayed flat, despite no stringent lockdown measures being taken."
Meanwhile, men in hazmat suits buried the dead.
Contrary to Rahmon's claim this week, Tajikistan's health authorities have reported about a dozen cases since the start of the year, the latest on January 10. In one reading, we can take Rahmon's statement not as a comment on reality, but as a command. Maybe the virus goes away when the dictator says it's gone. 
"Such a victory claim is an attempt to bolster the regime's legitimacy and allow life to return to normal, with prayer in mosques and other restrictions set to be lifted in the coming days," Lemon explained.
An RFE/RL investigation last summer concluded that Tajikistan's official coronavirus statistics didn't match reality and reporting on the reality has become increasingly difficult. Tajik authorities blocked a critical news website, Akhbor, in April 2020. The site was later forced to close. A crowdsourced effort to keep track of suspected but unrecorded COVID-19 deaths, Kvtj.info, went dark, too.
Lemon also pointed out that Tajik authorities changed the country's Criminal Code to punish reporting "disinformation" on the virus.
RFE/RL's report on Rahmon's statement notes that the president urged people to still continue to follow masking and social distancing regulations but "[m]any in Tajikistan have questioned the need to keep the regulations in place, since they aren't being adhered to or enforced in areas such as markets and on public transportation."
Anecdotes from Tajikistan paint a picture of lax adherence to masking and social distancing practices. Sources comment that plenty of people are getting sick with something, but surviving. This may be a perverse result of the reality that Tajikistan has Central Asia's smallest elderly population, as a percentage of its total population.
Tajikistan has a large young and working-age population, as does all of Central Asia, but it's the elderly population that is most at risk of death from the coronavirus. For example, the Centers for Disease Control and Prevention (CDC) in the United States estimates that a person in the 65-74 age group is 90 times more likely to die from the coronavirus than a person in the 18-29 age group.
As of 2019, nearly 60 percent of the population of Tajikistan was between 15 and 64 years old. According to the same 2019 data, just 3 percent of the Tajik population was over the age of 65. For comparison: In 2019, those over 65 made up 7.6 percent of the population of Kazakhstan. For further comparison: More than 20 percent of the population of France is over 65, more than 16 percent of the U.S. population is, and the United Kingdom's over 65 population is 18.5 percent of its total population. 
At the very least, this means that the high risk population in Tajikistan is, relative to other countries, small. The practical reality is that Tajikistan's already small elderly population may be dying away, uncounted.
Past reports have suggested a lack of capacity to actually test for the virus in hospitals and pressure on staff to avoid diagnosing it, thus the prevailing belief among analysts that Tajikistan's official numbers are, at best, vast undercounts and at worst absolute fabrications. Rahmon's claim is being met with the same skepticism.
Officially Tajikistan has recorded just 90 deaths and 13,308 cases.