What Is the Truth About COVID-19 in North Korea?
North Korea insists there have been no coronavirus cases in the country. So why does it keep tightening restrictions, despite the heavy cost?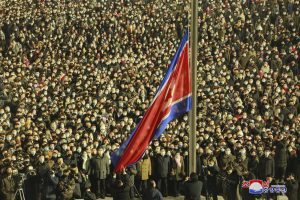 North Korea, one of the most isolated countries in the world, continues to insist that it has successfully grappled with the COVID-19 pandemic, with no coronavirus cases confirmed since the beginning of the pandemic.
According to the country's state-controlled news agencies, North Korea has taken aggressive measures to contain the virus, such as shutting down its borders with China and banning entry from abroad since China confirmed the first coronavirus cases in Wuhan, the epicenter of the pandemic.
While many countries hesitated to close down their borders and cancel flights in the early stages of the pandemic, fearing a negative impact on their economics and thus on the approval ratings of governments, North Korea was not one to think about how to handle the pandemic while causing the least public damage. Its authoritarian system could take whatever measures it wanted to prevent the spread of the virus inside of the country. Its harsh measures led the World Health Organization to report several times that not a single COVID-19 case had been confirmed in the North in 2020.
The North has claimed that a world-class public health system is one of the reasons that it avoided any cases. However, there are no significant developed medical facilities outside of Pyongyang, the capital of North Korea. Those who are not living in Pyongyang might be suffering invisibly, without their government's support amid the pandemic.
"Considering the special relationship between China and North Korea, there is a high possibility that a COVID-19 case was found in North Korea before South Korea, but considering the health situation and capacity of North Korea, it is unlikely that the patient was confirmed," Hwang Seung-sik, a spatio-temporal epidemiologist at Seoul National University. "If the North Korean authorities do not officially acknowledge the confirmed cases, no one knows how serious the situation there has become. A lot of time has already passed."
China is the North's biggest trading partner and the primary support for the economy. Given the close geopolitical and economic relationships between the two nations, experts have said it was too late for the North to shut the borders with China after China confirmed the virus in January 2020. There were cases of what was then being called "acute pneumonia" reported in China in late 2019; there were also several suspicious deaths that occurred in the North.
The Economic Toll
Pyongyang's quick decision to shut the border with China may have prevented a full-fledged COVID-19 disaster, but it has come at a steep cost. South Korean news outlets reported last year that trade between North Korea and China fell 76 percent year-on-year. The biggest drop came in October, when trade was down 99.4 percent compared to the previous year. The information was shared by lawmakers who sit on the National Assembly's Intelligence Committee.
Amid the economic devastation, the U.S. dollar exchange rate in North Korea, which stood at around 8,000 North Korean won per dollar in October 2020, has fallen to around 6,500 won since, which analysts see as suspicious – and unsustainable. In fact, North Korean authorities have issued orders against the use of the U.S. dollar and China's renminbi and imposed tougher sanctions, including imprisonment, for people caught using those currencies.
Usually North Koreans buy and sell goods in about 500 markets using the U.S. dollar and renminbi rather than the won. But now the North Korean government is restricting the use of foreign currency, presumably in a bid to strengthen control over the market and enhance the value and credibility of the won.
In the aftermath of these currency restrictions, prices in North Korea have increased by several times. The cost of major food items such as sugar and condiments have quadrupled compared to the beginning of 2020.
The COVID-19 Situation
Even though the North says that it has not had a single confirmed coronavirus case, it has not stopped tightening restrictions. Over the past year, North Korea has increased the number of tests and has on occasion locked down entire cities such as Kaesong, Hyesan, Nampo, and Pyongyang, according to the Information Committee lawmakers.
Meanwhile, North Korean leader Kim Jong Un has drastically decreased his public appearances, compared to his actions and remarks in past years. Cautious measures to keep Kim safe from the virus should not be necessary if North Korea has not had any COVID-19 cases domestically and has banned entry from abroad.
Despite its claims to the contrary, North Korea's restrictions and economic data suggest that "it is having trouble with containing the virus and it had already confirmed coronavirus cases," according to Park Won-gon, a professor of international relations at Handong Global University in South Korea.
"It is unreasonable to say that there is no coronavirus case in North Korea," said Park. "Considering there was a period of about a month during which China had not clearly revealed information about the coronavirus, even though it confirmed cases in Wuhan in late 2019, more than one coronavirus case must have entered into North Korea, but they might not know." Park added that the North was actively engaging in trade with China during that time, making the spread of COVID-19 across the border likely.
Amid North Korea's drastic and harsh measures to prevent the spread of the virus, experts believe that the North's economic situation is and will continue to be very bad. Beyond negative data from economic indicators, North Koreans are likely suffering from famine and starvation due to food shortages.
Some also suggest that China may be secretly providing aid to North Korea by sea or other routes, but it is doubtful whether North Korea, which has taken a simple but extreme pandemic strategy of blocking every route from the outside world, is actively receiving aid from China.
The South Korean government has publicly said it will provide the North with the necessary aid for its anti-virus activities whenever it needs it, but Pyongyang has flatly refused, saying that it does not need help from other countries.
Last month, South Korean Foreign Minister Kang Kyung-wha said the coronavirus outbreak had made the North more like its insular self, pointing to the fact that the North had not answered Seoul's offer of support in the fight against COVID-19. A few days later, Kim Yo Jong, Kim's younger sister who is also known as the North's de facto No. 2 leader, reacted harshly and made clear the North will not seek or accept any support from the South.
Based on what Kang and other South Korean officials have said, the South Korean government is seeking cooperation with the North, predicting that there will eventually be confirmed cases of the coronavirus in the North. But experts say Pyongyang will not accept those offers.
"The Moon government wants to kickstart engagement with Pyongyang via health cooperation and donating COVID tests, protective equipment, food and medicine. But for political reasons, North Korea will likely reject aid from the South and rely on China's discreet assistance," said Leif-Eric Easley, a professor of Ewha University in Seoul.
For North Korean people, not only COVID-19 but historically devastating floods in August also piled on the misery.
David Beasley, executive director of the U.N. World Food Program, warned about the risk of starvation faced by North Koreans at the September 2020 Korean Peninsula Peace Forum hosted by the Unification Ministry. "Many North Koreans are at greater risk of starvation due to abnormal weather conditions such as drought, floods, and tropical depression," Beasley said.
South Korea's Unification Ministry has also suggested that the floods in North Korea were likely worse than in 2007, when the previous worst-ever floods occurred. "In 2007, when the worst flood damage occurred, 500 to 700 millimeters of rain fell for about seven days in North Korea," said a South Korean Unification Ministry spokesman at a briefing in August. The total rainfall in "August this year seems to be higher than then."
"It's a very difficult situation for North Korean people and it's also very difficult economically," said Seo Jae-pyoung, secretary-general of a Seoul-based organization of North Korean defectors. "Things made in China are not coming through the jangmadang, [markets] so what people need to eat is not being supplied. For example, soybean oil, sugar, and flour were [imported] from China as they are not produced in North Korea, but they are not being supplied since the pandemic began. As a result, the prices of items in jangmadang have risen a lot and people's pain is enormous."
Yet in a bitter irony, thousands of North Koreans rehearsed in Pyongyang for the New Year's Eve party, according to satellite analysis by 38 North, a website devoted to North Korea analysis. Additionally, the Eighth Congress of the Workers' Party, one of the most important events in the North, is set to be convened in early January. The North Korean people must provide the goods or money needed for these large-scale events.
Experts say the pain will not end unless the North unveils special measures and alternatives such as economic revitalization through cooperation with the international community or market opening. But these alternatives will not come to fruition under the Kim regime.
"Other countries have taken quarantine measures. But what the North has done since the pandemic began are not quarantine measures," said Seo, the secretary-general of the North Korean defector organization. "They just blocked [everything] without considering their people's lives."