India and the Quad: 3 Wildcards
While New Delhi remains committed to the grouping as of now, the future could bring unpleasant surprises.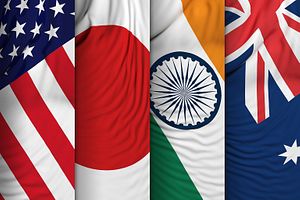 The Quad is likely to not only survive, but also thrive under Joe Biden's administration, if recent news reports are to be trusted. Earlier this week, on February 7, Japan Times reported that the Biden administration has proposed an online summit of the Quad leaders — a significant symbolic elevation of the grouping if it was to happen. Other signs abound that the Quad, which saw rebirth in 2017 and was actively promoted by the previous Trump administration, may continue to be a key part of U.S. Indo-Pacific policy.
A readout of U.S. President Joe Biden's February 8 call with Indian Prime Minister Narendra Modi noted that both leaders "agreed to continuing close cooperation to promote a free and open Indo-Pacific, including support for freedom of navigation, territorial integrity, and a stronger regional architecture through the Quad." While the corresponding readout from the Indian side did not see the Quad being named – it simply noted that  the two "reiterated the importance of working with like-minded countries to ensure a rules-based international order and a free, open and inclusive Indo-Pacific region" – the notable absence was soon pushed to the background.
A tweet by External Affairs Minister S. Jaishankar the day after, following his call with Secretary of State Antony Blinken, stated that the two "[r]eviewed Indo-Pacific developments and the Quad cooperation" — a rare instance where the Indian government has explicitly mentioned the grouping by its moniker.
All this sits on top of India's decision to invite Australia to the Malabar naval exercises last November, making it, de facto, a Quad exercise. While the February 7 Japan Times story on the Quad leaders' meeting notes that "[w]hether the talks will materialize soon is up to India, which is known for its relatively cautious stance on the framework," it would be reasonable to infer that India's attitude toward the Quad has shifted significantly over the past couple of years, not the least because New Delhi's strategic community has ardently advocated it.
That said, three wildcards (each of them conjectural at the moment) could present considerable complications for the future of the grouping when it comes to India.
First, the terms under which India could secure peace with China in eastern Ladakh and restore status quo across a large frontage there. At the time of writing, news continues to trickle in that a military disengagement in the north and south banks of Pangong Lake – in many ways, the key dispute that led to the nine-month long standoff – is in the making. In the past such reports have eventually proved to be fanciful (and have come with crucial fine print). However, a subtle hint that both sides are genuinely interested in ending the conflict this time around comes from a February 9 press statement from the Ministry of External Affairs following a video conference between the two to discuss United Nations Security Council (UNSC) issues that day. A line in it — "Both sides agreed to continue their engagement on key issues on the UNSC agenda" – suggests that India may indeed be seeking to modestly modulate its position on engagement with China. (Note that so far during the Ladakh standoff, the Modi government has stridently demanded that "peace and tranquility" along the Line of Actual Control is paramount in order for the rest of the bilateral relationship to remain intact.)
If a solution to the Ladakh dispute is indeed in sight, one can only wonder what (if any) diplomatic concessions are to be made to China in order to secure it, including the extent to which India will visibly brandish its membership in counter-China groupings such as the Quad.
Second, U.S. sanctions following the delivery of the Russian S-400 air defense missile system later this year to India would almost grievously damage the India-U.S. relationship, with further Quad cooperation possibly being collateral damage. While Modi the pragmatist could downplay token sanctions and move on, they'd come amid growing anti-Americanism in India, whether that be because of a latent distrust of Biden among many in the Hindu right here, or what some perceive as meddling by U.S. voices and entities in India's domestic affairs. Under such circumstances, Modi would find it very hard to continue with business-as-usual and must demonstrate to his base his ability to not take U.S. pressure lying down.
Third, and relatedly, much will depend on how the Biden administration continues to balance realpolitik necessities and liberal commitments. These are still early days insofar as coming to a firm judgment about which side of the equation it would tilt toward. That said, some in New Delhi (including Shyam Saran, a former Indian foreign secretary) have inferred from Biden's February 4 foreign policy speech that India could very well be subject to much greater U.S. scrutiny when it comes to human rights and perceived democratic backsliding under the new American leadership. Again, any overt push from the Biden administration to the Modi government to correct course could complicate India-U.S. engagements across several fronts, including on the Quad.