As China's FM Qin Gang Prepares to Visit India, Reflections on Wang Yi's Views
Former Foreign Minister Wang's speech late last year indicated that China-India relations are likely to remain troubled for a while.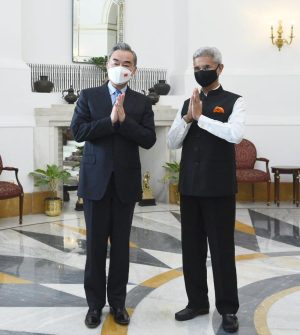 China's new Foreign Minister Qin Gang is expected to make his first visit to New Delhi on March 1 and 2 for the G-20 foreign ministers' meeting. The visit comes at a time when relations are at a historic low, with tens of thousands of Indian and Chinese soldiers backed by heavy weaponry remaining deployed along the China-India border.
In this context and at this juncture, it is worth analyzing where former Foreign Minister Wang Yi left off.
Wang's address at the Symposium on the International Situation and China's Foreign Relations in late 2022 showed that China's position on the border and the gaps in understanding and expectations between the two sides will likely cause troubles in China-India relations. In the year-end address, Wang, who is now director of the Chinese Communist Party's Central Foreign Affairs Commission, summarized China's foreign policy, diplomacy, and relations with various countries.
Coming roughly two weeks after the most recent clash between Indian and Chinese forces at Yangtse in the eastern sector of the Line of Actual Control, Wang's address provides some insights into China's posture towards India.
On the border dispute, Wang said that "both countries are committed to upholding stability in the border areas." In his address in 2021 Wang mentioned that India and China had "effectively managed and controlled frictions in certain border areas." The removal of this phrasing in 2022, followed by the addition of the phrase "we stand ready to work with India" toward the "growth of China-India relations," appears to be an attempt to pressure India. Wang is signaling that China is willing to mend ties, but India is being inflexible and is therefore responsible for the troubles in relations. Moreover, China appears to be prioritizing laying the blame on India rather than resolving the problems.
Second, China standing "ready" implies that for the relationship to go back to normal, the ball is in India's court, as Beijing will not be softening its posture at the border. A hard posture on the border also seems to be evidenced by recent statements from Indian Army chief Manoj Pande that China has increased its troop count in the eastern sector. The General Officer Commanding-in-Chief of Eastern Command, Lt. Gen. Rana Pratap Kalita, pointed out that the PLA has built up infrastructure.
Taken together, it seems that the Chinese are signaling that India must yield and accept the new status quo. Given that a return to the status quo pre-April 2020 is a key demand for India, a considerable gap exists between China's posture and India's demands.
Third, despite a military standoff with 50,000 to 60,000 troops on both sides and a clash at Yangtse roughly two weeks before, Wang's address revealed that India is not high on China's list of priorities. He discussed India after the United States, Russia, the European Union, ASEAN, countries in Central Asia, and Japan. This lack of priority also aligns with a conclusion that former Foreign Secretary Vijay Gokhale reached in a recent working paper. Gokhale argued that due to China not viewing India as independent and free of major power influence, Beijing has neglected its India policy. This is further borne out when one considers that China's hardened posture comes at a time when India has categorically stated that the relationship cannot be normal unless there is peace in the border areas, and that there has been no ambiguity in India's signaling in this regard. Again, there is a gap between the two sides.
Fourth, Wang's speech shows that China is misinterpreting India's participation in the Quad. India, for its part, has deepened its engagement with the United States (most recently through the initiative on Critical and Emerging Technology, or iCET) and other Quad partners in response to Chinese assertiveness along the border.
But in his address, Wang mentioned attempts by "some country to bring bloc confrontation to Asia," which have disrupted "peace and stability in the region." The country in question is the United States, and the Quad is one of the blocs. Wang further said that China supports countries in "distancing from the geopolitical trap." This includes India.
Thus, Wang is attributing India's participation in the Quad and other groupings to U.S. influence rather than to India's own concerns and choices – not recognizing that New Delhi has considerations of its own. Further, calling the U.S.-led coalitions in Asia a "trap" implies that countries such as India are easily influenced, without the strategic autonomy to pursue their interests. This is consistent with China's long-standing perception of India as under the influence of various great powers at various points, be they the United States or the Soviet Union/Russia.
This came across recently in the remarks of Lou Chunhao, executive director of the Institute for South Asian Studies at CICIR, a top Chinese think tank with significant influence on foreign policymaking. Lou opined that iCET is a part of the U.S. strategy to influence other countries such as India to contain and encircle China. These remarks show that Beijing not only does not understand India's interests but also views its pursuit of these interests as threatening. This is adding to the tensions between the two countries.
In such a situation, it would be interesting to see the outcomes from Qin Gang's visit. This is because the visit also comes on the back of the first in-person talks of the Working Mechanism for Consultation and Coordination on India-China Border Affairs (WMCC) in three years. Led by Shilpak Ambule, the joint secretary for East Asia in the Indian Ministry of External Affairs, it also marked the first visit to Beijing by a top Indian official in nearly three years.
The readout from the Indian Ministry of External Affairs noted that proposals for disengagement in the remaining friction areas were discussed in an "open and constructive manner," that both countries hoped to create conditions for "restoration" of normalcy" in bilateral relations, and that they agreed to hold the 18th round of the Senior Commanders meeting at an "early date."
These comments signal that further tactical breakthroughs between both sides may be in the works, perhaps relating to disengagement along the border that may be undertaken with an eye on creating an atmosphere conducive for Chinese President Xi Jinping to visit New Delhi for the Shanghai Cooperation Organization summit in June and the G-20 Summit in September. However, at a strategic level, Wang Yi's remarks show that the gaps between the two sides on the border dispute – between China's posture and India's expectations – is quite large and a long way from being bridged. They also reveal a lack of understanding around India's foreign policy, especially with the Quad. These issues are likely to cause troubles in China-India relations.