Outlook: China and the Transatlantic Alliance 
Insights from Rachel Tausendfreund.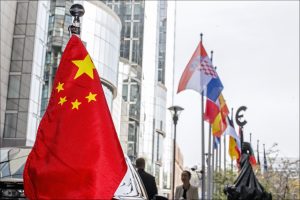 Trans-Pacific View author Mercy Kuo regularly engages subject-matter experts, policy practitioners, and strategic thinkers across the globe for their diverse insights into U.S. Asia policy.  This conversation with Rachel Tausendfreund, editorial director of the German Marshall Fund (GMF), is the 260th in "The Trans-Pacific View Insight Series." 
Identify key recommendations in a recent GMF report on improving transatlantic relations and coordination on major China issues.  
There are different concrete steps and some varying nuances – but the key in every case is that President Biden must work with allies to forge a common approach, which will require some pushing, but also some giving. For example, at the WTO we already saw the Biden administration end one impasse the Trump team had created over the director general nomination. Reforming the dispute settlement procedures will be a more difficult compromise. But certainly, getting the WTO back on track and working with allies to offer a united front both inside and outside the WTO toward fairer trade practices vis-à-vis China, including issues such as industrial subsidies and market access, is a key recommendation.
Explain how the EU and U.S. could coordinate on trade and technology issues relating to China.
The United States and Europe should coordinate on investment screening regimes  ̶  sharing information and best practices  ̶  and devise common export controls to prevent the transfer (forced or otherwise) of sensitive technologies. One path would be to update the technology controls of the Wassenaar Arrangement  ̶  the multilateral export-control regime for conventional arms and dual-use technologies. An update should include technologies such as AI, robotics, 3D printing, quantum computing, semiconductor manufacturing equipment, surveillance equipment, and other emerging and foundational technologies with significant national security value.
How might NATO engage China and bolster relations with Indo-Pacific countries?
NATO engagement with China and the Indo-Pacific is limited because of NATO's core focus on collective European security. However, given China's increasing influence within Europe, some security issues, including but not limited to critical infrastructure, are within NATO's borders and remit. NATO is not the right venue for direct engagement with China, but it can and should be one venue for information sharing across the Atlantic and with important Indo-Pacific countries like Japan and Australia, which are already part of NATO's network of global partners.
Many Indo-Pacific countries face similar China-related challenges and would serve as interesting counterparts for NATO countries as they formulate their domestic China strategies. We recommend that NATO consider providing resources for governments to avoid or reduce dependency on high-risk technologies.
Finally, NATO can help with capacity building to make NATO members and partners fitter for tech competition with China. NATO members should consider investing in education for their member states (and potentially global partners) to create a new generation of democratically-minded tech experts.
Assess the impact of the EU-China Comprehensive Agreement for Investment (CAI) on transatlantic relations.
The CAI, and the fact that the EU concluded negotiations just as President Biden was entering the White House, are a good reminder that a joint approach will not be easy. It is still fundamentally the case that a business view prevails in many EU countries, most importantly Germany, while a geostrategic view dominates Washington. I think one does have to take the CAI announcement as a declaration of autonomy on behalf of the EU – but it is not all about Washington. This was a seven-year negotiation, and of course the EU does have and should have autonomy. Plus, there are powerful business interests involved for European companies.
Though it was an unfortunate signal, the CAI does not preclude transatlantic cooperation vis-à-vis China. First, the agreement still needs to be ratified, and it is not clear that the European Parliament will go along, especially absent anti-Trump sentiment. If it is ratified it will indeed take some early momentum away from a transatlantic approach. A lot depends on the cooperative signals European leaders send toward Washington, now that they've first taken a business view and given China a symbolic win. There are still many trade-related issues that could be worked on together.
What key steps could the Biden administration take to restore transatlantic trust and coordination on a shared approach to China?  
The Biden administration has started strong by saying the right things and taking crucial actions early. By rejoining the Paris Agreement, halting the withdrawal from the World Health Organization, and ending the block and supporting Ngozi Okonjo-Iweala as the new WTO director-general, the Biden administration has clearly demonstrated that it is reengaging in multilateralism. This is crucial for trust and coordination with European partners. Many in Europe also recognize a lot of faces in the new administration, which is stacked with people with long, respected foreign policy careers – so there is already a trust cache to build on.