Philippines Offers to Trade Nurses for COVID-19 Vaccines
The country's in-demand healthcare workers are outraged at a government proposal to send them to Europe in exchange for doses of vaccine.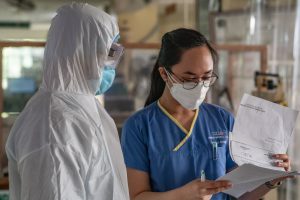 The Philippines, in desperate need of COVID-19 vaccines, is putting a human bargaining chip on the table.
A senior labor official said Monday that the country would allow more healthcare workers to take jobs in the United Kingdom and Germany if those countries donate 600,000 doses of the COVID-19 vaccine, which would be reserved for Filipino workers hoping to return to jobs abroad.
Alice Visperas, head of the labor ministry's international affairs bureau, said the Philippines would exempt Germany and the U.K. from a 5,000-person cap on healthcare workers allowed to leave and work abroad. The Philippines reversed a blanket ban on departing health professionals last year.
The U.K.'s health ministry told Reuters it was not interested in such a deal and plans to share surplus shots internationally later in the year.
Philippine labor secretary Silvestre Bello claimed Thursday that he never offered nurses in exchange for vaccines, following days of criticism of the proposal by lawmakers and civil society groups. Bello said last week the two countries were in negotiations with the Philippines to remove limits on outbound Filipino nurses.
The Philippines is the only member of the Association of Southeast Asian Nations that has yet to officially administer a COVID-19 vaccine, despite being home to one of Asia's worst outbreaks.
That doesn't mean nobody has been vaccinated. Members of President Rodrigo Duterte's security detail, overseas Chinese workers, cabinet officials, and a radio host are among the thousands in the Philippines who have received smuggled vaccines from China.
Zero healthcare workers have been vaccinated thus far in the Philippines.
While the country has announced a desire to secure 148 million vaccine doses – a number which pandemic managers say would allow the population to achieve herd immunity – international drug makers have delayed deals as they wait for the Senate to pass an indemnity clause preventing lawsuits against manufacturers.
Visperas explained in a February 22 briefing that vaccines donated by the United Kingdom and Germany would be reserved for workers heading abroad. "Many countries who hire Filipino workers expect them to be vaccinated," she said. "There may even come a time when they won't be allowed in those countries without it."
Filipino nurses abroad have suffered grave losses during the pandemic. In the United States, the country's largest nurses' union says almost one third of nurses who have died of the coronavirus are Filipino, even though Filipino nurses make up only 4 percent of the nursing population.
Still, healthcare workers in the Philippines are desperate to go abroad. There are over 200,000 unemployed nurses in the Philippines, and a September study by data aggregator iPrice Group revealed the country's nurses and medical technologists receive the lowest salaries in Southeast Asia.
According to the study, experienced nurses make an average of only $831 per month, while med techs make an average of $606. The Philippine labor department says average salaries in local hospitals can be as low as around $200 per month.
The Philippines relies heavily on outbound labor. Remittances from workers abroad make up around 11 percent of the country's GDP, which took a hit when thousands of workers were forced to return home during the pandemic.
The U.K. and Germany, meanwhile, are in dire need of healthcare workers to care for their aging populations.
The advocacy group Filipino Nurses United slammed the nurses-for-vaccines plan. "We are disgusted that the government is treating us like commodities or export products," it said in a statement.
Migrante International, an advocacy group for overseas Filipino workers, called the plan "a desperate move by the Duterte government because it has failed to safeguard the Filipino people from the COVID health crisis."
"This is another glaring example of how the Duterte government reinforces the decades long neoliberal policy of exploiting Filipino workers as exported commodities," the group said in a statement.