Biden Administration Announces First China Meeting
Secretary of State Antony Blinken and National Security Advisor Jake Sullivan will meet Chinese Director of the Office of the Central Commission for Foreign Affairs Yang Jiechi and Foreign Minister Wang Yi on March 18.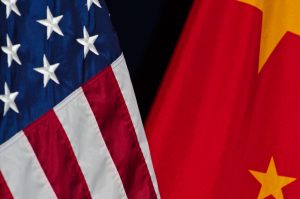 The U.S. State Department announced today that Secretary of State Antony Blinken and National Security Advisor Jake Sullivan will meet China's ranking diplomat Yang Jiechi (his formal title is director of the Office of the Central Commission for Foreign Affairs) and Foreign Minister Wang Yi on March 18. The meeting, to be held in Anchorage, Alaska, will be the first face-to-face contact between the Biden administration and Chinese officials.
The two sides will "engage on a range of issues, including those where we have deep disagreements," Blinken said in a tweet announcing the trip.
For comparison, the first high-level face-to-face interaction between China and the Trump administration came on February 17, 2017, less than a month after Trump took office. Then-U.S. Secretary of State Rex Tillerson met Wang on the sidelines of G-20 meeting in Bonn, Germany.
Blinken has already spoken with Yang, China's top diplomat, over the phone. In their call on February 5, the U.S. official took a tough stance. "The Secretary reaffirmed that the United States will work together with its allies and partners in defense of our shared values and interests to hold the PRC accountable for its efforts to threaten stability in the Indo-Pacific, including across the Taiwan Strait, and its undermining of the rules-based international system," according to State Department spokesperson Ned Price.
Blinken told Yang that "the United States will continue to stand up for human rights and democratic values, including in Xinjiang, Tibet, and Hong Kong." He also reportedly "pressed China to join the international community in condemning the military coup in Burma [Myanmar]."
A later phone call between Presidents Joe Biden and Xi Jinping left more room for cooperation between the two sides – what Biden termed "practical, results-oriented engagements."
But Biden also "underscored his fundamental concerns about Beijing's coercive and unfair economic practices, crackdown in Hong Kong, human rights abuses in Xinjiang, and increasingly assertive actions in the region, including toward Taiwan," according to the White House read-out.
In recent speeches by both Yang and Wang, the Chinese officials emphasized that the United States should drop the subjects of Xinjiang, Hong Kong, and Taiwan, which fall under China's "internal affairs." But the Biden administration has made clear it intends to press forward on exactly those areas, among other concerns.
More positively, both sides have pointed to climate change and global health (think pandemic prevention and response) as possible areas of collaboration. "[C]ooperation should be the main goal for both China and the United States," Wang told reporters at his annual press conference on March 8. "The list of areas where the two countries can and should cooperate is very clear, including COVID response, economic recovery, climate change and many others."
One of the first items on the agenda is far more basic, however. The two sides will need to hammer out how, exactly, to engage moving forward: on what issues, at what level, and how frequently. Past administrations have each reconfigured the U.S.-China dialogue mechanisms, from the Strategic Economic Dialogue of the Bush administration to the Strategic and Economic Dialogue under President Obama and the ill-fated "four pillars" of dialogue under President Trump. Xi suggested to Biden that China and the United States should "re-establish the various dialogue mechanisms" between them, but what form that takes is an open question.
As the State Department release noted, the meeting will follow Blinken's trips to Japan (March 16 to 17) and South Korea (March 17 to 18). He'll stop in Anchorage on March 18 before returning to Washington, D.C. the next day. Notably, the U.S.-China meeting will also come after a much-anticipated virtual summit meeting for leaders of the Quad, often criticized in Beijing as an "anti-China" alliance.