Cambodian Court Sentences Opposition Leader to Heavy Prison Term
Sam Rainsy and eight former CNRP officials have been accused of seeking to overthrow the Cambodian government in late 2019.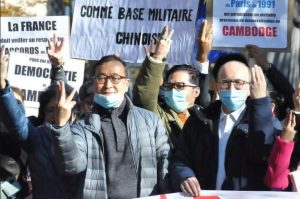 A Cambodian court has sentenced long-time opposition leader Sam Rainsy to 25 years imprisonment in absentia over an alleged plot to overthrow Prime Minister Hun Sen's government.
According to a report in the stenographic government-aligned media outlet Fresh News, eight other exiled opposition politicians, including Rainsy's wife Tioulong Saumura, were also sentenced to between 20 and 22 years in prison. The court also stripped Rainsy of the right to vote and stand as a candidate in an election.
The group was charged with committing an "attack liable to endanger the institutions of the Kingdom of Cambodia or violate the integrity of the national territory" under Article 451 of the Criminal Code. Among the other officials sentenced were deputy party leader Mu Sochua and senior officials Eng Chhay Eang, Men Sothavarin, Ou Chanrith, Ho Vann, Long Ry, and Nuth Romduol.
The allegations pertain to Rainsy's attempt to return to Cambodia in November 2019 and lead a peaceful uprising against Hun Sen's government. This attempt was stymied after threats from the Cambodian authorities led an airline to refuse to allow Rainsy to board a flight to Phnom Penh. A similar return by Mu Sochua in January was also thwarted.
Rainsy, who has lived in France since 2015 to avoid jail for several other convictions, described yesterday's sentence on Twitter as being "a political statement born out of weakness and fear."
"Hun Sen is afraid of any risk of my returning to the Cambodian political scene," he wrote. "Hun Sen also dreads the prospect of any free and fair election which would inevitably lead to the end of his current autocratic regime."
In an emailed statement, the CNRP described the sentences as "the final episode in the state-capture … by Hun Sen and his inner-circle," comparing it to the recent military takeover in Myanmar. U.S. Ambassador Patrick Murphy also weighed in on Twitter, saying that he was "troubled" by the sentences.
The harsh sentences on politically inflated charges are the latest indication that Hun Sen's government is intent on engineering a permanent victory in  political rivalries that date back to before the creation of Cambodia's democratic system in the early 1990s. As Phil Robertson of the rights group Human Rights Watch noted, the prison terms are "intended to slam the door shut on these exiles ever returning to Cambodia" or playing any significant part in its political life.
They punctuate a wave of repression that has taken steadily grown since late 2017, when the CNRP was disbanded by the courts and party leader Kem Sokha was arrested on charges of treason. This time it was connected to his involvement in CNRP-led anti-government protests that took place after the national election of 2013, in which the CNRP ate deeply into the vote share of the ruling Cambodian People's Party (CPP).
Deprived of the CNRP challenge, the CPP ran virtually unopposed in national elections in July 2018, winning all 125 seats in the National Assembly.
Since then, the Cambodian authorities have intensified the pressure on former members of the dissolved CNRP, human rights defenders and dissenting voices. Around 130 opposition figures and other activists have been put on a mass trial for treason and incitement charges. While Kem Sokha has been freed from prison and house arrest, he remains in legal limbo, the charge of treason still hanging over him.
Rainsy's strategy has long been to harness Western support and democracy promotion efforts in his struggle against Hun Sen, which has incentivized the latter to thicken his political connections to China, whose largess has now substituted for the Western development assistance on which his government was once reliant.
Hun Sen is also helped by the increasingly overt authoritarianism of Cambodia's neighbors. With the finite attention of Western governments absorbed by Myanmar's lurch back into military rule, to say nothing of the repressive quasi-democracy in neighboring Thailand, there is every chance that this latest outrage against political freedom will be accepted as a fait accompli.