Even Climate Change Is a Fraught Area for US-China Cooperation
Climate change is deeply intertwined with the technology competition that now bedevils U.S.-China relations.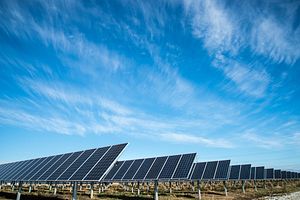 The United States and China have a mutual interest in fighting climate change. There are no boundaries: Emissions in Tianjin affect temperatures in Texas, and vice versa. For this reason, many view climate change as a potential bright spot in the U.S.-China relationship – where the shared goal of reducing carbon emissions could lead to cooperative action or complementary policies.
The reality, however, is more complicated. As the Biden administration shapes its China policy, climate policy may present a bigger source of U.S.-China conflict than cooperation. Climate change is deeply intertwined with the technology competition that now bedevils U.S.-China relations, creating new fronts in the battle over economic power and influence globally.
The U.S.-China climate competition has been taking shape for years. Managing the spillover risks is a key challenge for the new administration.
Consider the race for clean technologies. Over the last decade, China has flooded the global market with cheap solar with the help of state subsidies. While this has led to reduced global prices, it has created a bilateral trade irritant – as seen in anti-dumping tariffs under the Obama administration, and a full-blown trade war under the Trump administration.
Batteries are another example. The United States' heavy reliance on Chinese supply chains that produce lithium-ion batteries, which power electric vehicles and other consumer electronics, has become politically untenable. As John Kerry, now the administration's climate envoy, wrote in 2019: "It's folly to replace a world order too dependent on Middle East oil with one that's too dependent on Chinese technology." In a move that underpins the administration's intent to curb U.S. dependence on Chinese technology, last month they launched a review of U.S. supply chains in critical technologies, including high-capacity batteries.
A more fundamental source of tension comes from the fact that China now competes in areas that touch core comparative advantages for U.S. industry, such as autos. The U.S. auto industry today supports nearly 10 million American jobs. But if the future of cars is electric, the United States is falling way behind China. The U.S. has sold half as many electric vehicles as China, and 421,000 of the 425,000 electric buses worldwide are on Chinese roads, according to SAFE. China is rapidly innovating in other high-value products and services in the cleantech sector as well.
The competition won't just be bilateral. It will play out in third-country markets, in spheres of influence traditionally held by the United States.
Countries throughout the Middle East are transitioning away from traditional energy and have turned to China as the preferred technology provider. From Saudi Arabia to Dubai to Abu Dhabi and Egypt, China is now the largest investor, financier, and operator in renewable energy projects.
The same is true in Latin America. In 2020, China made a quarter of all its worldwide acquisitions in the Latin American energy sector, investing heavily in Bolivia, Argentina, Chile, and Peru, which possess more than half of the world's known lithium resources.
China's clean energy investments along "Belt and Road" countries amounted to $11 billion in 2020. In comparison, the United States spent only $2 billion to support green growth in developing countries during the same time.
This past week, China held its first meeting of a new policy group to develop technologies specifically dedicated to helping China reach its ambitious goal of achieving carbon neutrality by 2060. At the same time, the new Biden administration is still seeking to confirm critical officials in the Cabinet.
While Kerry's concerns are valid, it will be tough for the United States to address climate change without China. Policymakers should be seeing ways to avoid climate conflict. As long as there are no national security concerns, the administration could actively support the trade of cleantech, especially with China, so that U.S. innovators are not locked out of the largest commercial market. A recent report by Goldman Sachs estimates that China's demand for environmental goods and services is a $16 trillion opportunity.
The administration should also partner with China in eliminating tariffs on environmental goods to ensure that they are more affordable. This move would benefit U.S. exports to China and make U.S. technology more competitive in third markets.
In addition, the U.S. International Development Finance Corporation should be helping to finance U.S. sustainable tech companies in winning contracts overseas to ensure that they are on a more level playing field with China.
In theory, healthy competition to drive down the costs of clean technologies and reduce emissions would be to the world's benefit. But in practice, it is further escalating an already fraught relationship and threatening to balkanize the world's clean energy supply chains. The Biden administration's challenge will be to make the United States more competitive in the low-carbon economy while managing the growing risks that will emerge from U.S.-China climate competition.