North Korea Fires Short-Range Missiles in First Challenge to Biden Administration
North Korea fired multiple short-range cruise missiles after the United States and South Korea finished their springtime joint military exercise.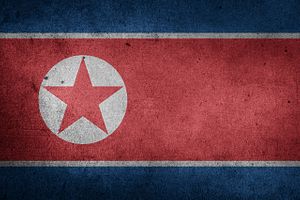 North Korea fired two cruise short-range missiles into the Yellow Sea on March 21 from Onchon, according to South Korean and U.S. officials. North Korea's last missile launch was 11 months ago from Muncheon in North Korea.
South Korean government and military officials said that "North Korea's projectile is not a ballistic missile, but a cruise missile." They also stressed that the launch is not a violation of United Nations Security Council resolutions but did not provide more detailed information regarding the missiles.
A U.S. government official also explained in a press briefing on March 24 that the launch does not violate U.N. Security Council resolutions, which focus on Pyongyang's ballistic missile program. The official added that the door to dialogue with North Korea is open.
Cruise missiles are characterized by flying at as low an altitude as possible to avoid radar networks. They use jet engines, so the flight speed is comparatively slow, at Mach 0.8 to 0.9. However, they can freely change directions and fly in a path that avoids radar.
The missile launches came after Kim Yo Jong, North Korean leader Kim Jong Un's sister, and senior North Korean diplomat Choi Sun Hee made statements on the South Korea-U.S. joint military exercises.
Some analysts say North Korea was testing the reaction through low-intensity military demonstrations targeting both South Korea and the United States. Others say the launch was not an armed provocation based on North Korea's decision not to announce it.
The missile launch was the first of its kind since Joe Biden was sworn in as U.S. president in January. Pyongyang has been ignoring Washington's attempts to talk in the past few weeks.
"We have learned that nothing has changed," Biden told reporters on Tuesday night regarding the North Korean missile launch. However, he added that the launch was "business as usual" and there is no new wrinkle in what they did. Though Biden did not criticize the North directly, experts say that it is important to keep an eye on how the Biden government interprets the missile launch. The administration is currently finalizing its review of North Korea policy.
The Washington Post first reported that North Korea fired a short-range missile over the weekend, raising questions about why the South Korean Joint Chiefs of Staff did not immediately disclose the recent launch. North Korean missile tests are generally made public through an official announcement from the Joint Chiefs of Staff. It is very unusual for foreign media to report launches earlier than military officials.
A South Korean military official said that it does not disclose North Korean missile launches every time due to "the possibility of exposing military intelligence assets." Media reports, citing government officials, said Washington and Seoul had agreed not to disclose the North's recent cruise missile launch. The reason for the decision was not specified; however, the two countries have made such a decision before.
A lawmaker who serves on the South Korean National Assembly's Intelligence Committee said on Facebook that there have been cases where the two countries agreed not to announce North Korean short-range missile launches in the past. If there is a risk of exposing the military authorities' surveillance capabilities, it may be kept private.
Based on that, experts say the silence from the South Korean military is not unusual and people need to understand the function of the military mechanism.
"No country is broadcasting the military activities of hostile countries to its people 24 hours a day in real-time, just as the U.S. does not report all military activities of China, Russia, and Iran to the public in real-time," Kim Young-jun, a professor at Korea National Defense University and a member of the National Security Advisory Board for the Presidential Blue House, told The Diplomat.
Kim also said that North Korea's short-range missile launches were carried out in line with its plan to increase its military power, but they did not violate the regulations of the U.N. Security Council.
"I think the short-range missile launches do not have a decisive impact on the ongoing U.S. process to reorganize its policy toward North Korea," Kim said.
The three chiefs of national security of the United States, South Korea and Japan will have a meeting at the end of next week to discuss North Korea issues and the findings of the Biden administration's policy review.