Taiwan's Referendum Mayhem
Tracing the political stances and stakes of four upcoming referendums.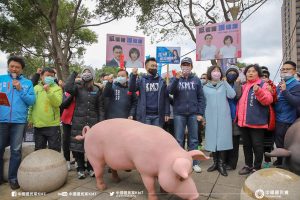 This August, voters in Taiwan will go back to the polls to vote in four hotly contended and controversial referendums that will have far-reaching consequences for Taiwanese society.
The upcoming polls also attest to the complexity and shifting dynamics of Taiwan's party politics: across the board, the ruling Democratic Progressive Party (DPP) and opposition Chinese Nationalist Party (KMT) have traded positions on major issues, embracing policies they once campaigned against in order to defy their political rivals.
With positions staked out along partisan lines, the outcomes will doubtless be seen as de facto referendums on the two main parties themselves, especially in the lead-up to next year's midterm elections.
Although the votes do not have a direct connection to cross-strait relations – laws currently mandate that constitutional issues and national status cannot be put to a national referendum – their impact can nonetheless be huge.
Referendum 1: Algae and Energy
The latest controversy to make it onto the ballot is a motion to vote on a new receiving terminal for liquified natural gas (LNG) on Taoyuan's Datan Algal Reef.
The 7,600-year-old reef, which stretches for 27 kilometers along Taiwan's northwest coast, has been a point of contention for decades. In opposition, the DPP marched with environmental activists against KMT plans to build a gas terminal next to the reef in the 1990s.
Today, the two parties have switched positions. The DPP now views the facility as a necessary compromise in order to move away from nuclear energy – long opposed for fear of a Fukushima-style nuclear disaster caused by Taiwan's frequent seismic activity – and improve energy security, to ensure that Taiwan has adequate LNG stores in the event of a Chinese invasion or blockade.
Apart from feeling betrayed by the DPP, environmental activists question the party's numbers and political motivations, arguing that the scheme is not actually necessary for domestic energy consumption. As of March 9, over 500,000 signatures had been collected by green groups in order to put the issue to a referendum. Both environmentalists and the DPP provide scientific research to back up why they support or oppose construction on the reef, leaving citizens unsure about who to support.
Complicating the issue is the role of the KMT, whose support helped push the issue over the referendum threshold. What started as a dispute between environmentalists and the DPP has now become a battleground between the DPP and KMT. Regardless of scientific evidence, support or opposition for the referendum is quickly becoming a green versus blue issue.
This also makes uneasy bedfellows of conservationists and the KMT. Environmental groups in Taiwan, including the Green Party, have historically been part of the pan-green coalition, and have almost always sided with the DPP electorate. But since the KMT has taken the side of environmental activists, staunch DPP supporters are now calling environmentalists KMT turncoats. Some smears even accuse green groups of having become pro-nuclear power.
The room for dissenting opinions against the DPP has become increasingly small for activists who do not wish to be smeared as pro-China for critiques against the party's environmental plans. At the same time, the DPP does have an energy problem they urgently need to address, especially as they still plan – in spite of the last referendum results – to phase out nuclear power by 2025.
Referendum 2: Ractopork
The algal reef is not the only issue due for a referendum that the DPP and KMT have switched places on. The issue of Taiwan lifting limits on pork imports from the United States has long proved divisive because ractopamine, an additive promoting leanness in animals that is banned by 160 countries worldwide, is sometimes found in U.S. meat.
During KMT President Ma Ying-jeou's term, the DPP protested his move to import American beef treated with ractopamine, claiming that Ma was endangering food safety. But with Tsai in power, it is KMT that is now protesting her move to lift limits on the import of ractopamine-treated U.S. pork – despite themselves having tried to lift the same limits only a few years earlier.
Taiwan's limits on U.S. pork imports have been a major roadblock preventing the United States and Taiwan from creating any sort of bilateral trade agreement (BTA). Tsai took a risk by opening the door for U.S. pork, hoping to kickstart trade talks with Washington.
Washington has signaled its intention to continue such trade talks, although a recent report by the U.S. Trade Representative criticized Taiwan's limits on ractopamine-treated pork as "unscientific" and did not acknowledge Tsai's work to open Taiwan's markets. In the short term, Tsai's lack of tangible policy results have given critics ammo to argue that she allowed U.S. pork in without getting anything in return. Washington may react negatively if the referendum gains too much momentum and could hamper the prospects of a U.S.-Taiwan BTA.
The KMT has capitalized on the moment to make U.S. pork a major political issue. Signatures for a referendum were collected at a record pace and now Taiwanese society will also vote on whether or not it supports U.S. pork imports. "Racto-pork" has made international headlines due to the political theatrics the KMT has used to rally voters to their side, including mass protests and throwing actual pig guts and innards at DPP politicians inside Taiwan's Legislative Yuan.
Although to outsiders it might seem like these stunts could alienate voters, Taiwanese are divided when it comes to the pork question. Besides health concerns, pork is a major commodity in Taiwan that is produced locally. Much of the opposition to U.S. pork is economic, poised against the introduction of more competition for Taiwanese suppliers. Some DPP members broke ranks and did not vote in favor of Tsai's move, resulting in their suspension from the party. Tsai's administration has established a labeling regime rolled out nationwide to specify which businesses sell Taiwanese pork and which do not, and has budgeted over NT$12.9 billion to subsidize the domestic pork industry, but this has not stopped the continued backlash against her government.
The racto-pork vote may not be able to stop U.S. pork imports by itself, but it would signal society's dissatisfaction with Tsai's decision nonetheless.
Referendum 3: Nuclear Power Plants
The issue of nuclear energy is the only one on which the DPP and KMT have not reversed their historic positions.
Pro-nuclear advocates associated with the pan-blue camp are organizing a referendum calling for the restart of the controversial Fourth Nuclear Power Plant in New Taipei. Nuclear energy has long been controversial in Taiwan, where besides fears of a natural disaster there have also been debates regarding nuclear waste disposal. But the Fourth Nuclear Power Plant has been especially controversial because of its use of mixed parts from different manufacturers, and because of numerous stops and starts in its construction process.
The pan-blue camp has historically backed the use of nuclear power in Taiwan and the pan-green camp has opposed it. This fact did not prevent the Tsai administration from quietly approving nuclear restarts in 2017, but her government is still committed to plans to phase out nuclear energy from Taiwan's energy mix by 2025 – despite this provision being voted down in 2018. The pan-blue camp argues that more nuclear energy will alleviate worsening air quality in Taiwan and avoid chronic power shortages, and has sought to depict the Tsai administration as irrationally committed to phasing out nuclear energy.
The referendum on the Fourth Nuclear Power Plant will likely tie in with the vote on the Datan LNG terminal, illustrating how national referendum questions on the same ballot do not necessarily stand in isolation but can influence one another. The 2018 referendums saw a similar convergence between the vote to phase out nuclear energy and the issue of food imports from Fukushima-affected areas in Japan.
Referendum 4: Referendum Days
The fact that referendums have now been weaponized by the KMT against the DPP represents yet another shift in Taiwan's political dynamic. The pan-green camp, led by the DPP, was responsible for lowering the threshold for national referendums, which they saw as a means to settle long-simmering issues such as nuclear power and independence versus unification.
These new benchmarks were laid by the pan-greens in December 2017, changing what they derisively referred to as the "Birdcage Referendum Act." But the results of 2018's midterm elections, during which voting on national referendum questions also took place, seemed to show that the KMT had been able to successfully use national referendums to boost its own electoral campaigns.
Subsequently, the pan-green camp pushed for further changes to the Referendum Act in July 2019, splitting the days that national referendums and elections are held. This was justified on the basis of delays in polling on the day of the 2018 nine-in-one elections, since both referendum questions and elections were voted on at the same time, forcing polls to stay open past election time.
Thus the final 2021 referendum proposed by the KMT calls for referendums to be returned to the same day as elections. This likely due to concerns over low voter turnout when referendums are held in non-election years. The KMT now even deploys similar rhetoric to that of the "Birdcage Referendum Act" previously used by the DPP, claiming it is now standing against an "Iron Cage Referendum Act."
This meta referendum-on-referendums is not the most controversial item on the ballot, but it will show to what degree Taiwanese voters are comfortable with this type of political tool becoming so frequently used.
In order for referendums to be binding, at least 25 percent of eligible voters must cast a ballot, and this year will show whether plebiscites separate from national elections will be able to reach that benchmark. If so, they could prove to be a powerful – if cynically wielded – weapon in the hands of opposition.