China's Central Asian Rail Investment Does Not Add Up
China's contribution to Central Asian rail connectivity remains miniscule.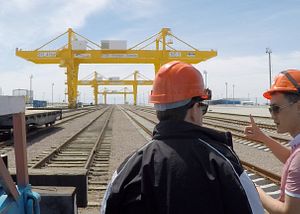 Much has been made of China's Belt and Road policy and the supposed economic benefits for Central Asia. A case in point is the CR Express (China Rail Express) system of containerized intercontinental rail freight between China-Europe and China-Central Asia. Much media copy has fallen for the Khorgos policy hype, and much research has taken China state media reports on the volume of containers transported at face value. 
The main problem is that there are no official statistics available on goods transported from China to other countries by rail. We have examined statistical data sources from the European Union and found that the volume of rail freight trade between China and Europe falls below the level reported by China. We also have examined the role that China has played in developing rail infrastructure in Central Asia. We find that while China has increased its trade relationships with the five Central Asian republics, foreign direct investment (FDI) capital stock remains very limited. In terms of rail corridor and rail infrastructure development specifically, China's contribution has been negligible.  
One of the promises of China's Belt and Road Initiative (BRI) investment was to build infrastructure that would facilitate trade between Central Asia and China, replacing Soviet-era industrial infrastructure that favored Russo-centric trade institutions and practices. China's policy promises for the region were of supply-side led infrastructure development. However, in rail freight almost no infrastructure investment has taken place. In addition, demand-side GDP and trade growth remain the primary economic drivers of rail freight transport volume, not vice versa.
Research analysis has focused on the development of road and rail transit corridors that would reduce transport costs and times, thereby front-loading economic growth. However, in reality China has had a very limited role in regional rail transport infrastructure development, and even after the introduction of the BRI, China has provided virtually no funding for new projects in the region. One study even found that for the BRI in the Commonwealth of Independent States (CIS), the spatial spillover effects of transport infrastructure development have actually been negative.
The only three rail infrastructure projects that China has been involved in are Uzbekistan's Angren-Pap railway (as a $500-million contractor on the Qamchiq tunnel section), Tajikistan's 40.7 km Vadhat-Dangara line ($121 million, 95 percent financed by Export-Import Bank of China); and the Khorgos Gateway white elephant (as a 49 percent minority shareholder).
While Khorgos has received huge media attention, the Alashankou/Dostyk crossing farther north is the main cross-border thoroughfare for China-Europe trains via Kazakhstan. Khorgos was policy-designed to be a dry port and the cross-border point for China-Central Asia class rail freight. By our estimations, based on in-person visits, Khorgos remains hugely underutilized. In 2019 on average only six trains passed the Khorgos/Altynkol border daily in combined directions. Compare this with 25 daily train crossings at Alashankou/Dostyk.
Not only infrastructure investment, but the significance of rail freight transport between China and Europe or China and Central Asian countries has remained limited. Despite the rapid development of China-Europe rail freight transport, carriage volumes are still very low. In 2018 rail only had a 2 percent share of all transport between the two regions, measured by volume. 
Further growth potential is also limited due to infrastructure capacity. While trade expanded rapidly to around 500,000 twenty-foot equivalent unit (TEU) containers per year, without major infrastructure investments this can only improve to around 1 million TEU per year due to capacity bottlenecks. And despite clear structural determinants that favor growth in rail freight, traffic volumes across the Central Asian region only grew 1.3 percent between 2014 and 2018. Rail freight transport growth was actually higher between 2008 and 2014 at 26 percent, demonstrating that regional rail freight growth actually fell after the introduction of the BRI.
The contiguous economic region of the five independent Central Asian states, with a combined population of around 75 million people, has huge potential for extra-regional cooperation in trade, investment and transport. Between 1998 and 2008 Central Asia's GDP increased 356 percent, while trade grew 698 percent. Between 2008 and 2018, however, GDP growth was only 31 percent, while trade growth slowed to 1 percent. Taking the period from the 2013 introduction of the BRI to the latest available data in 2018, the two figures are even grimmer: GDP declined by 30 percent and trade declined by 19 percent.
Disaggregated, the region's major trade partner in 1998 was the European Union (29 percent) followed by Russia's 28 percent, with China at only 5 percent. By 2018 China had become the region's most important trade partner (29 percent) displacing a slightly declined EU trade share (25 percent), while Russia heavily declined to only 18 percent of the region's external trade. Analyzed in real terms, China has not been developing additional trade, but was simply replacing Russian trade.
As a source of FDI though, China has yet to deliver any real development in the region. Kazakhstan is the greatest attractor of FDI in the region and the flagship partner economy of the BRI. But in the third quarter of 2019 the EU accounted for 57 percent of Kazakhstan's FDI stock, with 20 percent from the United States and only 6 percent from China, according to statistics from the National Bank of Kazakhstan. China did oversee a 397 percent increase in FDI stock in the five Central Asian republics between 2009 and 2018, but while this growth is rapid, it comes from a very low baseline, and is actually lower than Russia's regional FDI growth of 425 percent in the same period. 
China's introduction of the BRI has made Central Asia a spotlight of geoeconomic and geopolitical analysis. However, the realities of regional rail freight transport are that Central Asia still overwhelmingly gravitates toward Russia and Europe, not to China. China's CR Express rail system to and from Europe also only plays a minimal role in the development of trans-regional rail freight transit: these trains account for only 14 percent of cross-border traffic between China and Kazakhstan.
Despite major investments in new rail corridors within the region, the vast majority of transport routes remain the same Soviet lines that still gravitate toward Russian trade – and beyond toward Europe. Rail connections to China are underutilized, and the BRI flagship project CR Express plays only a marginal role in Central Asian regional rail transport. China's trade activities in the region could conceivably begin to displace Russia's regional trade share, but in terms of foreign direct investment, China still lags behind Russia and the European Union.
The five Central Asian economies deserve to be integrated into regional and global economies. The promise of greater trade connectivity via China's BRI should be a net positive. And yet, both the European Union and Russia have consistently proven to be more important trade and transport powers than China. China's contribution to Central Asian rail connectivity remains minuscule. Future development of extra-regional trade connectivity and transport infrastructure should be welcomed, but evidence-based policy should lead the way, not media hype or false hopes.
This article is a synopsis of "Central Asia Rail Development: Why China's Belt and Road Initiative lacks regional importance" published in The Copenhagen Journal of Asian Studies.