How South Korean Soldiers and YouTube Catapulted a K-Pop Girl Group to Fame
Brave Girls hit it big after a viral video popularized a four-year-old song.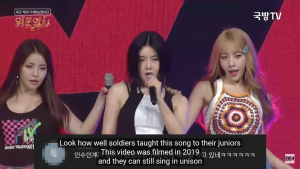 In early 2021, Brave Girls were ready to call it quits. After 10 years of trying to make it big in the crowded K-pop market, pushing through member changes and other setbacks, the now four-member girl group had finally had enough. But then, almost overnight, the group was catapulted to the top of the charts, all thanks to a viral video featuring one of their old songs.
On February 23, the YouTube channel 비디터VIDITOR posted a compilation video of Brave Girls performing their 2017 song "Rollin'" at various events for those serving their mandatory service in South Korea's military. The video was overlaid with various comments from the performances, mostly from former soldiers reminiscing about how ubiquitous the song was during their service.
The video went viral, people flocked to listen to the song on streaming services, and by March 14 the girls had won their first ever weekly music show award, a full decade after their debut. In the two months since it was posted, the original comment video now has 17.3 million views and counting.
The group is capitalizing on their success story, finally launching their own official YouTube channel this week, appearing on prominent TV shows and YouTube programs, and signing endorsement deals for a video game and a chicken franchise, as well as snack, clothing, and cosmetics companies.
Part of the success story is clearly owed to the military service members for whom the group performed over the years, and their resurgence has been attributed to the Millboard chart – a play on Billboard and military, describing songs that hit it big among service members. Now in interviews, the members regularly thank both the video uploader and all the service members who have supported them and now celebrate their success. The top pinned comment on the original video from VIDITOR is a message from Brave Girls member Yujeong thanking everyone for their interest and for giving them strength to continue in their careers.
Indeed, in the original YouTube clip that sparked this comeback, many of the collected comments were from those who had completed their military service reminiscing about the song's popularity among soldiers. Many recalled that seniors would purposely teach the song and its choreography to new recruits, who would pass it along in turn. "Seriously, this song was like a tonic during my military life," wrote one commenter. "There's something unexplainable in this song that gives you strength."
But while those who served in the military have a huge role to play in Brave Girls' success, their comeback also reflects broader sentiments in South Korea. Many watching this comeback can empathize with the group's underdog story, and find hope in the fact that they are now gaining success after struggling for 10 long years.
For young people in South Korea, who face high unemployment and underemployment rates, housing crises, and low marriage and birth rates due in part to the financial burdens of raising a family, the idea that there could be a light at the end of a long tunnel of hard work is particularly appealing. "Because of your age, you might think, 'can I start my dream now?' I hope you don't have those thoughts," group member Yujeong said in a recent interview.
What's more, the underdog story is resonating particularly well right now for pop music fans, as accusations of bullying and improper conduct swirl around an increasing list of popular singers and actors. With the betrayal of these stars, the public has been looking for more "deserving" stars, those that worked hard and did everything right, but never got the same level of recognition – and they found new heroes in Brave Girls.