Kyrgyz President's Promotion of Poison to Treat COVID-19 Taken Down by Facebook
Japarov's press secretary claims the president took the posts down himself, but Facebook says they were removed for being harmful "misinformation."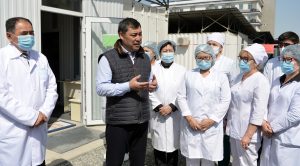 On April 15, Kyrgyz President Sadyr Japarov posted about the coronavirus pandemic on Facebook. In that post he announced that Kyrgyzstan had found an "effective" treatment for COVID-19: Uu Korgoshun, literally "poisonous lead" and the Kyrgyz name for aconite root, also called Issyk-Kul root locally but more widely known as wolf's bane, a poison. 
By April 19, the post had been removed by Facebook which provided a statement to RFE/RL: "We've removed this post as we do not allow anyone, including elected officials, to share misinformation that could lead to imminent physical harm or spread false claims about how to cure or prevent COVID-19."
Japarov's press secretary claims that the president removed the posts himself.
Kyrgyz Health Minister Alymkadyr Beishenaliev in a press conference on April 16 promoted the treatment and sipped from a cup reportedly containing extracts of aconite root, to demonstrate. "You need to drink it hot, and in two or three days the positive PCR test result disappears and the person immediately becomes better." He did warn that drinking the concoction cold could result in death. Even taking the treatment hot but eating ice cream after would be deadly, according to Beishenaliev.
The World Health Organization added to the immediate criticism, stating that "A drug that has not undergone clinical trials cannot be registered and recommended for widespread use by the population."
Nevertheless, Beishenaliev doubled down. 
He told 24.kg on Monday, "There are no poisonings or side effects, because we choose the dose ourselves." He went on to claim that aconite root was in use all over the world for a variety of treatments. Beishenaliev also said he spoke to Russian scientists who apparently supported the treatment. 
As 24.kg responsibly noted immediately after quoting the health minister, "It is known that no scientific studies of this method of treatment have been carried out. Moreover, the aconite is a very poisonous plant and deadly."
A 2009 paper in Clinical Toxicology stated, "The wild plant (especially the roots and root tubers) is extremely toxic. Severe aconite poisoning can occur after accidental ingestion of the wild plant or consumption of an herbal decoction made from aconite roots." The paper notes that the root is used in traditional Chinese medicine, but after processing that makes it less toxic. "However, the use of a larger than recommended dose and inadequate processing increases the risk of poisoning."
In his initial promotion of the concoction, according to AFP, Beishenaliev claimed that Japarov, before being freed from jail during the October unrest, had successfully treated "thousands of prisoners" with the solution. 
Japarov has risen from prisoner to president and last week saw his preferred super-presidential constitution passed in a referendum. Beishenaliev's comments feed into the ever-growing facade of Japarov as the bearer of all solutions to all Kyrgyz problems. Never mind the science that confirms his proposed treatment is the administering of a known poison. 
According to state statistics, Kyrgyzstan has recorded 92,095 cases of COVID-19, with 1,555 deaths. The country only recently began its vaccination campaign with doses of the Sinopharm vaccine provided free-of-charge by China.