Pandemic Year Saw Sharp Decline in Southeast Asian Press Freedoms
COVID-19 has offered governments a handy pretext for settling their scores with journalists and independent media outlets.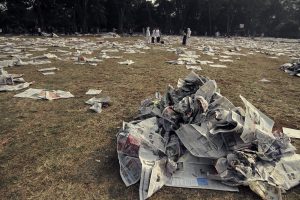 Southeast Asian governments have used the COVID-19 pandemic as a pretext to impose tight controls on the media and reinforce obstacles to the free flow of information, according to a new report from the watchdog group Reporters Without Borders (RSF).
This year's World Press Freedom Index, released by RSF on Tuesday, shows the extent to which the pandemic has led to increased repression and attacks on journalists and the free press worldwide.
According to the report, authoritarian states have perfected their methods of control, while many nominal democracies have introduced a raft of restrictions in the name of public health. As Christian Mihr, RSF Germany's Executive Director Christian, put it to Deutsche Welle, "The coronavirus pandemic has reinforced and consolidated repressive tendencies worldwide."
According to the RSF index, which evaluates the press freedom situation in 180 countries and territories annually, journalism is currently seriously impeded in 73 nations and constrained in 59 others, which together represent 73 percent of the countries evaluated. In 2020, only 12 of the 180 countries – or 7 percent – could claim to offer a favorable environment for journalism.
Southeast Asia reflects this broader global trend, with the region's governments almost without exception using COVID-19 as a pretext for the imposition of repressive legislation and the narrowing of the range of permitted speech.
The somber regional tone was set by Vietnam, which came in at 175th place for press freedom, above only Djibouti, China, Turkmenistan, North Korea, and Eritrea. Alongside its world-beating containment of the COVID-19 contagion, the ruling Vietnamese Communist Party also intensified its crackdown on dissent in the lead-up to five-yearly congress in January 2021.
This involved a protracted campaign of arrests of dissident bloggers and independent journalists, including several members of the Independent Journalists Association of Vietnam, three of whom were sentenced in January to lengthy prison terms.
The sharpest drop of any Southeast Asian in 2020 was experienced by Malaysia, which fell 18 places from 101 to 119th, and in the words of RSF, "embodies the desire for absolute control over information." In March 2021, a year after maneuvering its way to power through backroom machinations, the government of Prime Minister Muhyiddin Yassin adopted a so-called "anti-fake news" ordnance that made it an offense to publish or reproduce any "wholly or partly false" information related to COVID-19 or the state of emergency announced in January to combat the pandemic.
Its slide down the table was also hastened by unwarranted investigations of Al Jazeera journalists over a documentary about the country's treatment of migrant workers during the pandemic, and several cases against the pioneering news outlet Malaysiakini, including one in which it was found guilty of contempt of court and fined heavily for comments left on the site by readers.
The Malaysian government's moves were reflected in other nations' adoption of laws and easily-abused decrees criminalizing criticisms of governments' responses to COVID-19, or otherwise banning the publication of "fake news" of "false" information related to the pandemic.
In Thailand, the government of Prime Minister Prayut Chan-o-cha issued a decree in March 2020, making the dissemination of information that is "false or capable of causing fear in the public" punishable by up to five years in prison and allowing the authorities to "correct" any published information.
A similar situation pertained in Indonesia (113th place), where the government of President Joko Widodo not only banned journalists from publishing "false information" related to COVID-19, but also any "information hostile to the president or government."
In Cambodia, long-ruling Prime Minister Hun Sen's government deepened a years-long crackdown on civil society and the independent press, equipping itself with new powers to censor the media, block news sites, and arrest journalists and civilians criticizing its COVID-19 efforts.
In the Philippines, meanwhile, President Rodrigo Duterte, who once warned journalists, "you are not exempted from assassination if you're a son of a bitch," continued to wage a war against media outlets critical of his administration's policies, particularly its violent "war on drugs."
In May, the government refused to renew the franchise of the country's largest TV broadcaster, ABS-CBN, for its critical reporting on Duterte and his government. Meanwhile Maria Ressa, the editor the news website Rappler, continues to be the subject of what RSF referred to as a "grotesque judicial harassment campaign" that includes a raft of criminal charges, "all equally far-fetched."
Myanmar, which came in at 140th position, is likely to crater to the bottom of next year's index, following the February 1 coup that has in the words of RSF, "set Myanmar's journalists back ten years." After rising 20 places in the World Press Freedom Index between 2013 and 2017, an upward trajectory that reflected its partial emergence from decades of direct military dictatorship, the country's journalists have once again been forced underground amid a systematic campaign of violence, arrests, and censorship.
One of the bright spots in Southeast Asia was Timor-Leste, which came in at a region-high position of 71st, up seven places since last year. As RSF noted, "no journalist has ever been jailed in connection with their work in Timor-Leste since this country of just 1.2 million inhabitants won independence in 2002."
This year's World Press Freedom Index suggests that in Southeast Asia, independent journalism, which RSF described as "arguably the best vaccine against the virus of disinformation," is never so badly needed, yet never in such short supply.