6 Out of 10 ASEAN Leaders Listed in RSF's Gallery of 'Press Predators'
In Myanmar, "terror is back" – and the same can be said for much of Asia.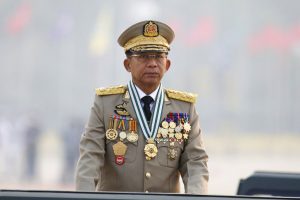 The latest update by Reporters Without Borders (RSF) of its Predators Gallery makes grim reading in Southeast Asia, where the leaders of six countries have been named for trampling on press freedom and arbitrarily jailing and inciting violence against journalists.
Senior General Min Aung Hlaing, who originally made the list in 2011, was a highlight in the wake of his February coup d'etat and the violent repression he has instigated in Myanmar since.
"Since staging the coup, Min Aung Hlaing has subjected the media to a rapidly expanding crackdown in which all independent outlets have been closed, dozens of journalists have been imprisoned, and complete control is now exercised over what the press reports," the report stated. "Terror is back."
He joins leaders from The Philippines, Singapore, Cambodia, Vietnam, and Thailand. Perhaps surprisingly, neither Laos, a communist one-party state since 1975, nor Brunei, where absolute Sharia Law was imposed in 2019, were included.
That leaves Indonesian President Joko Widodo and Malaysian Prime Minister Muhyiddin Yassin as the only leaders of the 10 members of the Association of South East Asian Nations (ASEAN), who have stood back and allowed the press to do its job.
Crackdowns on journalism are now the stock in trade of political leaders who share an intense dislike of dissenting voices, particularly on social media, with RSF adding "when they don't have blood on their hands [it's] because they have directly or indirectly pushed for journalists to be murdered."
It's a situation made all the worse by the COVID-19 pandemic, which human rights advocates say has been used by leaders to curtail press freedoms by jailing reporters through legislation passed under the guise of health issues.
RSF said Philippines President Rodrigo Duterte had augmented collusion at all levels within the state apparatus and built an arsenal that he can use to wage "total war" against journalists.
"An arsenal that includes spurious charges of defamation, tax evasion or violation of capital legislation; rescinding broadcast licenses; getting accomplices to buy up media outlets and bring their journalists into line; and using an army of trolls to subject journalists to online harassment."
Meanwhile Gen. Prayut Chan-o-cha, prime minister of Thailand, had developed an extremely thorough system of information control from the very first months of his rule, which he snatched through his own coup d'etat in 2014.
"Prayut has a tailor-made weapon for cracking down on independent media – a lese majeste law that is the most draconian in the world, one that does not just penalize insulting the sovereign," the report said. 
"Thanks to the possibility of combined sentences, any ill-considered comment about the monarchy can send someone to prison for up to 60 years."
A total of 37 leaders were named in the report, including from China, Russia, India, Pakistan, Bangladesh, and Sri Lanka.
Also on the list is Iran, Turkey, and Syria effectively making the entire Asian continent – from the Pacific Ocean to the Mediterranean – a hostile environment for reporters.
Hong Kong's Chief Executive Carrie Lam was also added to the list, becoming the second woman to be named a "predator" after Sheikh Hasina, the prime minister of Bangladesh.
"Carrie Lam has relentlessly targeted symbols of press freedom in Hong Kong. By freezing the financial assets of Apple Daily, one of the few mainstream Chinese-language media outlets still openly critical of Beijing, she forced the newspaper to shut down in June 2021," RSF said.
The great shame is that the period of much greater freedoms, which followed an easing in the War on Terror in the late 2000s, has all but ended a decade later.
And in recent years too many leaders have put their power before that of their people and entrenched themselves by attempting to grind the free press and dissenting voices into the dust – part and parcel of the second Cold War, at least in Asia.
Luke Hunt can be followed on Twitter @lukeanthonyhunt