The Domestic Politics of Suga's China Stance
At the Biden-Suga summit, strong language on China, including a notable mention of Taiwan, was tempered by Suga's precarious situation at home.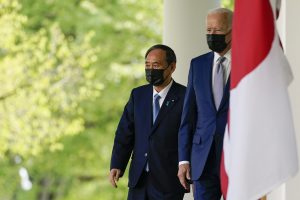 There was a distinct difference in tone between the subtle language Japan used about Taiwan in Washington and the impassioned, angry response it provoked from China.
Following a meeting between Japanese Prime Minister Suga Yoshihide and U.S. President Joe Biden on April 17, the leaders issued a joint statement, which referred to the Taiwan issue in an oblique way.
"We underscore the importance of peace and stability across the Taiwan Strait and encourage the peaceful resolution of cross-strait issues," the statement read.
Almost immediately, the Chinese sent a response, via an editorial in the Global Times newspaper, urging Japan to stay away from "the Taiwan question."
"It may play diplomatic tricks in other fields, but if it gets involved in the Taiwan question, it will draw the fire upon itself. The deeper it is embroiled in, the bigger the price it will pay," said the Global Times.
Biden and his predecessor, Donald Trump, have both placed emphasis on the United States' duty to protect the self-ruled and democratic island of Taiwan. They have also sought to rally U.S. allies to the cause, including Japan.
Although the issue of Taiwan's status has been divisive since its separation from China in 1949, it has risen up the agenda again recently. Chinese military aircraft are making frequent incursions into Taiwan's airspace and both China and the United States conducted military exercises near the island this spring.
Nevertheless, mentioning Taiwan in the context of a Japan-U.S. summit broke a long-standing taboo, according to Bill Emmott, chairman of the Japan Society.
"Taiwan is now regarded as a legitimate area for foreign policy discussion, so it was a key aim of the Biden administration that Japan mentioned Taiwan in some form," said Emmott.
"I think it is a way of putting pressure on China and saying that Taiwan is part of the security arrangements that America has with its allies. It tweaks China's tail by challenging the dearly-held notion that China's renegade province will one day come back to the mainland, which incidentally it hasn't been a part of since 1895," continued Emmott.
At the press conference on the Rose Garden lawn, the two leaders wore masks and faced only a small number of reporters, due to COVID-19 restrictions. Those watching at the White House and online noted Biden's robust language.
"Prime Minister Suga and I affirmed our ironclad support for the U.S.-Japanese alliance and for our shared security," said the U.S. leader.
"We committed to working together to take on the challenges from China and on issues like the East China Sea, the South China Sea, as well as North Korea, to ensure a future of a free and open Indo-Pacific," said Biden.
The Japanese prime minister was slightly more circumspect. He told reporters: "We had serious talks on China's influence over the peace and prosperity of the Indo-Pacific and the world at large. We agreed to oppose any attempts to change the status quo by force or coercion in the East and South China seas and intimidation of others in the region."
Professor John Nilsson-Wright, who teaches Japanese politics at Cambridge University, said that Suga may have toed a cautious line because of political attitudes in Tokyo.
"There is a running debate about how to deal with China among members of the ruling party in Japan, the LDP, which Suga represents," Nilsson-Wright told The Diplomat.
"There are hawkish politicians, particularly among younger members of the party, who want to criticize China on human rights, Taiwan, Hong Kong and other issues. But there is also a recognition that if the security situation were to escalate, Japan might be affected in ways which are harmful to its interests," said Nilsson-Wright.
"Japan, like South Korea, depends heavily on the Chinese market. So I think many people in the party are eager to avoid an escalation of tension, although they may not be saying so publicly."
Secretary-General of the LDP Nikai Toshihiro is noted for his moderate position on China and the LDP's coalition partner, the Komeito party, is also pragmatic rather than hawkish, on China.
Suga is hoping to be re-elected as the LDP's leader, ahead of a general election expected this October. However, among the general public, his personal opinion poll ratings have recently been poor, partly as a result of a plethora of corruption allegations.
Suga is also regarded by many as having shown weak leadership in the face of the coronavirus pandemic, which is now spreading across Japan, in a fourth wave of infections. To date, only about 1 percent of the population has been vaccinated.
Japan depends on imported vaccines, such as the Pfizer vaccine from the United States. The prime minister deflected a question about the COVID-19 problems when he was challenged by a Reuters journalist at the White House press conference.
Nilsson-Wright said, "There is a mood of internal party disquiet in Japan at Suga's inability to dig himself out of these problems. However, the U.S. economy is bound to be a big locomotive of growth globally in the coming year (due to Biden's trillion dollar stimulus program), so Japan is hoping to capitalize on that."
At the White House meeting, Japan and the United States committed to collaborate in the production and distribution of COVID-19 vaccines. They hope that with India's help, they will be able to counter China's vaccine diplomacy, particularly in Southeast Asia. Suga is due to visit the Philippines and India soon.
However, Japan Society chairman Bill Emmott says that Japan's own poor record on COVID-19 has cast doubt on its international ambitions, which don't appear to be backed by credible scientific or financial plans. "While it may be good diplomacy to say that Japan and its allies can match China's vaccine efforts, I would raise the question, what does it actually amount to?" asked Emmott.
Suga's chances of being asked to lead the LDP in the autumn – as well as his success in a national election – will primarily depend on his handling of domestic issues, rather than his foreign policy approach, according to another member of the Japan Society, Yuuichiro Nakajima.
"Mr. Suga's critics say that he has limited skills as a diplomat. He's not great at English and he's not as photogenic as his predecessor, Shinzo Abe. Nevertheless, he was successful in getting President Biden to agree to many of the points that were important to him politically," says Nakajima.
These include collaboration in developing 5G mobile technology, an area in which Japanese corporations claim to be more advanced and reliable than their Chinese counterparts. According to the post-summit statement, the leaders "affirmed their commitment to the security and openness of 5th generation (5G) wireless networks and concurred that it is important to rely on trustworthy vendors."
Nakajima believes that the hostile reaction from China over the Taiwan issue will have done no harm to Suga's standing among his core supporters.
"The right wing conservatives will be pleased that Taiwan has been mentioned clearly," he says. "That may help to stablize – or even increase – Mr. Suga's popularity, at least in the short term."