The Japan-US Summit and Cooperation With South Korea
The United States may have to play a leading role if it wants to see relations between Seoul and Tokyo improve.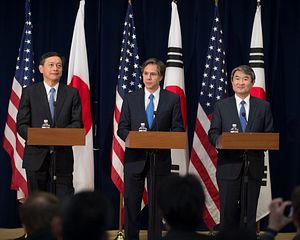 When Japanese Prime Minister Suga Yoshihide arrives in Washington for the first face-to-face summit meeting President Joe Biden will have with a foreign leader on April 16, a number of key issues are expected to be on the table, possibly including the pandemic; economic cooperation; global warming; China's violations of human rights in Hong Kong, its genocide and crimes against humanity in Xinjiang, and the prospect of a Chinese attack on Taiwan; the situation in Myanmar; enhancing the Quadrilateral Security Dialogue with Australia and India; and an invitation to Biden to attend the Tokyo Olympic Games. Despite these other pressing issues, the role of U.S.-Japan allied cooperation with South Korea might be overlooked. While tensions between Japan and South Korea have not been as much in the news in the past year, they continue to serve as a complicating factor in ties between "the cornerstone and the linchpin," as the United States describes its key allies Japan and South Korea, respectively.
It is critical to recognize that the mere passage of time alone is not going to strengthen ties between South Korea and Japan. Relations have ebbed and flowed in response to the actions of political leaders on both sides over the decades. Imperial Japan's occupation of Korea ended over 75 years ago, and ties between Seoul and Tokyo were formally established in 1965, yet the past half-decade has been a particularly tense time in the relationship between Japan and South Korea. In recent years, tensions have moved beyond questions of history textbooks, Yasukuni Shrine visits, and territorial disagreements into military cooperation, economics, and legal affairs. Japan-South Korea relations are not on an ever-improving trajectory and could certainly get worse if not actively addressed in a constructive manner.
The United States may have to play a leading role if it wants to see relations between Seoul and Tokyo improve. If the U.S. stands back or lets others take the lead, actors that don't necessarily support Washington's agenda could pursue their goals, with negative consequences not only for Japan-South Korea relations but also for the United States. The 2017-2019 period was particularly troubled in part because the U.S. adopted a relatively hands-off approach, failing to push back when the Moon administration sought to involve the U.S. in its disputes with Japan by serving then-President Donald Trump "Dokdo shrimp" and having him hug a surviving comfort woman during his 2017 visit. The United States only spoke up in late 2019 when South Korea was about to pull out of a key bilateral intelligence-sharing arrangement with Japan, long after tensions had boiled over. Some observers attribute this to the Trump administration placing a premium on negotiating with North Korea in ways that empowered South Korea and may have suggested Japan was of reduced importance to U.S. security. The United States could seek to ensure that no such mistaken impression is conveyed in the future.
At the same time, the U.S. might consider being more consistent in signaling its expectations that South Korea and Japan focus on a future-oriented, values-based relationship aimed at countering threats such as those posed by China and North Korea. Japan-South Korea cooperation carries direct implications for U.S. national security and Washington would like its allies to work together and would likely speak up if it sees them falling short. Indeed, when ties grew strained in 2014, the Obama administration brokered a three-party summit meeting in The Hague, where it negotiated a Trilateral Information Sharing Agreement designed to improve monitoring of North Korea's nuclear weapons and ballistic missile programs.
For its part, the Biden administration appears to appreciate the importance of an active role in promoting healthy Japan-South Korea ties. At both the Japan-U.S. "2+2" with Foreign Minister Motegi Toshimitsu and Minister of Defense Kishi Nobuo, and the subsequent South Korea-U.S. "2+2" with Foreign Minister Chung Eui-yong and Minister of National Defense Suh Wook, Secretary of State Antony Blinken and Secretary of Defense Lloyd Austin reaffirmed the importance of trilateral cooperation. National Security Advisor Jake Sullivan looked to build on these talks last week when he hosted a trilateral discussion with his counterparts Kitamura Shigeru of Japan and Suh Hoon of South Korea.
While the Biden team has gotten off to a strong start on promoting trilateral cooperation, much work remains to be done, especially since a number of complex issues are on the horizon that could involve U.S. interests.
First, Japan may move in the coming year or two to field "enemy base counter-attack capabilities," and if it does so South Korea may be concerned about the implications for its security. Japanese observers have argued that Tokyo needs to explain its potential acquisitions clearly to neighbors like South Korea, and it might help if Washington — which would need to coordinate with Japan about such weapons in any event — were present.
Second, Seoul has stated that it will "actively consider" joining the Comprehensive and Progressive Agreement for Trans-Pacific Partnership in 2021, and it would be helpful for both South Korea and the United States to join at the same time. Doing so would expand the agreement's scale by over $20 trillion in net market value and off-set the discriminatory impact of the Regional Comprehensive Economic Partnership and the Comprehensive Agreement on Investment that China signed with the European Union just prior to the Biden administration taking office. The United States and South Korea already have their own KORUS FTA, and with some reputable analysts projecting that the U.S. economy might expand by 8 percent or more in 2021, the politics of a rapidly expanding economy bolstered by additional external sources of demand could prove attractive.
Finally, the United States, Japan, and South Korea — together with Australia, Canada, the European Union, India, Israel, Taiwan, and the U.K. — are the key actors on most of the high-quality infrastructure and advanced critical and emerging technologies that will define the future of great power competition with China. Working to increase alignment and ensure mutually reinforcing efforts to offer high quality, global standards for physical and digital infrastructure alternatives to China's Belt and Road Initiative and Huawei 5G roll-out could be a good way for the U.S. to help advance trilateral Japan-South Korea-U.S. cooperation.
The Biden administration's goal of renewed Japan-South Korea-U.S. trilateralism is laudable and promising, but at the same time the obstacles remaining are substantial. In a February 2021 survey, 82.4 percent of Japanese respondents stated that the Japan-South Korea relationship was "not good" or "not very good," and fully 40.4 percent said it was also not that important. South Korean views of Japan are also quite negative. Additionally, the politics are complicated by the upcoming April 7 by-elections in South Korea and lower house elections to the Diet in Japan, which have to be held on or before October 22, making some engagements more risky and difficult. Yet the Biden administration has shown that it is disciplined and unafraid of tackling difficult issues, and cooperation on the COVID-19 pandemic and the Tokyo Olympic Games may provide opportunities to press further. The United States has shown that when it gives its allies a clear demand signal for trilateral cooperation, it can accomplish important goals. Biden and his team might well choose to do so again when they host the Japanese prime minister on April 16.