Jumpstarting the US-Japan-Korea Trilateral Amid COVID-19
The U.S. should encourage trilateral cooperation with South Korea and Japan to fight the pandemic, with an eye toward saving the Tokyo Games.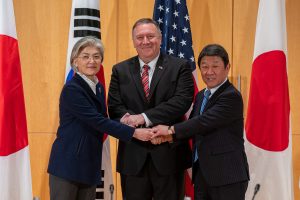 Will the Tokyo 2020 Olympic and Paralympic Games ever be held? Already the International Olympic Committee and the government of Japan have announced a delay in the games to summer 2021, but as the head of the Japan Medical Association recently stated, if there is no vaccine before then, the games are likely to be cancelled outright. As the United States and its allies in Northeast Asia wrestle with the COVID-19 outbreak, with over 15,200 sickened with the disease in Japan and over 10,800 infected in South Korea, the question of how to advance trilateral cooperation to address the disease is one that merits attention, especially given the prospects that without success the Tokyo Games may never be held. Could the United States use its relationships with Japan and South Korea — often described as "the cornerstone" and "the linchpin," respectively, of stability in Asia — to encourage trilateral medical cooperation during the pandemic, ensure that the Tokyo Games are held, and in so doing help support healing in the relationship between Seoul and Tokyo?
As Georgetown University's Victor Cha has argued in Beyond the Final Score: The Politics of Sports in Asia, one reason why sports "matters in world politics [is] because it can create diplomatic breakthroughs." Indeed, the Moon Jae-in administration clearly believes this to be true, having hosted the 2018 Winter Games under the rubric of the "PyeongChang Peace Olympics" and last year having submitted a proposal for South Korea and North Korea to jointly host the Olympics in 2032. There is also precedent for Seoul and Tokyo to cooperate on a global sporting event, with the two sides having jointly staged the 2002 FIFA World Cup.
Hosting the Olympic games was always going to involve some risk, even before the outbreak of COVID-19, with the threats posed by terrorism and cyberattacks widely considered among the most pressing. But now by far the greatest threat facing the Tokyo Olympics is the pandemic. South Korea's offer on May 1 to cooperate with Japan on COVID-19 response is an extremely promising sign that Tokyo and Washington could embrace and build on. While Richard Samuels of MIT concludes, in his 3.11: Disaster and Change in Japan, that assistance in the wake of a disaster from a neighbor with which one has difficult relations rarely leads to a permanent improvement in bilateral ties, that does not mean that Washington, Seoul, and Tokyo shouldn't try to generate positive forward momentum through collaborative efforts to combat the disease and enable the Tokyo Games to be hosted. What it does mean is that such cooperation should only be seen as one step in a much broader effort to deepen and heal damaged ties.
Since roughly 2012, South Korea-Japan ties have frayed over tensions related to history, territory, diverging strategic assessments of North Korea and China, trade, and military disagreements. From late 2019 things began to look up a bit, with both sides pulling back from the brink, but any diplomatic progress lost momentum again due to COVID-19, with Seoul and Tokyo trading expressions of dissatisfaction over each other's quarantines and travel restrictions. Yet South Korea's President Moon has suggested it may be possible to focus on cooperation with North Korea over COVID-19. If that's possible, then it should be even easier to do so with liberal, democratic Japan where transparency, accountability, and shared interests are even more obvious. In encouraging its allies to cooperate on this nontraditional security area, the United States could lend its efforts to bolstering an already "thickening web of Asian security cooperation" between U.S. allies and partners.
Moreover, with Moon limited to one term in office and his Democratic Party having recently won a major victory in South Korea's Legislative Assembly elections, the South Korean ruling party could perhaps now afford to expend some political capital on improving ties with Japan, something it was already committed to prior to the COVID-19 outbreak. To be sure, it would probably be unrealistic to expect South Korea to take major, costly steps that might not be reciprocated, but a strategy of focusing on affordable, self-benefitting, and politically sustainable initiatives does make sense. That's a strategy that Japan might consider too in thinking about how it might improve ties with South Korea. Indeed, South Korea has always shown its society's generosity following disasters in Japan, sending aid and assistance after the Great East Japan Earthquake in 2011 and again following the Kumamoto earthquake of 2016.
Today, the most urgent tasks facing Japan, South Korea, and the United States are to ensure that putting the economy back to work is not hampered by localized COVID-19 hotspots or shortages of equipment. Coordination between the three countries could be enormously valuable. South Korea has already shown the importance of being able to discover, track, isolate, and break transmission pathways, while Japan's approach to countering cluster outbreaks appears to be showing some promise as well, though it is clearly too early to say if Japan is out of the woods. Further, the three sides could work together to accelerate efforts to develop an effective drug for treatment and to uncover a vaccine or a cure for the virus.
Bearing in mind the well-established importance of U.S.-Japan-Korea trilateral cooperation, the three sides could consider establishing a high-level three-way dialogue to ensure that, if and when an effective cure or inoculation for the virus is discovered, a plan is in place to mass produce and share it equitably among themselves and with other nations as soon as is feasible. The three sides should be alert to the risk that if a cure emerges and is initially available only in one country in limited quantities, a "vaccine brawl" could emerge with calls for that country to share the cure and deep resentment if it does not do so in an expedient manner. Now might be the time to put in place a clear and public approach to cooperation that will help mitigate such risks.
The COVID-19 pandemic is a disaster afflicting all humanity. The United States could encourage and facilitate cooperation between Seoul and Tokyo in meeting this challenge, and both the South Korea and Japan could take an equal lead in pushing this forward. Japan could quickly accept South Korea's recent signals of openness to cooperation on COVID-19, and the U.S. could consider working to establish a trilateral COVID-19 response framework, one that other nations with relevant expertise and experience, like Australia, New Zealand, and Taiwan, might also be invited to join. The United States and its allies and partners share a strong, collective interest in ensuring that the Tokyo Games are staged safely, and that they collectively demonstrate that liberal and democratic societies can work together to meet the common threats they face.
Scott W. Harold is a senior political scientist at the RAND Corporation, and an affiliate faculty member at the Pardee RAND Graduate School.