China's Warning to Bangladesh on the Quad
The comments from the Chinese ambassador show Beijing's insecurities on the issue.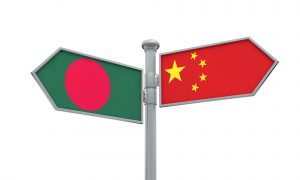 China has been deeply concerned over the Quadrilateral Security Dialogue (Quad), an informal strategic alliance involving the United States, India, Japan, and Australia. Beijing's trepidation over the expansion of this U.S.-led grouping was reflected in the recent statements of the Chinese ambassador to Bangladesh, Li Jimming.
Li, while interacting with the members of the Diplomatic Correspondents Association, Bangladesh on May 10, warned Dhaka against joining this "club" and said that if Bangladesh did so, it will "substantially damage" bilateral relations between Bangladesh and China. Calling the Quad "a military alliance aimed against China's resurgence" in South Asia, the ambassador said that Bangladesh should not join this "narrow-purposed" clique.
Li's statement received flak from different quarters in Bangladesh, including Bangladeshi Foreign Minister A.K. Abdul Momen, who called the Chinese ambassador's statements "very unfortunate" and "aggressive." Momen added that Bangladesh, as a sovereign nation, would decide whether to join any alliance.
Li, however, later clarified to Bangladeshi Foreign Secretary Masud Bin Momen that he had been expressing his personal views in response to a question asked by a journalist, and he was not making any suggestion to the Bangladeshi government.
On the other hand, the Chinese Foreign Ministry seemed to defend Li and questioned the motives of the Quad. Chinese Foreign Ministry spokesperson Hua Chunying said, "We all know what kind of mechanism the Quad is. China opposes certain countries' efforts to form an exclusive clique, portray China as a challenge, and sow discord between regional countries and China."
She denied any efforts by China to interfere in another country's internal affairs, stating that remarks expressing opposition are not about interference but about rejecting small cliques and bloc politics.
Li's warning to Bangladesh against joining the U.S.-led alliance came weeks after Chinese Defense Minister General Wei Fenghe's brief visit to Bangladesh. The Chinese-state-owned news agency, Xinhua, said that during a meeting with Bangladesh's President Abdul Hamid in Dhaka in April, Wei expressed hope that the two sides would make joint efforts "against powers outside the region setting up a military alliance in South Asia and practicing hegemonism."
During a press briefing in Washington, U.S. State Department spokesperson Ned Price also reacted to Li's comments. He said that the United States had taken note of Li's statement, and they "respect Bangladesh's right to make foreign policy decisions for itself."
Price, however, clarified that Quad was not a military alliance, but "an informal, essential, multilateral mechanism" that aims at working for a free and open Indo-Pacific region.
The Quad was first established in 2007 at Japan's initiative. After years of inactivity, all the four members resumed dialogue in late 2017 and have been meeting twice a year since. The alliance got a new impetus at its first-ever virtual leaders' summit held on March 12, 2021. The joint statement issued after the end of the summit spoke about the "shared vision" of the four countries for the free and open Indo-Pacific. Although there has not been any direct mention of China in the Quad, the alliance has been seen as a grouping to counter China.
On March 20, the officials from the Quad nations met virtually to discuss the COVID-19 pandemic, and this time they were joined by South Korea, Vietnam, and New Zealand. This event sparked discussion over the possibility of a "Quad Plus."
China is threatened by the recent U.S. efforts to expand the Quad to the Quad Plus, even though the Quad Plus has, to date, not discussed anything other than COVID-19 relief. China fears that the United States and India may jointly put pressure on Bangladesh to join the expanded grouping.
Due to its strategically important geographic location and proximity to the Bay of Bengal, Bangladesh's importance has increased significantly in the unfolding geostrategic and geopolitical equations in the Indo-Pacific.
China sees Bangladesh as an important strategic partner in its Belt and Road Initiative. Chinese companies are involved in various development projects. If Bangladesh joins the Quad Plus, it will be a big blow to China's efforts to bring South Asia under its geopolitical orbit. The Chinese ambassador's comment can be viewed as Beijing's well-thought-out move to prevent any future possibilities of Bangladesh joining the alliance.
Meanwhile, the Chinese ambassador's warning came at a time when Dhaka has been making desperate attempts to import the COVID-19 vaccine, including from China, after the Indian government banned exports of vaccines amid a catastrophic surge of coronavirus infections in India. On May 12 Bangladesh received 500,000 doses of a COVID-19 vaccine from China as a gift. The Bangladeshi health minister on May 11 said that the government had written a letter to the Chinese authorities seeking to buy 40 to 50 million doses of COVID-19 vaccines by December this year.
China felt it was the right time to warn Bangladesh against the Quad amid growing pressure on the government to continue the vaccination campaign and Dhaka's subsequent reliance on Beijing to get vaccines. Taking advantage of the devastating COVID-19 situation in India, China deepened anti-COVID-19 cooperation with Afghanistan, Pakistan, Nepal, Sri Lanka, and Bangladesh, and floated a vaccine storage reserve for South Asia. This new platform aims at providing vaccines to its member nations on a priority basis during emergencies.
Under the leadership of Prime Minister Sheikh Hasina, Bangladesh has been maintaining a balancing act between global powers. Dhaka is deeply aware that it needs to maintain good relationships with powerful nations such as the United States, India, China, and Japan to ensure its continued development, both economically and infrastructurally.
Bangladesh is all set to graduate into a developing nation from a least developed country in 2026. Although it is a matter of celebration for the country, policymakers know that graduation will entail significant economic challenges. Bangladesh will lose the trade benefits that it enjoys as an least developed country. The government, therefore, will try to make the best use of the next five years so that the transition takes place with momentum and it is sustainable.
For now, Bangladesh is likely to follow its neutral foreign policy and avoid choosing one country over another.