Darshana M. Baruah on Indian Ocean Geopolitics
"To better understand the unraveling Indian Ocean geopolitics, it is important to study and understand the new maritime identities of the Indian Ocean islands."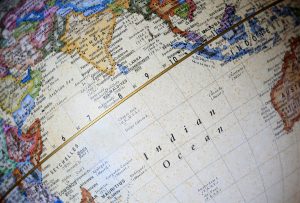 The in-vogue term "Indo-Pacific" positions the Indian Ocean region as part of singular geographic – and geopolitical – region along with the Pacific Ocean. Yet understandings of and approaches to the Indian Ocean region are very much in the eye of the beholder.
The Diplomat talks with Darshana M. Baruah, an associate fellow with the South Asia Program and leader of the Indian Ocean Initiative at the Carnegie Endowment for International Peace, about the current geopolitical situation in the Indian Ocean. India may be the only country that sees the region truly holistically, from the African coast to the eastern edge. But interest from other powers like China, the United States, and France, is growing. Meanwhile, the Indian Ocean island states have their own stakes and say in the region's development.
How does Indian Ocean security figure into the Quad group's activities, collectively or bi/trilaterally?
The conversation around the Indian Ocean at a quadrilateral level is very fundamental. Of the four Quad members, India is the only country which defines the entire Indian Ocean as its area of priority. Canberra's interests lie more in the northern Indian Ocean, specifically in the Bay of Bengal area, and in the eastern Indian Ocean, which is limited to Sri Lanka and the Maldives. Moreover, the Indian Ocean is a secondary area of priority for Australia, with the South Pacific and Western Pacific ranking higher in terms of geopolitical priorities. Japan has a similar approach to the Indian Ocean. While the U.S. has a naval base in Diego Garcia and frequently transits the region, its engagements with the littorals and in the region itself are fairly limited. Perhaps India's most active partnership in the Indian Ocean is with France.
There are more initiatives and conversations at a bilateral level amongst the Quad countries on the Indian Ocean than collectively as a group. Moreover, there are many initiatives, such as the Indo-Pacific Oceans initiative and Coalition for Disaster Resilience Infrastructure, where India finds support from its Quad partners. But these initiatives are framed under the wider maritime or Indo-Pacific framework rather than the Indian Ocean. A key difference is also the scope of the Indian Ocean, with most governments dividing the Indian Ocean into the eastern and western Indian Ocean. The focus and engagements in the western Indian Ocean, even from India, are limited in comparison to the eastern Indian Ocean.