EU-Kazakhstan Aim to Cooperate on Green Projects
The Kazakh government is looking to diversify its economy and develop new industries while also promoting environmental protection.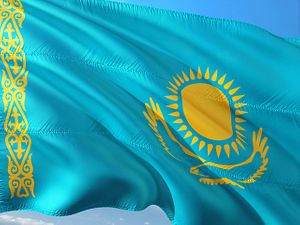 The European Union praised Kazakhstan's green agenda during a May 10 high-level meeting in Brussels, opening up possibilities for new cooperation opportunities in the near future in areas like environmental protection, achieving carbon neutrality, and combating climate change.
Deputy Prime Minister and Foreign Minister Mukhtar Tileuberdi traveled to the Belgian capital to participate in the 18th meeting of the EU-Kazakhstan Cooperation Council, which included a meeting with Augusto Santos Silva, minister of state and foreign affairs of Portugal. The two sides celebrated the first anniversary of their Enhanced Partnership and Cooperation Agreement (EPCA), which entered into force on March 1, 2020, and discussed issues like regional security given the planned U.S. and NATO military withdrawal from Afghanistan.
The EU noted that the next high-profile meeting will be a June 3 climate conference in Nur-Sultan. While an agenda has not been disclosed, a May 10 press release on the council meeting mentions how "the EU looks forward [to] joint work towards the COP26 on climate, especially in light of President Tokayev's pledge for Kazakhstan to become climate neutral by 2060." Achieving this objective will not be easy, hence "in this regard, we expressed our interest in finding new areas for cooperation under the Paris agreement and the European Green Deal," explained Tileuberdi.
Tileuberdi also participated in a May 8 online meeting of the Berlin Eurasian Club. EU Commissioner of Agriculture Janusz Wojciechowski tweeted that he would also participate to discuss EU-Kazakh relations on areas including "biodiversity loss, soil degradation, water pollution or increasing recurrence of droughts, floods, forest fires." 
The Kazakh government is looking to diversify its economy and develop new industries while also promoting environmental protection. The recently released "National development plan by 2025" strategy highlights these objectives, which include developing ecotourism to areas like the Kolsay Lakes, and increasing renewable energies.
It will be important to monitor what new initiatives, if any, are discussed in the June 3 EU-Kazakhstan conference. It is worth noting that the European Bank for Reconstruction and Development (EBRD) is already teaming up with Kazakhstan to support renewable industries. 
This past September the EBRD announced a new project for 76 MWp (megawatt peak) solar plant in Karaganda region. The project is valued at $42.6 million. "The investment takes place under the Bank's €500 million Kazakhstan Renewables Framework, established in 2016 and extended in 2019, to help the country respond to the challenges of climate change," the bank explained. Another project, a 100 MW wind farm in Zhanatas, southern Kazakhstan, was announced in November. Similarly, the EU itself has agencies like the Regional Indicative Program (RIP) and the Investment Facility for Central Asia (IFCA), which help promote investment in renewable energy in the region.
One area where Brussels and Nur-Sultan can also cooperate is the Aral Sea. The Central Asian government has managed to salvage some of what is left of its side of the body of water, shared with Uzbekistan, which nowadays resembles a series of lakes. However, new initiatives and financing are always welcome. 
It is worth noting that the European Union is not the only global player that places environmental protection and combating climate change as key foreign policy objectives. The same can be said of the Biden administration in Washington. In fact, during an April 22 telephone call between U.S. Secretary of State Antony Blinken and Tileuberdi, the U.S. official "encouraged the Government of Kazakhstan's continued commitment to … mitigate greenhouse gas emissions," according to the State Department's spokesperson Ned Price.
The upcoming June climate conference in Nur-Sultan and the COP26 meeting, to be held in Glasgow from November 1-12, will be the next opportunities for the Kazakhstani government to demonstrate to the international community its commitment toward environmental protection. The aforementioned renewable energy projects funded by the EBRD will help Kazakhstan achieve its carbon neutrality objective by 2060, but more is needed as the world is in a race against time.