Thai Government Readies Legal Shackles for Civil Society
If passed, the law will be used to target organizations deemed to threaten Thailand's entrenched political elite.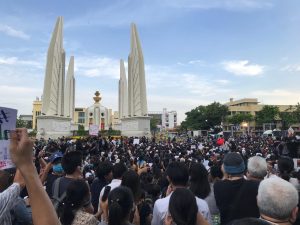 Thailand's government is readying a new piece of legislation targeting the activities of non-profit groups, which activists and human rights groups have decried as a purposeful attempt to quash an ongoing campaign of protest and dissent.
Back in February, Prime Minister Prayut Chan-o-cha's cabinet approved a draft law that would bring to heel the country's non-government organizations by requiring them to register under a new set of guidelines established by the Minister of the Interior.
At the time, government spokeswoman Ratchada Thanadirek justified the move on the grounds that only 87 of Thailand's many civil society groups and non-government organizations are registered officially with the government. She said that others claim to be non-profit organizations but do not operate for the "public interest."
If passed, the Draft Act on the Operations of Not-for-Profit Organizations would require all Thai civil society organizations to register with the Interior Ministry, declare the sources of their annual operational funds, and disclose audited financial reports. The law would also give authorities broad discretion to determine which activities could be legitimately carried out using foreign funding.
Since the draft of law was made public, domestic and international human rights groups have condemned the legislation, claiming that it stands to grant the Prayut government excessive control over the country's civil society groups. In late March, three United Nations experts warned that the draft law, which they described as vaguely worded and overly broad, would "impinge on the rights to freedom of expression and association of millions of individuals."
Josef Benedict, a researcher at CIVICUS Monitor, a global civil society alliance, told Deutsche Welle that the law is "another attempt by the Thai government to restrict or shut down critical civil society groups by introducing arbitrary requirements, squeezing their funding sources, and creating a hostile environment for them to operate."
The timing of the new draft legislation is suspicious, to say the least. Throughout the second half of 2020, Thailand was roiled by large anti-government protests that called for Prayut's resignation. Claiming that the former general's government was a military junta masquerading as a civilian government, they called for the scrapping of Thailand's military-drafted constitution and its replacement with a genuinely democratic alternative. Most controversially, the protest leaders also called for reforms to curb the wealth and power of the Thai monarchy, the linchpin of a social structure that is marked by large inequalities of power and wealth.
Since late last year, the student-led protest movement has been forced into remission by a fierce government counterassault, which has seen 82 people charged with criticizing the monarchy under Thailand's harsh lese majeste law. That tally comes care of the local watchdog group Thai Lawyers for Human Rights, exactly the sort of group that will be threatened by the proposed legislation. Another 103 people have been charged with sedition for their participation in anti-government protest activities.
Seen in this context, it is obvious that the law is downstream of a political imperative to quash the rising criticisms of the monarchy, which in turn threaten to undermine a host of powerful interests in Thai society, including those of the military. As Mark S. Cogan of Osaka's Kansai Gaidai University has noted, the law's provisions dovetail with reactionary narratives promoted by Thai royalists and conservatives: that last year's protests were backed by foreign money – take your pick between the U.S. government and the billionaire philanthropist George Soros – or are otherwise serving foreign interests.
If the law is passed, a sign of how things will play out can be seen next door in Cambodia, which in 2015 passed its long-awaited Law on Associations and Non-Governmental Organizations. Justified by the need to root out terrorist funding and other criminal activity, the law mandates the registration of all domestic and international associations and NGOs, and criminalizes any activity by unregistered entities.
The law includes a provision requiring NGOs to maintain "political neutrality" in their work. It also says that international NGOs can be shut down if they take part in any activities deemed to "jeopardize peace, stability and public order or harm the national security, national unity, culture and traditions of the Cambodian national society."
As in Thailand, opponents of the Cambodian law argued that the legislation was unnecessary, repressive, and open to abuse. Sure enough, in the six years since, it has been one of many tools that the Cambodian government has used to cow the country's active and vocal civil society, a legacy of the U.N. peacekeeping mission of the early 1990s, and to kick out international organizations such as the U.S.-funded National Democratic Institute.
The Thai law hasn't yet been passed, but judging by the Prayut administration's response to the public protest movement, it is hard to see it heeding its critics and amending the legislation in any significant way. Once voted into law, the legislation will arm the government with yet another legal weapon with which to pursue anyone advocating political reforms and social justice in Thailand.